Backyard Fire Pit Accessories
Having a fire around your patio area during the cooler months of the year will lend you to look at Backyard Fire Pit Accessories. I will go over some that I have used to make my outdoor adventure safe and fun.
When you are burning wood for your outdoor fire, there are a lot more things that you will need to have a great time with your guests.
Having a wood storage system, way to move your wood, something to cook hot dogs and Marshmallows, way to dispose of the ashes, and a way to protect your investment in a firepit are a few of the items I will cover in this article.
For those who like the simplicity of the gas fire pits, will need a little less stuff. No wood or ashes to deal with. Just make sure that you have an adequate supply of gas and have the ability to protect your fire pit when not in use.
For a video view of this article, use the following link
Now let us look at the details of the stuff I like to have around for my fire pits.
Wood burning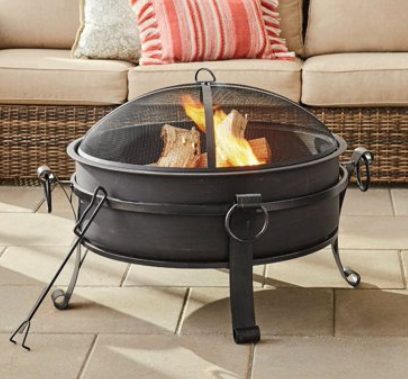 Most people will like the smell and heat that a wood-burning fire pit produces. This is the most common in rural settings where you have a larger outdoor space. You have to have an area that is not close to the siding or on a surface that would not be damaged from the extreme heat that a wood-burning fire pit produces.
I have a woodpile that is a great distance from the house. I have both a wood-burning fire pit and a fireplace in my home. I have to move the wood to a dry location before the cooler weather to make it easier to use. I will go over some of the items that I use for my fuel.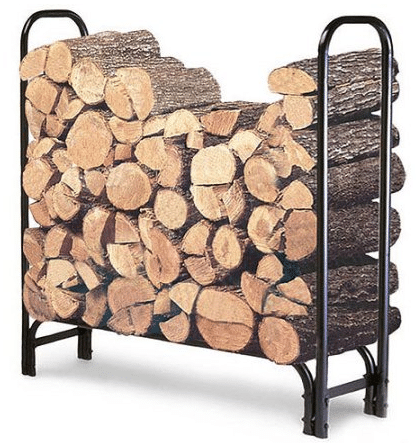 Wood Storage
Keep your wood dry and off the ground with a metal wood rack. The four footer shown will hold enough wood for the whole weekend of burning.
I have a couple like this that can be torn down quickly and stored in a small space. Just eight screws and nuts will hold this type of rack together.
Poly covers are available if you keep your rack in a location that is exposed to the outside weather.
I also have several smaller wood racks that can be put in a location near my fire to keep me from having to walk a long way with my wood while having a fire.
Many styles and sizes of wood storage racks are available, see some of my ideas in a post here.
How to move wood from woodpile to burn area
I have a log caddy that helps me move my firewood from my storage area, backyard or garage, with little effort.
It have wheels filled with air that makes travel over any surface easy. I can hold quite a bit of wood that can be moved with little effort.
I even use it to move wood from the garage to the living room, up three steps, to burn in the fireplace.
For more of my information on a log caddy, see my post here.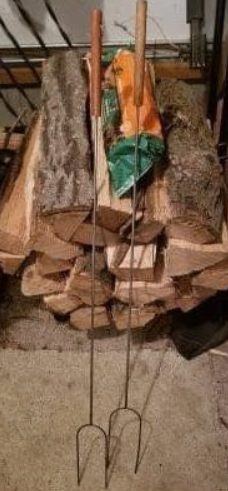 Hot dog sticks
This is an area that revolves around the kids more than the adults. Having the sticks available for your night by the fire will make you a favorite of all.
I have several styles of sticks for cooking pleasure. The long ones that are about 3 feet long and will keep your hands away from the fire.
Also, have a set of the expandable type that will expand from about 1 foot to 2 feet in length. These take up less space when storing, can be more difficult to find when you need them.
It does not matter if you are cooking hot dogs or Smore's, having sticks available before you need them is important.
I found that you cannot hold the sticks over the fire to clean them after use. If you hold them too long the weld that holds the ends to the long stick will fail and you will have to replace your sticks.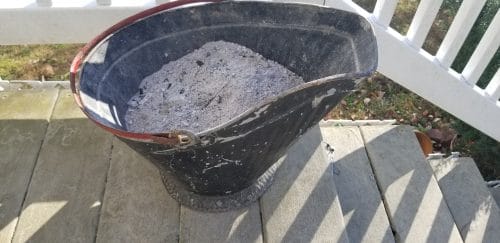 Cleaning up after a wood fire
When your fire is over, cleaning up the ashes should not be a big deal. I have an ash bucket and shovel to help get them together and get them to my garden area.
I put the ashes on my garden to help with the soil for the next spring planting. I have done this for several years and it seams to help.
Do not put your hot ash bucket on a wooden or composite surface. A neighbor burnt down his house with a hot ash bucket setting the wooden deck on fire.
For more details on an Ash bucket, see my post here.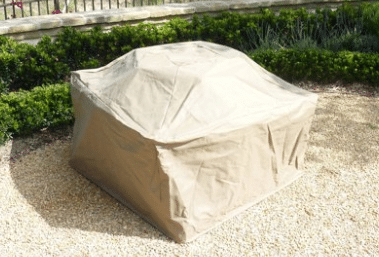 Storing and protecting your wood fire pit
After the fire is over, you will want to protect your investment. A poly cover is included in some fire pits. Mine was damage beyond use after a few seasons.
For replacement fire pit covers, see my post here.
Gas fire pits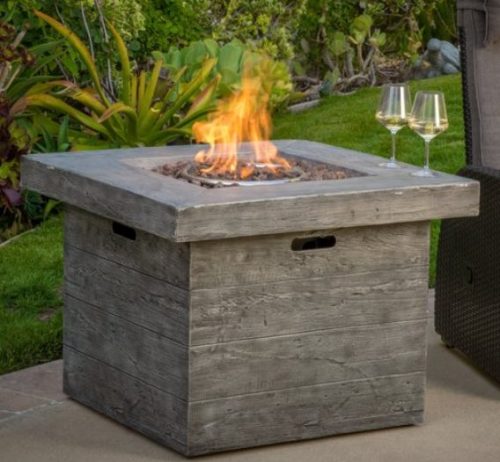 Gas fire pits are great for smaller spaces outdoors. When you have a small patio or deck you may want to look at a gas fire pit for your heating needs during the cooler nights of fall and spring.
For some gas fire pit ideas, see my post here. There is a size and style for most anyone.
Many styles can be used on wooden and composite decks, unlike a wood burner. You must check with each model to make sure it is compatible with these surfaces.
You must still keep at least 10 foot of space from the sides of your home to keep from damaging siding or other materials.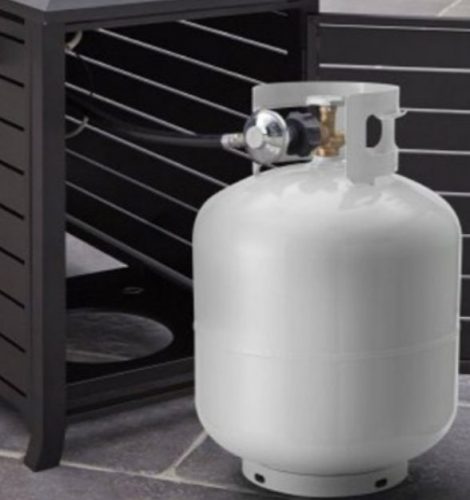 Propane tanks
Two major styles of propane tanks are used for powering a gas fire pit.
The smaller fire pits will use a 1 pound tank, these are normally found on the smaller gas grilles and can be purchased at any of the major stores.
The most common propane tank found is the 20-pound tank that is used on most gas grills. You can have just one tank if you stop grilling when you use your fire pit.
Most of the gas fire pits will store their propane tank under the top in the cabinet of the fire pit.
Some of the lower profile fire pits will have a remote tank that can be hidden in a side table. The bad side to this style is that the propane hose must run between the tank and fire pit.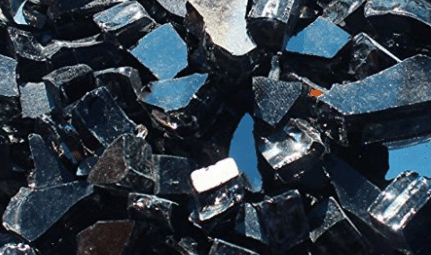 Glass fire rocks
Most of the gas fire pits will come with Lava rocks. Adding the color of glass fire rocks will change the look of your flame.
This is not recommended for all gas fire pits, you must check with your model to make sure that the glass fire rocks are a viable option.
This is a great way to change the color of your fire.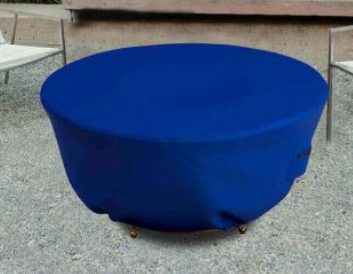 Storing and protecting your gas fire pit
If you do not have a shed or cabinet to store your fire pit in when not in use, the best alternative is a cover.
A lot of fire pit will come with a poly cover that will last several years. The Fire pit will last longer than the cover in most cases.
For that replacement cover, use this link for more details.
For those looking for a storage cabinet, see some of my details here.
Use the following link to get all the accessories you need for the best price online
What products do I recommend
I have most of the products in this article in my home, having the right Backyard Fire Pit Accessories available before you have your fire will be a great help.
When you have to move your wood, cook your hot dogs or Smore's, clean up after the fire most of the items in this article will make this an easier task.
Having a storage area for your fire pit or a quality cover will be needed to make them last more than a few years. The burn will take the finish of the bottom of the bowl and if water sits there for any amount of time, rust will start to take over.
Thanks for reading my information. Any questions or comments use the forms below and I will get back to you shortly.