Outdoor Post Lighting Fixtures
When looking for outdoor post lighting fixtures, this three light fixture will be a great addition to your outdoor security and safety.  The light in this review is a Designers Fountain 1923 Rivera Post lamp.
What you get in the box
You will get a complete light fixture kit that will need some assembly.  Your fixture will need to be mounted to an existing base and wire run from a 120 volt ground fault circuit.
The cast aluminum fixture has three heads that will take a regular based bulb(not included) each. The clear beveled glass in each head will highlight this elegant fixture.  The assembled fixture will be 84 inches tall.
The post is made of several hollow cast aluminum pieces that stack to make the structure that holds the head piece.  The electric wire runs up the hollow post to the head.
The 11 inch wide base is secured to a concrete pad with three anchor screws(included)
What is not included is the concrete pad, on and off controller, electrical wire or light bulbs. See my post on how to control when this light is on here.  Each of these will be an additional expense.
Assembly and what you will need to install
Installation will depend on if this is a new install or you are replacing an existing fixture. When replacing a existing fixture you will just have to make sure you have a good foundation for your new post lamp.  If this is a new installation, there are a few steps before the assembly and installation of the lamp.
The wire run will be the first thing on your list with a new light.  Planning where to run it underground will take a little work.  using a string garden hose or small rope to find the best path to have the least amount of obstacles to go around.  Check local codes on the underground rules for line voltage(120 volts) wire runs.
Planning your base will be next on your list.  Two major types of bases for the post lamp are used.  A flat topped concrete base with the wire coming out of the middle. This base can be round or any other design that you wish, just needs to be flat and level on the top.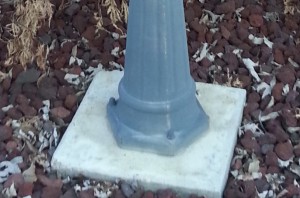 Using a Paver or stepping stone on a rock base will work if the wire run can be placed where it will not get damaged.
When assembling the fixture the following tools will be needed-three light bulbs(up to 100 watts each) wire cutters, wire strippers, adjustable wrench, safety goggles and some electrical tape.
Assembly of the head unit can be done inside.  The three arm assembly's will be attached to a wire housing to make the head unit.
The base will be attached to the concrete with three anchors.  A template is supplied in the kit to drill the wholes for the anchors.  Connect the extension wires color to color and make sure it comes out the top as you build the post.
The post will be assembled from the bottom up.  When the post is complete you will attach the head unit.  The extension wires will be attached to the head wires, color to color.
Pros
Once installed requires little maintenance
You can purchases matching coach lights for the house with the Riviera collection
Can be installed on a deck with additional fasteners
Cons
May have to hire an electrician to install underground power wire
Have to purchase and add a light control
Only parts available is the beveled glass
Is not compatible with a dimmer switch
Conclusion
The Designers Fountain 1923 Rivera Post lamp is a good choice when looking for your outdoor post lighting fixtures.  Installation will require some electrical and construction skills.
There are Affiliate links on this post.
As always if you find you have any questions or comments you can use the form below. If you would like further information about any items on my site please leave a comment below and I will return with an answer.