Solar Power Shed Lights
Most people do not go to the shed after dark because they cannot see whats inside.  If you had a solar power shed lights in your shed you would be able to find something without a flashlight.  Since it is not powered by a sensor, it will not come on when a rodent walks by.  Lets look at the Gama Sonic GS 33 K Crown Solar LED Shed Light.
Why do you need a shed light
Have you ever gone out to the shed at night with a flashlight and tried to find something?  This light will let you have both hands free to rummage thru your junk to find what you need.  One of the advantages to this fixture is that it does not stay on all of the time, only when the draw string is pulled.  Just turn off the light when you leave and it will be ready for the next trip to the shed.  You can use this light in other areas. If you need to light the chicken house for extra daylight in the winter so the chickens will still lay, use one of these lights and turn it off each morning for a charge.
What do you get and how to install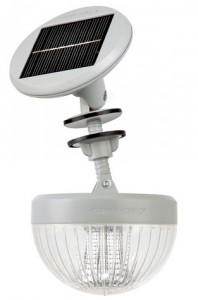 You will get a 4 inch round Monocrystalline Solar Panel, fixture, rechargeable batteries and instructions with this fixture.  The fixture will come in four parts, Solar panel, mount, light fixture and mount.  The rechargeable batteries are 3.6 volt and 600 mAh.  The light will be good for about four hours on a full charge.  There are 6 LED bulbs that will give 6000k or 50 Lumens of light on a full charge.  The pull string on and off switch will be easy to find with the small amount of night light from the fixture.
Installing your fixture will take drilling a hole in the roof or wall of your shed.  You should first locate a spot to mount that will get plenty of sun during the day.  Drill a 5/8 inch hole for the mounting post to go through and place a rubber gasket on each side of the roof to seal the opening from the weather.  Once the batteries have been installed and the connecting wires from the solar panel to the light fixture, you are in business.  There is an off an on switch on the top of the light fixture, don't forget to turn on to make the light work with the pull string.
Pros
Lights up a dark space with out electric power
Has a draw string off and on switch
Can be mounted on wall or ceiling at an angle
Solar Panel angle can be adjusted for seasons
Cons
Only last about two hours on each charge
Have to make a hole in roof, no long wire to connect
Not super bright, may need more than one for a bigger shed
Conclusion
This is not a spot light for the inside of your shed, if you are looking for a light to provide you the ability to just find what you need and get out, this will work for you.  If you are looking for a work light for your shed, look at some of the Remote Solar Powered Security Lights I have on other post.
Thanks for reading and if you have any comments or questions use the form below.
Some Affiliate Links are used in this post
John