5 Piece Outdoor Dining Set Review
Looking for a simple 5 piece outdoor dining set for your patio or balcony.  The Mainstays Bristol Springs set from Walmart.com for under $200 will meet most peoples needs. This set has four sling chairs with some motion and a glass top round table.  The small design will fit a lot of small outdoor spaces.
The sling material for the chairs will be easy to care for and last very well in outdoor environments.  The metal construction will give a spring motion to the chairs, this will add to your seating comfort.
---
For the best price online, click on the following link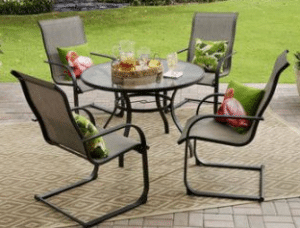 Product: Mainstays Bristol Springs Dining set
Price when article was written: $219 with free shipping
Where to get for the best price: Walmart.com
What you get in the box
All of the frames are a very durable powder coated steel finished in a matte espresso color.
The four chairs have the steel frames with polypropylene covered polyester sling type material for seating.  The frames are built to have a little movement when sitting. This will add to the comfort while dining.
The material for the chairs will dry quickly when wet and last very well in the outdoor environment.  I have had my sling chair for many years without any problems.
The chairs are  24 inches wide, 28.75 inches deep and 40.5 inches high.  They will support 250 pounds each.
The table has four legs with a round tempered glass top.  The smoked glass top has a hole for an umbrella.  The round support will also have an umbrella support. The table is 40 inches across and 28 inches tall.
This set comes in two boxes.  The chair box is 35.5 inches deep, 17 inches wide and 24.5 inches thick.  It will weigh about 46 pounds.
The table box will be 42.5 inches wide, 43 inches long and 2.5 inches thick, it will weigh about 20 pounds.  Will not fit in most cars, bring a truck or SUV for pickup.
Assembly of your set
Assembly of the chairs will involve installing two supports, one on the front of the seat sling and one between the arms/legs.  Installing the two arms/legs will will be the only other thing for the chairs.
The table will take turning the top over, installing the four legs and then the support ring.  All screws will have a weather cap to install to keep them from rusting.  Make sure the table in up on its legs when you are doing a final tightening of the screws, this will ensure it will sit level.
Pros
Sling chairs dry fast when they get wet
Spring action in chairs adds to comfort while sitting
Easy to assemble
Small design fits a lot of small outdoor spaces
Matching eight foot umbrella available (stand will be needed).
Cons
Chairs do not stack for storing
Glass top may be difficult to replace if broken
Chairs are hard to move while sitting in
---
For the best price online, click on the following link
My take on this set
I have a very similar set that has a metal table.  My four sling chairs do not sit outside during the winter, I store them in the basement. I have had a glass top table before.  Mine did get damaged in a wind storm, I left the umbrella up.  Need to protect from wind or other damage.
This set has a lot of great features for this price, under $200 from Walmart.com. For this price it is hard to get a bistro set, not a complete dining set.
Thanks for taking the time to read, if you have any questions or comments, use the forms below. Do not forget to share if you found the information helpful.
There are some affiliate links in this article.