High tile top patio table and four swivel chairs
Looking for something that is a little different, try looking at a tile top patio table with four swivel chairs.  This Mainstays Wesley Creek dining set from Walmart.com has a lot of high end features with out a high price.  In this article we will look at the details and try to answer any questions that you have.
---
To purchase your tall dining set today, click on the following link
;Now lets look at some of the details of this set.  If you think this set is too big, I have looked at some smaller bistro sets here.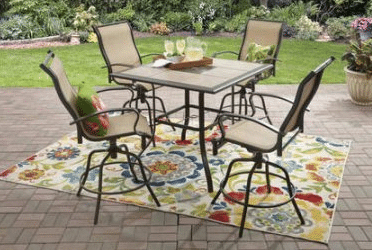 Product:  Mainstays Wesley Creek high tile top table and chairs
Price when article was written: $374
Where to get for the best price online:

Walmart.com
What do you get in the box
You will get a high dining table, 36 inches high standard height is 28 inches, with eight 12 inch square tile inserts and four bar height swivel chairs. A steel frame is powder coated with a dark bronze color, it matches the lighter brown seating material on the chairs very well.  The durable sling material of the seating area has the look of a straw or rattan finish.  The middle square of the table does not come out and has a hole for a patio umbrella, not included.  See some of my suggestions for umbrellas here and umbrella stands here.
This set has a sling type seating area that looks like a rattan or straw finish.  They are very comfortable for long term sitting without cushions.  I have a similar chair on my front porch.  The swivel chair rotates 360 degrees, it does not have a rocking motion.  The swivel motion will help you get in and out with the taller arms.
The chairs are  28 inches deep 24 inches wide and 48 inches tall.  They will hold 250 pounds each.
The table is 40 inches square and 36 inches tall.  The tiles can be removed and replaced if you would like to change the color pallet of your set.  There are four adhesive backed rubber bumpers for each tile to sit on in each square, extras are included in the hardware kit if they are missing or come off and get lost.  The middle section does not come out and has a hole for an umbrella or a cover if you do not want to use one.
Your set will come in two boxes, the table box is 42 inches long, 42.5 inches wide and 3.5 inches thick, it will weigh almost 60 pounds.  the chair box is 50 inches long, 24 inches wide and 31 inches tall, it will weigh 93 pounds.  If you pick up this item, make sure you have the correct size vehicle like a SUV or pickup truck.
If you like the look of a rug under your patio furniture, I have several post on them here.
Assembly of your dining set
Unpacking the table you will find a table top frame that you will have to attach the four legs to the corners.  The lower leg support is all of the other mechanical assembly of the table.  Just make sure it is on it legs for final tightening as this will help with getting the legs level.  You just have to insert the tiles when the table is upright and you are done.
Chairs will need the swivel post attached to the bottom of each chair and then insert into the base.  Do this with all four chairs and you will be ready to dine.
Should take about an hour or less, depending on your skills.
Pros
Low cost for a premium looking set
Easy to take care of
Sling seating is very comfortable
Easy assembly
Cons
If you break a tile it will be hard to replace with a similar tile
Bar height sets are not for everyone, older people have a hard time getting into them (just ask me)
---
To purchase your tall dining set today, click on the following link
My take on this patio set
The Mainstays Wesley Creek high tile top patio table and four swivel chairs is a very expensive looking set for a modest price.  The sling seating chairs will give many hours of comfortable seating. The tile top can be updated to give you a different look for your patio are for little cost.
The swivel motion of the chairs will add to the comfort of this set and will make getting away from the table easier.
If you have any questions or comments on the information in this article, please use the form below.  If you have any suggestions on future articles, send me an email and I will get back to your.
If you found this information helpful, use the social links below to share with your friends.
There are some affiliate links in this article.