Outdoor patio heaters Propane or Electric
If you want to enjoy your outdoor space in cooler weather try looking at a portable outdoor patio heater propane or electric powered. It will make your space a desirable place for your guests to gather.
Most of the propane heaters will take a regular 20-pound propane tank that is used by a gas-powered BBQ pit.  Tabletop models may use the smaller 1-pound tank.  Both will hide the tank under the bottom of the heater.
Electric heaters will use a regular 110-volt electric supply.  The tabletop model here can have the power cord go through the umbrella hole of the table so that it will not hang out in the cay of feet and legs.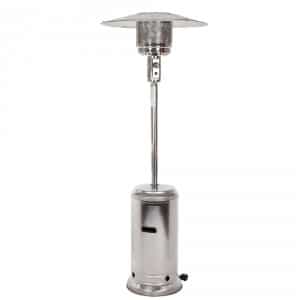 There are three major types of patio heaters.
Tall stand-up patio heater
Stand up 20 lb propane heater.  These heaters get their energy from a refillable 20 lb propane tank, just like the ones used on BBQ grills. They are very tall and have a shield to project the heat downward.
Your patio heater can be purchased in many decors. Copper, bronze, stainless steel and powder-coated in many colors can be ordered. Most will come with small wheels to make moving them easier.
Safety features are an auto-shutoff in case your heater is knocked over.  The base will be weighted to make the heater more stable.
The heater is powered by a 20 lb propane tank that will last about 10 hours. An electronic ignitor will power the 47,000 BTU heater. The heat will be felt about 9 feet away.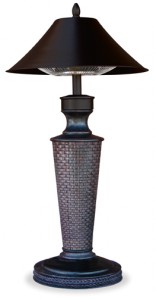 Electric tabletop heater
Electric tabletop heater.  These heaters will connect to a grounded 110-volt outlet with a power cord that is about 7-8 feet in length.  They will have to sit on a table or something to let the heat project, as they have a reflector to guide the heating down. This type of heater can be moved very easily.  The advantage of this type of heater is that it can be used to heat an indoor space also.
Most have the decor of a table lamp and can be purchased in many styles.  You can choose from copper, stainless steel or fiberglass resin.  This will allow you to choose one that will match your outdoor decor.
Your tabletop heater will be powered by a 1200 watt halogen bulb approximately 4095 BTU's.  It also has an automatic shutoff if the lamp is knocked over.  Most will be bottom-heavy to keep them stable.   All of the hardware is weather-resistant to let your heater have a long life.
Propane tabletop heater
The propane tabletop heater is powered by a 1 lb small propane tank that will last about 3 hours.  These tanks are not reusable and will just need to be replaced when empty.
These tabletop heaters will put out at max 10,000 BTUs.  They will have an electronic ignitor to light your flame.  A shut off valve will turn off the heater when finished.  If your heater gets accidentally pushed over, there is a shutoff in the valve to make sure it does not keep burning.
See this link for more outdoor heating ideas
My final thoughts on these patio heaters
If you do not have space or area to use a fire pit, try Outdoor patio heaters electric or propane*powered that will make your outside space every cozy on the mild winter days.  When you want to heat your space you can choose from a tabletop or floor mount model that will fit your decor.
I use a smaller electric heater for my outdoor space during the cooler months and do not want to mess with the fire pit.  Less mess and cleanup and the heat can be turned on and off as needed.  It is not for open spaces that are windy as the heat will blow away very quickly during these conditions.
Any questions or comments use the forms below and I will get back to you shortly.