LED Retaining Wall Lights
This type of fixture can be used to highlight any area in your outdoor space, as it can be mounted in a variety of ways and can be either connected to an existing Low voltage wire run or have a dedicated run with several Retaining Wall Lights.  Highlighting a walkway or just a wall that defines a space, These Lights can be installed for this purpose.  We will look at the features of this light and different ways to install.
Why do you need this kind of light for your outdoor space
If you have a space that needs to have a low light for highlighting, just to lights some steps or walkway, these lights will be very helpful. The mounting holes of these lights can make it be able to mounted in any area that you can get power from your low voltage line run.  The screw holes on each end of the fixture will allow a bracket to be mounted or you can just screw into wood or composite decking to highlight a step or deck area.
You will have many options to choose from with this style of lighting fixture, color will coordinate with your existing block, decking, steps or wall.  Most of these fixtures will be available in six major colors-Textured Architectural Bronze, Bronzed Brass, Copper, Gray, Sand and White to match your outdoor decor.
This style of fixture will come in several sizes to get the desired light and feel.  The small six inch fixture has three LED bulbs, the medium thirteen inch fixture has six LED bulbs or the nineteen inch large fixture that has nine LED bulbs, will give out either 2700K, 3000K or 4200K of light.  See the video below to see the difference of each brightness.  These light fixtures are Dark Sky Compliant.  The bulbs should last around 40,000 hours, they should last the lifetime of the fixture.
With or without bracket
Where you are going to use your fixture will determine if you need the bracket or not.  The bracket is mainly used for under wall stones, it is recommended that you have at least 3/4 of an in overhang for installation. The fixture comes with a mounting hole on each end and if you are mounting to a deck or step area, just use the proper outdoor screw to secure to the material.
What do you need to install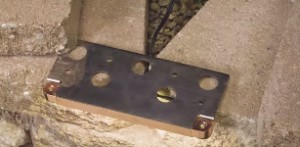 The installation needs will be determined by where you install your fixture.  The low voltage wire run that it is connected to cannot be more than six inches underground, the lead wire is not rated for under ground use farther than that.  If you have to bury the wire deeper you will have to use a bigger gauge wire.
First thing to consider when thinking of installing this type of low voltage fixture is the wire run, as you will have to bury the  wire  and make it accessible to the lead wire of the fixture.
The next consideration will be the transformer that is powering your lighting run.  See this post for some details on choosing the correct transformer.  When looking at transformers do not forget the dusk to dawn or timing switch to operate your lights.
When installing on a existing retaining wall, you will have to remove some blocks to install.  If your blocks are held in place with some kind of caulk or glue this could be difficult to accomplish. If you are just building the wall, you can add the fixtures as the wall is assembled.
Any installation that is on a deck or step area will have just two mounting screws to attach. Drilling a hole for the power wire to go through first will eliminate the unsightly wire showing.
Watch this video to get some ideas what you can do with your landscape lighting
Where do I get more information on these Landscape Fixtures?
Free 2 Day Delivery on ALL Kichler Products Guaranteed or You Get $60!
Conclusion
No matter where you need  accent or path lighting, these LED Retaining Wall Lights will be a great choice.  Installation will not take much more that the simple post type.  You will just have to determine the best layout of your lighting for your area.  If you need help with the design, send me some pictures of your area and I will make some suggestions to help you, just use the contact form below.
If you have any other questions or comments on this article, please use the contact form below.
There are Affiliate links in this post.
Thanks for reading,
John