Solar Step Lights for Decks
Looking for some lights to make your steps a little more safe after dark? Solar Step Lights for Decks come in a set of four bronze fixtures that can make a great addition to your safety and security.
What do you get in the box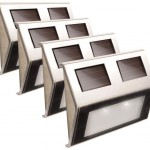 You will receive four fixtures for each purchase. Each fixture will have 2 solar panels, a rechargeable battery and single light.  The fixtures are 5 3/4″ wide, 4″ high and 1″ deep.  They have a durable aluminum case with a bronze finish that is weatherproof. The lights will put out about 15 lumens of light. The lights will last for 6 to 8 hours after dark on a full charge.
These fixtures will mount with one screw or nail(not included).  Not knowing the surface that they are mounted to is the reason for no mounting items to be included.  There is one notch for the screw or nail to attach to on the back of the fixture.
 

How does it work

Each solar light is powered by a Amorphous solar panel.  This is a ultra thin panel that is used on calculators.  This type of Solar Panel will collect energy even on cloudy days. Each set of panels charges a rechargeable battery.  

A photo cell turns on these lights at dusk. A 1.2 volt 600 mAh Rechargeable battery will come in each light fixture.  They will give about 6 to 8 hours of light on a full charge.
Pros
No wiring needed just mount and wait for the sun to charge
Easy to mount only one screw or nail per fixture takes just minutes to install all four fixtures. Can be mounted on Wood, Composite or concrete steps.
Can be removed for storage just by sliding off mounting hardware
Cons
Mounting hardware not included-Need to get screws or nails to mount, it will depend on the surface what kinds of mounting hardware that is needed.
Factory batteries do not last very long and are hard to replace
Need to have one for each step-light will not be enough to light more than one step
Conclusion
When looking for solar step lights this set of four bronze lights will illuminate four steps without any additional work. After installation just monitor the lights to make sure that the batteries are still keeping a charge.  The batteries that come with the sets are weak.  If you have more than four steps or your steps are wide you may want to purchase more than one set and put a light on each side.
If this fixture had two mounting notches on the back it would be more stable.  Light out put will only cover the step it is mounted on.
There are Affiliate links on this page.
If you have any questions or comments please use the form below.
If you found this information helpful or useful, please use the share buttons below.
Please follow and like us: