Patio Furniture and Fire Pit Set
When you are looking for a conversation set for your outdoor area that you can use most of the year and wow your guest, this Mainstays Wentworth Patio Furniture and Fire Pit Set will have that wow factor.  Just four regular chairs and a table.  The table is where this set raises the bar.
The fire pit table can be used to burn wood for heat during the cooler months. Has a flat top cover for the burn pit for when you need a full table for drinks and snacks.  When you need a cooler, this table has a plastic tub insert that can be used in the top or bottom frame to hold drinks for your party.  What more can you ask for.
Now lets look at the finer details of this set and see if it will work for your outdoor decor.
---
If you want to look at availability and current pricing, use the following link.
Product: Mainstays Wentworth conversation set with fire pit
Price when article was written:  $319.99
Where to get for the best price online: Walmart.com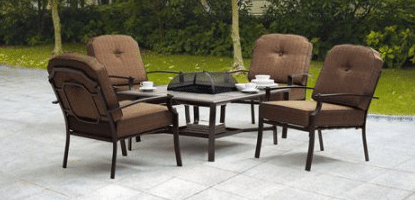 What do you get in the box
Your Patio Furniture and Fire Pit Set will include four straight back chairs with cushions and a fire pit table.  What makes this set so good is that the table can be used in so many ways and year round.  You can use it for a wood burner, cooler for drinks, table for a small dinner or just a place to put your reading material while you chat with friends.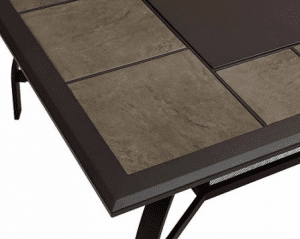 The table has two inserts for the middle, one plastic for holding ice and one that is steel for using as a burn bowl.  These two inserts can be placed in the top or in the frame of the support under the table.  The center can be covered with the spark screen or a flat steel plate to make the top like a coffee table.  The flat plate has a handle that retracts to make the center flat, just push down and it will pop up to help in removal of the plate.
The table dimensions are 46 inches wide, 41.5 inches deep and 21 inches tall.  The tiles are replaceable if broken or if you want to change the decor color.  No tools are included for the fire pit, it could use a poker or a tool to remove the spark guard while having a fire.
The chairs are the same as the Mainstays Wenworth conversation set, they will measure 27 inches wide, 28 inches deep and 33 inches tall.  Each will hold 250 pounds for seating.
The cushions are made of a polyester material.  I would suggest storing them when not needed as they will not handle the outdoor conditions as good as the Olefin material.  Cushions are held on with clips so they stay in place, they are still easy to remove.
Assembly of your conversation set with fire pit
Assembly will be easy for the people with some skills.  You can assemble this set by your self.   All tools that are needed for assembly are included.
Table is easy to assemble as you place the top upside down and attach the legs to each corner.  Then attach the lower support frame.  Put your table on its feet for final tightening and then insert the tiles.  You may want to move to its final location before adding the tiles as this will make the table much heavier.  Add the two pans and tops, one can go in the top and the other in the lower support.
The chairs will require the back to be attached to the seat section.  Then attach the arms, final tightening will be best when the chairs is on its feet. Repeat for the other three chairs.  Add cushions and your seating is ready to use.
Use and care of this fire pit with chairs
When using during the cooler times, a fire can be made of wood in the burn pan.  Placing your drinks or snacks on the tile top may not work if you have a big fire.
During the warmer months, you can use as a smooth top table or a cooler for drinks.  Placing the plastic pan in the table top and filling with ice will hold quite a few drinks that you do not have to get up from your chair to reach.  The flat top cover will give you a full table top with out a handle in the middle.  The center handle will pop out for cover removal by pushing it down and releasing it, making it easy to take off when needed.
When your set needs cleaning, make sure you use a mild soap and water, as harsh chemicals will damage the painted surface.  Storing your cushions will be needed to make them last longer in the outdoor environment, I do have several articles on storage solutions.
Pros
Multi use table, can be used all year round
Easy assembly
Can store extra pan and top in the lower support
Cons
Cushions will need to be stored for outdoor durability
No fire pit tools are included
---
For more information on this fire pit chat set, click the following link
What are my final thoughts on this set
When you are looking for Patio Furniture and Fire Pit Set, this set from Walmart.com will meet many expectations.  The table can be used all year round, unlike some of the other sets.  You cushions will be the weak point of this set, they will need to be stored or updated to a better fabric when needed.
My final thought is that you cannot go wrong with the low price for this set and the fact that you can use as a cooler during the warmer months when you are have a few cool ones with your friends in your outdoor space.
Share this article with your friends and family on your social networks.
Any questions or comments, use the forms below and I will get back to you shortly with an answer.
There are some affiliate links in this article, by using one I may make a small commission, it will not change the price you pay.