Outdoor Metal Table with Chairs
When looking for Outdoor Metal Table with Chairs for your patio area there are several things to take into consideration.  What will be the purpose for the area, will it be for casual sitting, casual dining or a place to stop and read or take a break.  I will give you several choices that I have put together in my outdoor patio area that are similar, yet very different in the feel and use.
I put several sets of chairs (swivel rockers, wrought iron or spring leg for motion) together with several different tables (dining, bistro or side) that I have around my outdoor space.  I changed the arrangements to meet different outdoor seating demands.  You do not have to have five different sets for the each time you use your outdoor space.  I just use the patio furniture that is already there.
Now let us look at some of the combinations that I made with just a few pieces.
Sitting with a small side table
A sitting area with a small table will be great for reading and relaxing.  putting the small side table between the chairs will allow you to share the table for drinks.  Many times you will just use this area for conversation with your spouse or partner.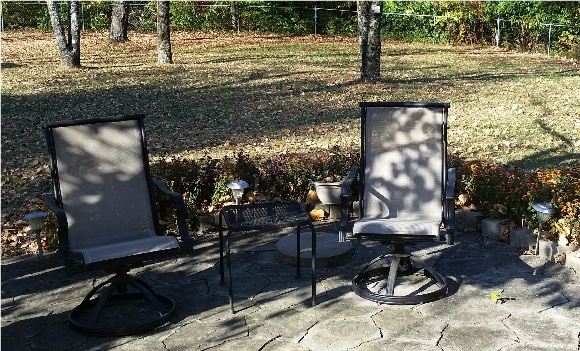 Deciding on the size and style of the table will depend if you are trying to match something you already have.  I have a lot of this black steel furniture for my outside spaces so I moved everything to one are to see how it would look.  The bigger bistro table would work better if you had to have a serving tray for drinks and snacks.
Chairs can make the area very comfortable for a long afternoon doing nothing or just a short sit for conversation after work.  The sling chairs are a lot more comfortable when you are going to use this area for long periods at a time.  If this space is only for short rest periods the arm steel chairs would be OK.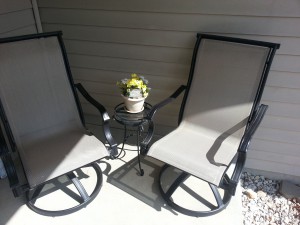 The swivel rockers are the most comfortable for long term use.  I use these on the front porch for sitting while reading or waiting for someone to get home.  They make a good chair for sitting between a small side table on a patio.
Bistro Dining with two chairs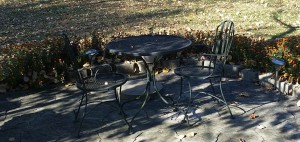 When dining in your outdoor space, normally you do not use it more than 1/2 hour or more at a time.  The steel chairs with arms will be plenty comfortable for this amount of time.  If you use them a lot I would recommend some small cushions for the seats for comfort.
Most people get a Bistro set because they do not have space for a bigger dining table.  You can seat four at a bistro table, there just will not be any place to put extra food or a picture of your favorite beverage.  You will just have to get two extra chairs.
Some Small Bistro tables will have a hole for an Umbrella, these tables will not be as stable as the regular dining table in high winds.  If you get a lot of wind in your patio area it would be a good idea to remove the umbrella to storage when not in use.
A Bistro Set with Sling Chairs will be comfortable for longer sitting.
Large Dining with four Chairs
This will be the set to get if you have space.  You can change the space to match the occasion.  The dining table will be big enough to have bowls of side dishes, platters of meat,  rolls and a picture of your favorite beverage.  The table will have more stability and you will not have to remove the Umbrella when not in use.
The four sling chairs that I have are very comfortable to eat a meal, then just sit around talking for several hours after the meal.
You could also use a combination of regular sling chairs and the swivel rocker sling chairs for your dining area.
Conclusion
Depending on the size of your outdoor patio, one of these examples of Outdoor Metal Table Chairs will fit in your outdoor patio area.  Choose first what the purpose of the area will be, then decide on what will fit this purpose and your space.  Some balconies are so small a bistro set is all that will fit.  If you have a larger area and will have a large crowd, you will need to get a regular dining set.
My Swivel Rockers are found on my front porch for sitting and relaxing in the evening.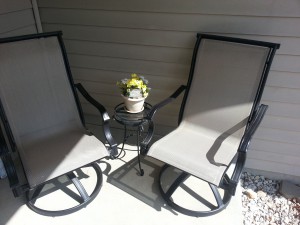 Thanks for reading my post and if you have any questions or comments please use the form below.
John