Waterproof Outdoor Storage Container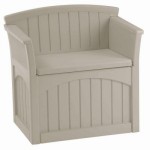 Have a need for a Waterproof Outdoor Storage Container.  Have clutter in your outdoor space?  Wonder what to do with the pool stuff when not in use?  Out door toys,cushions, grill supplies, table accessories or garden supplies just laying around in your yard.  In this blog I will cover some of the outdoor storage box solutions.  I will write about the horizontal and vertical storage box's.  Find out how much you need to store and look at the following solutions.
Horizontal Storage solutions

Storage chest as they are sometimes called can make for a great problem solver for a deck, patio area or by the pool.  These chest can come in many sizes to fit what you need to store when not in use.
The smaller storage containers also double as a bench.  If you are looking also for extra seating, does it come with a cushion or can you get one with the chest?  They can have two drawers under the seat or the top of the seat will lift up for storage.
They will be made of resin or wood material. The wooden chest will need yearly work to keep the finish.  The resin will last for several years in the sun and elements.  These will not be water tight or water proof if out in the weather.  Look for a cover to keep elements out.
Larger chest will be able to hold more of your goods.  Look for  a one piece resin with a latching lid if you are looking for water proof.  Although they are very good looking the wooden storage chest will not be water proof without some kind of liner and water proof lid.  Some larger storage containers are big enough for a riding lawnmower.
Vertical storage containers

The vertical storage container will work in areas with less footprint.  Most are made of resin with double doors.  The vertical box's will come with shelves to sort your goods in.  Some of these can be stacked to make a closet in your outdoor space.
Look for some of the vertical containers that will be like some of your outdoor furniture.  Some end tables will have storage.  You can find some that will match your decor.
Pros
Keeps your area neat from items not in use.
Can double as extra seating if you have a chest type.
Most are easy to assemble.
Cons
Can be a good place for spiders, rodents and wasp to hide from the weather.
Unless it is a one piece it will not be water proof.  You will have to have it under cover.
Conclusion
When looking for a waterproof outdoor storage container for your outdoor space, you will need to consider what you need to store.  If the cabinet is not big enough to hold the items you will not be happy with it.  For more storage solutions look at this post.
Thanks for reading, any questions or comments use the form below.
John