Outdoor Solar Lamp Post Lights
When looking for Outdoor Solar Lamp Post Lights for your walk or driveway security, these five should be on your shortlist.  If you are just replacing a head unit or have to have the post and head unit, it will be covered here.  As these are solar lights they do not require any wiring or other prep work, just a solid foundation to mount on.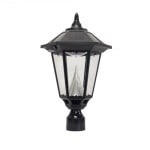 Gama Sonic GS-99F
This head unit will replace any existing light that has a 3 inch fitter.  If you have a gas or line voltage light that does not work or needs replacement this is the product for you.  No more wire or gas lines to worry about under the ground, just cap the gas line or undo the wiring at the start of the run and install the new fixture.
The unit is made form cast aluminum in a powder coated black finish and has beveled glass.  It is 20 inches tall and 13 inches around. The 11 LED lights will light an area about 15 feet by 15 feet with the 150 lumins of light.  A dusk to dawn switch will turn your light on in the evening.
The six mono-crystalline solar panels will charge the two replaceable 3.2 volt 1500mAh rechargeable batteries for about 15 hours of light on low setting and about 10 hours on high setting.  Time the light will stay on after dark is determined by the charge the batteries get from the sun during the daylight hours.
Gama Sonic GS-114-FWP
This cast aluminum with a weathered bronze finish light fixture comes with several mounting variations.  You can mount on a flat surface either horizontally or vertically, this means you can use it for a deck post topper or on a wall.  It also comes with a 3 inch fitter adapter for replacing a gas or electric fixture on the top of an existing post.
The fixture will be 13.5 inches tall and 7 inches around.  Dusk to dawn sensor will control the light. It will have 5 LED lights that produce 50 lumins of light, will be powered by 3.6 volt 800 mah rechargeable battery pack.  Battery pack will get its daily charge from a solar panel.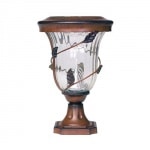 Gama Sonic GS-113F
This rust free aluminum fixture is finished in Antique Bronze.  It has vines made of metal winding up the side for decoration.  This fixture will be 12.5 inches tall and 8.5 inches across.  It comes with a 3 inch fitter base to fit most existing post, for easily replacing a gas or electric fixture.
A dusk to dawn sensor will turn on the 6 LED bulbs producing 70 lumins of light.  The mono-crystalline solar panel will charge the 3.2 volt 1500mah rechargeable batteries.
Gama Sonic GS-94
This series of lights will come in three types of tops.  The black powder coated finish will cover the cast aluminum parts. You can get a single, double or triple lamp for this light fixture.  The fixture and post will be 90 inches tall and the area that will be lit will depend on the number of lights selected.
Each head fixture will contain solar panels to charge the 3.2 volt 3000 mah rechargeable battery packs.  When replacing the batteries you must purchase battery packs that are the same as removed.  A switch will let you choose between low or high on each light fixture to light the nine LED bulbs per head.
Assembly will require mounting the base to a concrete slab with the included bolts and nuts.  After the base is installed, you have to assemble the three parts of the post and then the fixtures on top.  If you have more than one fixture on top, it will take installing the fixture arms then fixtures.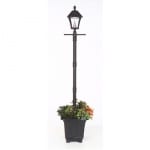 Gama Sonic GS-106PL
This is a free standing post light with a planter for the base.   The finish will be a black powder coat over the aluminum construction.  The total height will be 77 inches with the planter 15 inches square.  It will weigh about 14 pounds without dirt and plant, this means it will be easy to move from one location to another as you do not have to mount it to a concrete base.
The four solar panels gather energy to be stored in the 3.2 volt 1500 mha rechargeable battery.  The six LED bulbs will light up on either low or high.  The low setting will give a longer light and the high setting will give a brighter light for better coverage.  A dusk to dawn sensor will turn on your light at dusk and off at dawn.
The post will come in four sections that will require only a screwdriver and a wrench to assemble.  Placing some rocks in the bottom of the planter before your dirt will help in stability
Conclusion
Whether you are replacing an existing post unit or planning a new one, these outdoor solar post lights will fit into your plans.  Each type will have some advantages, your situation will dictate what kind of fixture will work for you.  With the solar power of these units you will not have to run wire or gas lines to you lighting location.  If you think that a line voltage light will work better for you see my post on them here.  If you need to add a post to your selection, see this post.
As always if you have any questions or comments use the form below.
Thanks for reading.
There are affiliate links in this post