Patio Dining set Umbrella
After or during your purchase of your outdoor patio dining set you will maybe looking for a matching patio dining set umbrella.  In this article I will look at two different sets and their matching umbrella.  If you have one of these sets, you will want to read this article.
Outdoor decor is one thing that will make your space stand out from others, having matching decor will make you the talk when people come over.
---
If you would like to just see pricing and availability of these umbrellas, use the link below
If you want more of my information before making a decision, keep reading my article.
Product: Better Homes and Gardens Jade Avenue Umbrella
Price when article was written: $89.88
Where to get for the best price online: Walmart.com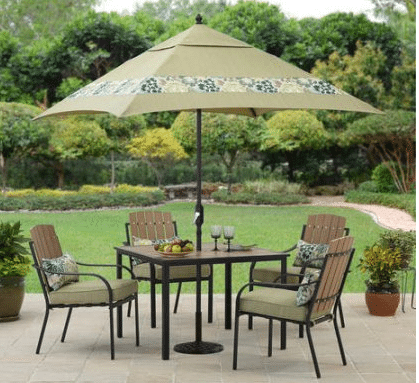 What you get
You will get an umbrella that is made of Olefin fabric, this is one of the best fabrics for outdoor use, no stand is included with this purchase.  It will be rated for 800 hours of outdoor use, depending on your outdoor environment.  Having storage when not in use will extend the life of your umbrella and cushions, I have some suggestions on recommended storage solutions here.
The umbrella will have a square design that will have four sides.  The umbrella is 81 inches from side to side and 97 inches tall without a stand.   A 10 inch polyester floral band is sewn into the olefin fabric for a designer detail.  The fabric detail will match the cushions on the chairs of this dining set.
The aluminum frame will never rust and has a powder coated finish.  The pole will come in two parts and will tilt into three positions, it is 1.75 inches across.  The crank will extend and lower your fabric canopy.
Use and care of your umbrella
This umbrella will make your Jade Avenue dining set complete.  You will need to purchase an umbrella stand to use this umbrella properly, see some of my examples here.  Having both the tilt and retract functions will make getting the proper shade for your dining easy.
When your umbrella needs cleaning, a simple solution of mild soap and water will be all that you will need.  Do not use any harsh chemicals even glass cleaner as they will damage your painted surfaces.  A clear liquid wax is recommended to make your metal parts shine.
For more  information on the Better Homes and Gardens Jade Avenue dining set use this link.
Product: Mainstays Willow Springs 7′ Garden Umbrella
Price when article was written: $69.88
Where to get for the best price online:
Walmart.com

What do you get
This umbrella will match the fabric on the chair cushions for the Mainstays Willow Springs dining set.  The fabric is Olefin and will stand up for at least 800 hours in outdoor conditions with proper care.
This umbrella has eight ribs.  It is 80.5 inches across and 85 inches tall without the base.
The metal parts are made of steel with a powder coated finish.  The pole is in two parts for easy storage.  The umbrella has a crank for raising and lowering the shade.  This umbrella does not have a tilt feature.  It does have a matching stand with the information below.
Use and care of your umbrella
Installing your umbrella should be done with some care.  I have pinched my fingers a couple times trying to line up the bottom and top post.  Once you lock the two sections of poles together, you can turn the crank to raise the canopy.  When finished turn the crank to lower the canopy.
The materials on this umbrella can be cleaned with a mild soap and water.  Do not use any harsh chemicals as it will damage the painted surfaces.
For more information on the Mainstays Willow Springs dining set, see my article here.
Matching Umbrella stand Mainstays Willow Springs
This umbrella stand is shown in the Mainstays Willow Springs collection.  The color will match the frames of this collection and it will keep your umbrella steady in light winds.  It has a steel frame and pole with a set screw on the side to secure the post of the umbrella.
As it weighs only 5 pounds it is not as heavy as some of the stand that you fill with some kind of media or concrete.  The design will match the design in the chair backs of this set.
If you are looking for design over function or live in an area with little or no wind this umbrella stand will work fine.
---
For matching Umbrellas, check each collection with the link below
My thoughts on matching your umbrella with your dining set
With outdoor home decor being just as important today as indoor decor, having matching patio dining set umbrella for your outdoor space will  make your space pop.  These umbrellas are color matched for the best fit.
Watch your fabric as these are made with the premium fabric Olefin and will fade if not protected from the elements.  Inside storage is recommended for any time that you are not using your cushions or umbrellas.  For larger storage solutions see my article here.
Use your social networks to let your friends and family know about these items and the information here.
Questions and comments can be made with the forms below, I will answer quickly.
There are some affiliate links in this article, if you use one I may make a small commission, it will not effect the price you pay.