Outdoor Glider Bench
If you are looking for a place to sit and relax in your outdoor space, an Outdoor Glider Bench will work in most places.  We will look at several different styles and materials for you to make a better choice to make your decision.  I did put one rocker in this post as I thought it would fit for some folks.
Look at the size differences in some of these gliders as you will have to decide on how big of a seating area it will take to let you relax with your significant other.  Don't go out and measure how wide she is, it will not turn out well for you.
Metal Love Seat Glider
This metal retro Love Seat Glider is finished with a choice of four colors (blue, green, red, and white).  The UV resistant steel material is powder coated and will withstand the outdoor environment for years.
It is recommended that you have 2 people to assemble the glider, and set aside anywhere from one to two hours for assembly.  If you get a scratch, you can use the included touch up paint to fix it.
The bench is 52 inches wide, 30.75 inches deep, and 33.25 inches high. The height of the seat is 14 inches.  It weighs about 84 pounds.  The weight capacity is 500 pounds for the two people.
Metal Sofa Glider
This Sofa glider will be a choice if you need more seating than the love seat glider and you do not want additional furniture.  It will also be a nice addition to the Love Seat glider as you can match the color and style selections.
This bench will be slightly larger at 72 inches in width, the other dimensions will be the same.  The wight will be slightly more at 118 pounds.  Weight capacity is 750 pounds for the three people.
The only complaint about these gliders is that if you rock too far back the glider can overturn backward.  This can be fixed by having the glider sit with its back to a wall or making sure that the occupants know this fact before rocking too big.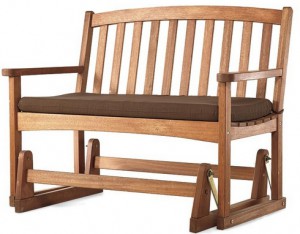 Eucalyptus Wood Love Seat Glider
This Love Seat Glider is made from plantation grown eucalyptus.  This is a very hard wood that with little care will last a long time in the elements of the outdoors.  It is finished in the color of teak without the extra price of the more expensive wood.  Refinishing once a year will help the finish stay the same color. The stronger mortise and tenon joints with making this glider last a long time.
The glider is 46 inches long, 26 inches deep, and 36 inches high.
It will handle 250 to 300 pounds for sitting.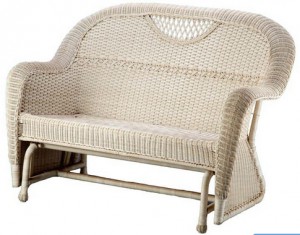 Resin Wicker Glider
This glider made of resin wicker will last a lifetime with little or no care.  The aluminum frame will make this piece very stable compared to regular wicker furniture. The high back and comfortable seat area will make for many hours of sitting.
This glider can be ordered in three colors(Antique White, Chocolate, and Brown). This is part of a set that includes a Table, Chairs, Ottoman, Love Seat, and Sofa.  Matching cushions can also be purchased for this set, they will allow the taller folks to sit more comfortably.
The glider is 50 inches wide, 27.5 inches deep and 36 inches tall.
A similar Chair Glider is 28 inches long, 28.5 inches deep, and 36.5 inches tall.
Oak Rocker Settee
This high-quality Oak Rocker is handmade in the USA.  It is made from kiln-dried Appalachian white oak. It has mortise and tenon joints, it has a oil finish that will make it last in the harsh outdoor weather.  The weather-resistant hardware will withstand rust for many years.  This will be the piece that you will need if you do not like the look and feel of the gliders.
The rocker is 48 inches wide, 32 inches deep and 34 inches high
Options for your Glider
To make your sitting more enjoyable, cushions are available in many sizes and color styles.  Taller people will like the extra legroom that cushions give.  Your butt will like it too.
For when your glider is not in use, a weather cover will make it last for a very long time.  Some covers are made just for this type of furniture.
Conclusion
If you are looking for extra seating for your outdoor area, the Bench Glider will be a more comfortable experience than a plain bench.  The addition of the movement will help you get away for an extended time and relax in your outdoor space.
The only safety thing that was mentioned in researching these gliders was not to let small kids glide too big, as they tend to fall over backward.  During normal operation, this will not be a problem.
A lot of these gliders are no longer available, for a newer post on gliders see my post here.
If you have any questions or comments use the form below.
There are affiliate links in this post
Thanks for reading,
John