4 Piece Wicker Patio Conversation Set
When looking for a 4 piece wicker patio conversation set for your outdoor area, the Better Homes and Gardens Amelia Cove set from Walmart.com will be an inexpensive choice.  The price is in the low $500 range, compared to more than double that for some similar sets.  The powder coated steel frames covered with resin wicker will give the look of rattan wicker at a much smaller price.  The reversible cushions will give you several color designs without purchasing other items.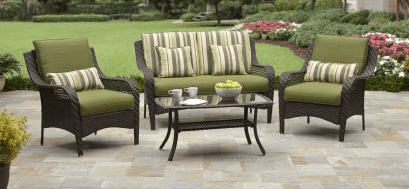 This set will give you years of use without much care, just keep the cushions in storage when not needed.
---
To get your conversation set, click on the following link
Now lets look at the details and see if this set will work for you.
Product: Better Homes and Gardens Amelia Cove conversation set
Price when article was written: $499
Where to get for the best price online:
Walmart.com
What do you get in the box
Get your big boy pants on when you get this in the one box, it will weigh a hefty 133 pounds.  The box is 50 inches long, 36 inches wide and 26 inches tall, you will need help and a large SUV or pickup to take home.  Once you get home you will have a lot of assembly to do.
The steel powder coated frames will be covered with a resin wicker in a woven design.  The resin wicker is made from recycled materials, you will be sitting on your old water bottles.
The set will include a smoked, tempered glass insert for the top of the table.  The love seat and two chairs will give comfortable seating for four people.  The cushions will be reversible for a different look, solid green on one side and stripes on the other.
The table is 39.25 inches long, 22 inches wide and 18 inches tall. It has a wicker support shelf for storage of magazines or books.  The glass top does not have squared off ends, may be difficult to have cut to fit if it gets broken.
No hole for umbrella in this table, it is too small for supporting an umbrella.  If you want shade for this set, an offset umbrella will work, look at some of my suggestions here.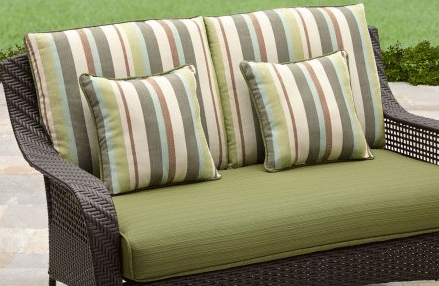 The love seat will support 400 pounds total for the two sides.  It is 31.5 inches deep, 55 inches wide and 35 inches tall.  The seat is 22.5 inches deep, 47.25 inches inside the arms and your butt will be 13.25 inches off the ground.  It will have metal straps to support the seating cushions, the back is a woven wicker design.  You can use this set without the back cushions, just not as comfortable.
The chairs will support 225 pounds each.  Each chair will be 31.5 inches deep, 30.5 inches wide and 35 inches tall.  The seat is 22.5 inches deep, 23 inches wide inside the arms and 13.25 inches off the ground.  The design is the same as the love seat.
Cushions and pillows will have Olefin fabric covers and polyester filling.  The Olefin fabric is very durable in outdoor environments, I would still recommend storage when not in use for a longer life.  Set will come with two toss pillows and two lumbar pillows.
This set is priced very well in this market, it is one of the lowest priced resin wicker conversation sets today.  Many customers state years of use with little or no wear and tear on the wicker material.  Cushion will last as you take care of them, see some of my storage suggestions here for extending the cushions outdoor life.
Assembly and care of your conversation set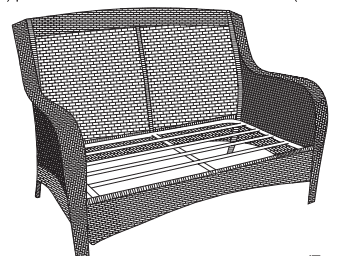 Some customers stated the assembly was very difficult, depending on your skills and help this set can take a couple of hours to put together.  Plan on having at least one helper when putting together, it will cut down on the frustration.
The table will take putting the top upside down and attaching the four legs to each corner.  Add the center support and sit up on the legs.  Make sure you tighten when sitting on the legs on a level surface to make sure that your table will always be stable.  Insert glass top and you are ready for a beverage before moving onto the sitting pieces.
The sitting pieces will go together much the same.  Slip seat panel into back panel and attach one arm panel to this assembly, this is where a second set of hands will help.  Turn over and attach the other arm panel, set up on legs for final tightening.  Add cushions when finished and you are ready to reward yourself for a great looking finished product.
When your set does need some cleaning, make sure that you do not use any harsh chemicals.  A mild soap and warm water is all that is recommended for any cleaning.  This will protect your painted surfaces.
Pros
Has a matching bistro set for small dining
Cushion can be reversed for a different look
Olefin fabric for cushions and pillows is very durable in outdoor conditions
Glass top for the table is removable for replacement if broken
Cons
Assembly can be a challenge for some
Some customers did not like the resin wicker material
No zipper in cushions for cleaning or replacing the covers
---
To get your conversation set, click on the following link
What do I think of this set
For the price when looking at a 4 piece resin wicker patio conversation set, the Better Homes and Gardens Amelia Cove set will be hard to beat.  The set is very sturdy, assembly can be a bother if you have little skills in this area.  Once put together it will require little care, just store the cushions when not in use.
Many customers stated they got seven or eight years of use out of their sets before the cushions needed replaced.  Not many complaints with the resin wicker or steel frames on this set.  One customer had bent legs on their table and it would not sit up correctly.
If you found this information helpful, share on your social networks with your friends and family.
If you have any questions or comments, please use the forms below.
There are some affiliate links in this article, if you use them I may make a small commission.