Portable Fire Pits for Outdoor
If you are looking for the Best Portable Fire Pits for Outdoor use for your patio or tailgating party, one of these smaller fire pits should work for you.  We will look at several details of small metal fire pits and discuss each of their properties.  This will give you a better idea of what will work for you.  We will be looking at the wood burners in this article.
For more information on a tabletop propane fire pit that is portable, see my information here.
For a small gas-powered fire pit that does not require a patio table look at the small fire pit in this article.  Now let us look at some of the details of these wood burners.
What to look for in your fire pit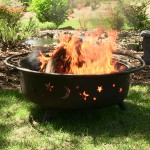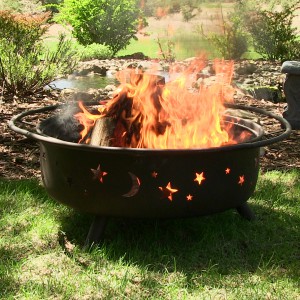 Most metal fire pits are made of cast iron with some having a bronze or copper finish. The bronze or copper will make them last longer in the outside environment. Most of the time only the bowl part of the pit will have a coating on it.  The legs and frame will be made of cast iron or stainless steel.
The size of the bowl will be how much wood you can burn at one time.  The deeper and wider the bowl the more wood it will take.  Also, the taller bowls can have sculptures on the side. Some will have collegiate logos for tailgating.
If you like to cook on your pit, look for one that has a grate that you can put a cooking pot on. Most grates will not be able to handle a hamburger as it will fall into the fire.
What comes with each fire pit
Your fire pit can come with many extras.  Look for the ember cover.  This will keep your fire from spreading out in your yard if you have to step away from it for a few minutes.
Most will come with a poker that doubles as a lift for your cover.
Look at the different models as most will come with a vinyl cover.  This will help your fire pit weather the rain and snow.  If it is not included, this is a great upgrade for you to make your pit last longer.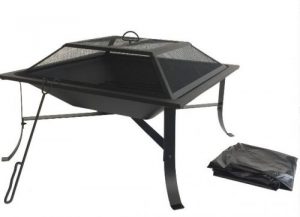 Because this will be an open fire, you must keep your fire pit 20 feet from the side of any structure.  This will keep you from melting any vinyl siding or catching any wood on the fire.
Do not use any flammable starter for your fire.  This will include Gas, Kerosene, Alcohol, or other flammable liquids.  Use small sticks or starter wood pieces.
Do not use on composite or wooden decks without a Deck Mat.  These mats will protect your surface, but you will still have to be away from any structure that the fire could harm.
Adult supervision is necessary when children are around the fire pit.  When making S'mores or hot dogs, Adults must make sure children are following all safety rules for an open fire.
What to add to enjoy your fire pit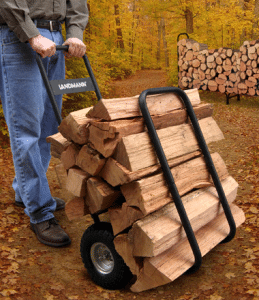 Here are several items that can make your outdoor fire pit a great addition to your outdoor space.
Log Grabber-will make getting and moving bigger logs easier. It can handle logs up to 8 inches around.
Deck Mat-Available in several sizes, this mat will protect your deck from the heat of your fire pit.  It will not protect the side of any structure.
Log Rack and Cover-Small log racks can store your wood close to your fire area so that you do not have to transport it a long way to your fire.  The cover can protect your logs from the weather and let you have a fire at any time.
Firewood Log Cart-If you have existing storage that is for your logs and it is a long way to your fire pit area, the log mover will help you navigate almost any terrain between the two.  Click here for more information on the Firewood Log Cart.
Pros
Most small fire pits a portable enough to take anywhere.  

Some are made with a carry case to pack up and put in the trunk of the car.

Comes with everything except the wood to burn.

Easy to assemble.  Most can be put together in less than a half-hour.
Cons
Must be kept out of the weather or covered to protect it from rust.

Most do not have room for cook pot or cooking.  Must purchase a grate with legs to use for cook pots.

Must wait for it to cool before transporting
Conclusion
When looking at the Best Portable Fire Pits for Outdoor use for your patio area, most wood burners will be light enough to move before you start your fire.  If you have a need for heat or a portable cooking appliance, an outdoor portable fire pit would work for you.  You must follow the safety suggestions for wood burners to keep you and your friends safe.
I have used a small wood burning fire pit for several years with great success.  The ability to move to a location for your fire anyplace outdoors makes this a great choice for tailgaters or someone that likes to take a firepit with them camping.  I always have firewood around the house as I have a woodburning fireplace indoors. 
For those who don't like to mess with the cleanup or the wood mess, just get a gas fire pit, you will just miss out on the smell and smoke of a wood burner.  Look at propane-powered fire pits here.
Thanks for reading my information, if you have any questions or comments use the forms below and I will get back to you shortly.