Round Dining Table Set for 4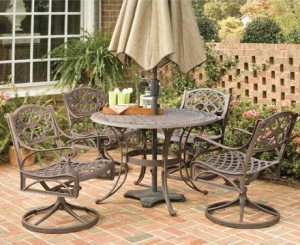 We are going to look at the Biscayne 5 Piece round dining table set for 4 for your outdoor eating comfort.  This set will include four swivel rockers or arm chairs and a 48 or 42 inch round dining table.  Some sets will give you an option of a Black or Rust Bronzed powder coated finish with a clear coat for many years of use.  Holds up well in all outdoor weather.
Made of a solid cast aluminum, it will be a lot more durable than other sets made of a tubular design. The weight of this set will make it very sturdy in windy environments.   All legs will have Nylon Glides for leveling and ease of movement.
Just add your Umbrella and Umbrella Stands and this will be a complete dining set for your outdoor space.
Chairs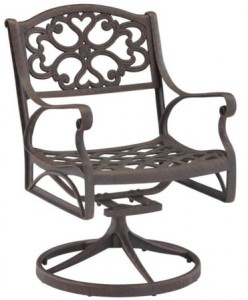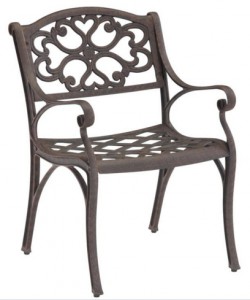 You can purchase two styles of chairs with the Biscayne Group.  The Swivel rockers and the straight back with arms.
The swivel rockers will give you comfortable sitting while letting you have some movement.  This chair will be comfortable without cushions for an evening of entertaining.  Each chair is 24.4 inches wide, 22 inches deep and 33.5 inches tall.  The seat height is 16 inches.
The straight back chair are a little more rigid, I would opt for some kind of cushion for longer periods of time sitting for comfort. These chairs will have nylon glides on the feet.  These chairs are not stackable for storage.  Each chair is about 22 inches wide, 23 inches deep and 33 inches tall. The seat height is 16 inches.
Table
The table comes in two sizes, a 48 inch for more room for your food and drink trays.  The smaller 42 inch table will fit a smaller patio or deck area.  The table is 29 inches tall.
The table will come with a hole for an Umbrella.  Nylon glides will help level your Table on an uneven patio.
The solid cast aluminum will be finished in a black or rustic bronze with a clear coat fro durability in the outside elements.
Assembly And Care
Assembly will be easier if you have a helper.  Use the included wrench to assist in assembly.
Simple care with gentle soap and water will be all that it will take.  Do not use any hash chemicals, as they will discolor the clear coat finish.
Pros
Easy to assemble
Available in different styles and colors
Heavy weight allows to be used in a windy environment
Powder coated finish with clear coat
Cons
No cushions, have to purchase seperatelly
Have to add Umbrella and stand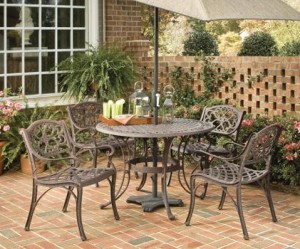 Conclusion
When looking for a round dining table set for 4 for Your Patio or Deck, check out the Biscayne 5 Piece Dining Set.  It is available in different table sizes, chair designs and color options to match your outdoor space.  Both styles of chairs are comfortable for dining with out cushions. I do have some ideas for cushions for this set.
Some Affiliate links are used in this post.
Thank you for reading, if you have any questions or comments please use the form below.
John