When installing Submersible pond lighting you will need to look at several factors that will be necessary for safety and proper installation.  We will look at what you get and what you will need to make your installation a big success.  Safety is the most important when mixing water and electricity.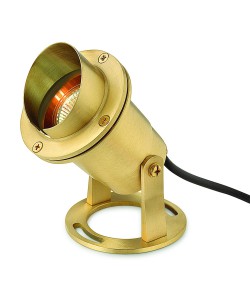 Type of pond lights
There are only a few lights that are made to be installed underwater, make sure that you choose wisely. These can give your pond or fountain a great deal of appeal if done correctly.  Please check to make sure the UL listing is for wet locations.
Brass or stainless is the material that most will be made of.  The light will have a stand to adjust the angle of illumination to the desired effect.  It will need a solid surface to sit on.
The light will have a front cover that is removable to change or install the light bulb.  This cover will have a rubber seal to keep out moisture.
A 25-foot lead cord is attached to the light, as the wire run from the transformer cannot be within 10 feet of a water feature.  See my article on wire runs. 
What else will you need to make it work
You must use a transformer that will work in wet locations.  Not all transformers will meet this requirement.  Check your entire wire runs to make sure that you have the proper size of the transformer.  See my article on transformers for more information.
You need to check the information on each light fixture as some do not include the bulb that is needed.  You will have to purchase the proper bulb to make your light work.  You would think that this would be included, check information on each fixture carefully. 
Safety concerns
Always when working around water and electricity there is danger.  With low voltage lighting, this is not any different. The line runs of wire must stay at least 10 feet away from a Water Feature to meet most safety requirements.  
Do not try to improve your light fixture in any way, as it is a sealed unit from the factory to keep out the water. When changing or installing the light bulb, inspect the rubber gasket for any defects as this will shorten the life of your light if any moisture gets in.
These lights are not recommended for use in pools or spas, as the chemicals will weaken the water tightness and you may get a short. This could lead to an electric shock of swimmers.  This would not be a good thing during a pool party.
Conclusion
When looking for a water feature light, make sure you have done some research on the proper light for the installation.  Not all lights will be able to be used for submersible pond lighting.  Double-check your transformer for proper wet location use. Safety should be your number one concern when installing a light in a wet location.
Having the correct light and accessories will make a great addition to any water feature.
Any questions or comments use the form below.  If you would like to get updates on the post on this site please use the contact form to the right. There will be no spam, just updates on what is posted here.