Conversation Patio Furniture
When looking for a cheap conversation patio furniture set, this Mainstays Stanton set from Walmart.com will be something to compare with other options.  I have information on several other sets here.  This set has a dark brown powder-coated steel frame, three different color choices for cushions, and tempered glass with a pebble top design.
The best thing about this set is the simple design, low price, and free pickup at any Walmart store. Set up by the pool or any medium, 8-foot square, or larger outdoor space.  No other sets or pieces are available for this set.
Now let us look at the details of the Mainstays Stanton set and see if this set has what you are looking for.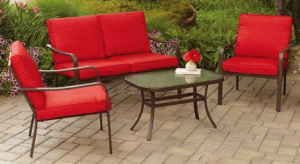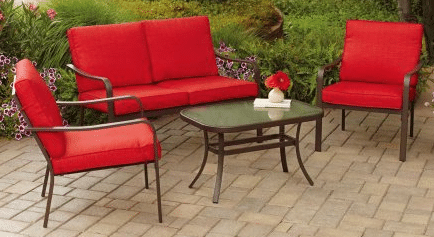 Product: Mainstays Stanton Conversation set
Price when the article was written: $235.99
Where to get this set online:

Walmart.com
What do you get in the box?
You will get two straight-leg chairs, a two-person love seat, and a tempered glass-top coffee table.  Your conversation set cushions will be available in three colors green, red, and brown.  The frames are a powder-coated steel material finished in a very dark brown, almost black.
The chairs are 29.5 inches deep, 24.25 inches wide, and 28 inches high. Each chair will support 250 pounds. The backs of the seating items have a steel bar for support, the seat has a poly fabric to support the seat cushions.
The love seat is the same size as chairs just double wide at 45.5 inches.  It will support two butts at 500 pounds.
The coffee table is 32 inches long, 20 inches wide, and 18 inches tall.  The top has a built-in glass insert.  No hole in this table for an umbrella, the table is just too small anyway.  The glass insert is made from a tempered glass material that will last very well in outdoor conditions.  The top will have a pebbled glass look.
Seat cushions have clips to hold to the frame, the cushions can be reversed when needed.  The cushions are made from polyester material.  The seat cushions are 22 inches deep, 21 inches wide, and 3 inches thick.  The back cushions are 17 inches deep, 21 inches wide, and 3 inches thick.  Covers for cushions have zippers to remove for cleaning.  I still recommend storage for cushions when not needed to extend their outdoor life, see some of my storage solutions here.
Assembly and Care of your conversation set
Your set will arrive in one box.  Assembly of the table will take having the top upside down on a solid surface.  Add four legs to the corners, then add the center support.  Set up on legs for final tightening of screws so that your table will sit level.
The chair seat will attach to the back assembly.  The arms/front leg assembly will be added next.  Add cushions and you are ready to sit.
This set can be assembled in about an hour with two people and some skills.
Any patio furniture should be easy to take care of, just do not use any harsh chemicals to clean the painted or cloth materials.  Use only a mild mixture of soap and water to clean this set for the best results.
Cushions should be stored out of the weather when not in use to prolong their outdoor life.  I have several storage solutions in articles here.
Pros and cons of the Stanton patio furniture
Pros
Easy assembly
Cheap Price, free pickup
Reversible cushions are available in four colors
Cons
The glass top is not easy to replace if broken
If chipped steel frames will start to rust
No other matching items are available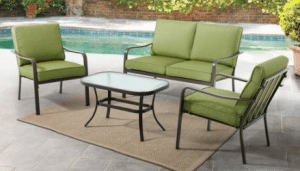 ---
To get this inexpensive set today, click the following link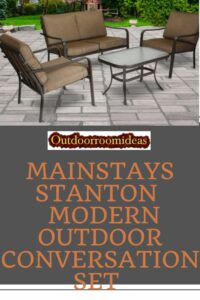 My take on this conversation set
When looking for inexpensive metal conversation patio furniture, the Mainstays Stanton set will work very well.  For a price of under $250, the choice of four cushion fabric colors, and easy assembly, you will be hard-pressed to find a better set for the price.  Keep the cushions in some kind of storage when not in use and this set will last several years.
I like that this set has a simple design that will go with almost any outdoor decor.  It will fit in any area that is at least 8 feet square or larger.  You can place it by the pool or in a garden area, this set will look good in any location without any changes.
If you liked this information and found it useful, please share it with your friends on your social networks.
If you have any questions or comments, please use the forms below, I will get back to you shortly.
There are some affiliate links in this article, if you use them I may make a small commission.