When looking for patio furniture for your patio or by the pool that can be used for multiple purposes, a Convertible Daybed for Patio use could be your choice for seating and snoozing with the same furniture.
This will give you the use of a Love Seat sized seat and a place to take a nap when needed. The Better Homes and Gardens Delahey Daybed will be the subject of this article. I will give you the details of this daybed and see if it fits your seating needs.
The following table will give you some quick details of this set, if you want to look at the current pricing and color choices, use this link for the Delahey daybed.
Frame Material
Solid Hardwood
Bench size
60 inches sides up
79 inches sides down
Weight Capacity
550 pounds
Price
$299 Blue cushions
$315 Green cushions
My Rating
8.8 out of 10
Delahey Daybed for Patio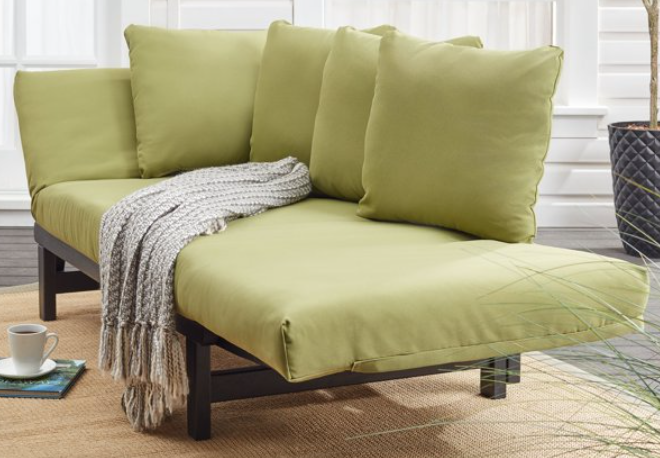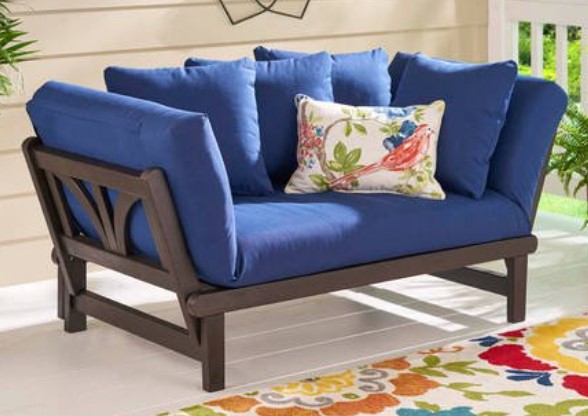 Features and construction of this daybed
The Delahey daybed will have a hardwood frame. The frame will have four legs, a slatted seat, a railing type back, and two sides that will move to convert the love seat to a small bed. Each end piece will have an arched design.
The end pieces will rotate on special screws call headpins. The angled ends of each end piece will help lock it in the up or flat position. You can lower just one end if you wish to make a Cleopatra bed. Be careful not to sit on the ends when no one esle is on this daybed as it can tip and throw you off if there is no counterweight on the bench.
The seat cushion will have a polyester cover available in two colors red or green. This cover has a zipper for removal to clean the cover. The four pillows will have the same polyester fabric cover.
Dimentions and special options
The daybed is 60 inches long when both ends are in the up position. It will be 79 inches when both sides are down. If you are going to use this as a day bed you will need a lot of room.
I find the size of the bed is great for me as I am taller and the 79 inches means that my feet will not hang off the ends or I will not have to sleep curled up tightly.
The bed will be 16 inches off the floor with cushions, this is low for some. The bed will be 31 inches from front to back. The seat will support 550 total pounds of weight.
The cushions will have polyfill and Polyester covers. You may have to fluff the bottom cushion when you lay this bench down so that you do not have any spots that you do not have any filling to lay on. Zippers are included to remove the covers for cleaning, it does not state if you can machine wash these covers.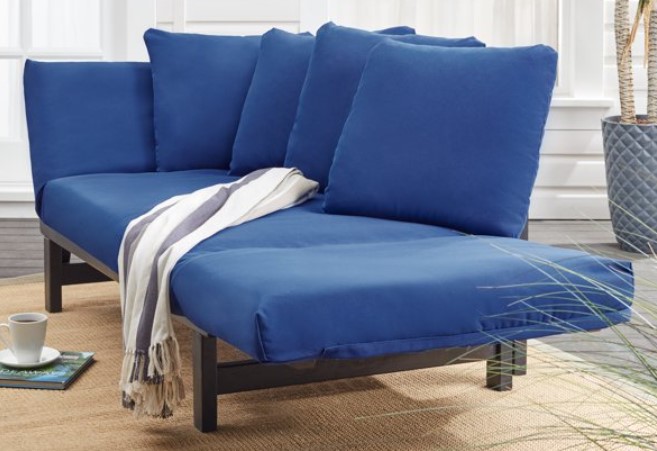 Assembly and Care of your patio furniture
Assembly
The assembly will take a couple of tools some are not included, a Phillips screwdriver (not included) and an Allen wrench (included in the hardware pack).
The legs will attach to the bed frame with a 2 1/4 inch screw on each leg. Add the sides to the bottom frame, making sure that the sides are placed with the angle facing in so it can lock when up or down. The sides will be held in place with two Allen screws on each side. Don't over tighten as the sides will swivel on these screws.
Add the back with 4 more 2 1/4 inch Phillips screws. If done properly the sides should lock up or down with the angle part hitting on the lower or upper end on the seat frame.
Add cushions and pillows, you are ready to enjoy your daybed.
Care
Pillows and cushions should be stored out of the weather when not in use. The cushions have a zipper to remove the cover to wash when needed. Use a mild soap and never use a bleach based detergent as this will fade your color on the cushions.
Look at some of my storage solutions for patio furniture cushions in my post here.
The hardwood frames of the Delahey Daybed will best be preserved by treating with hardwood oil once a year. This step will make your frames last longer than most deck surfaces.
Pros
Can be used as a love seat or daybed

Both ends of this love seat will lay flat, you can lower one or both to make it into a 79-inch long bed. This is plenty long enough for people over 6 feet tall to lay down in comfort.

Thick cushions

The seat cushion will lay flat when converted to a bed, you may have to fluff the stuffing to make sure that you are not laying in a void area with no stuffing.

Hardwood frames

the frames are made from a hardwood material, it does not state what kind. It does recommend to treat the wooden structure once a year with proper wood treatment, like teak oil.
Cons
Cushions and pillows will need a storage solution

Any outdoor cushions will need storage to last more than a couple of years. I would recommend storing them out of the wet and freezing temperatures.

Low seat height

The top of the cushion is only 16 inches off the floor, some found this hard to get out of after spending some time on the bench after a nap.

Cannot sit on the end

Even though you can let the sides down, you should not use this area for extra seating as your seat may shift. This bench is not made to sit on with your full weight on the ends, only for your head or feet.
Similar Daybed Products
I have several swings that will convert to daybeds in articles here.
Final thoughts on the Delahey Convertible Daybed
This is the first daybed like this I have seen. I like the idea of having a love seat that the ends fold down to make a bed. This is actually a bed big enough for me to extend out while laying down, most I have to curl up to lay down.
The thick cushions of this bed will be very comfortable for a long nap or just reading a book. The big drawback is the fact that you will need to find a storage solution for the big seat cushion and four big pillows, this is a lot to store when you don't need them.
Any questions or comments on the Delahey daybed let me know with the forms below and I will get back to you shortly.