Dining Furniture Set for the Patio
When looking to entertain your family and guest with a meal, having a Dining Furniture Set for the Patio will be a great place to start.  In this article I will give you information on several styles available in today's market.  You will have to choose what fits your needs and space the best.
You can design your dining area to fit your yard by using the space that is now a deck, patio, overgrown in weeds, has a garden or just a grassy area. Having a dinning area too far from the home will not make it very useful unless you use it as a picnic area. Closer to the kitchen will make your outside dining area very useful.
Finding the size of your dining area will give you an idea of what type and size of furniture you can use. Some smaller areas like a balcony will only allow you to use a bistro set. Larger areas will let you have a dining table for six and room to have a BBQ pit to cook your food.
Many types of materials are made today for outside dining. Decide on your theme and style, this will give you an idea of the materials you will look for.
Let's look at what will fit each size of space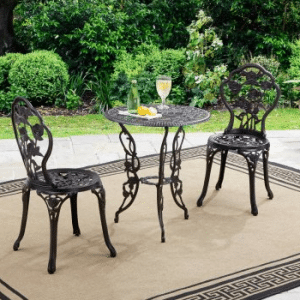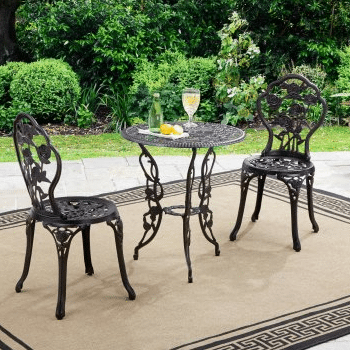 ​Small areas​
Balconies are common small spaces. If you live in an apartment and have a small balcony, a bistro set will work well.
Small decks like the builders grade 8 foot by 8 foot that most new homes come with are a little bigger. Bistro sets still work well on these decks unless you have a larger family to feed. The bistro set will allow you to still move around it and have a way into the house and yard.  Look at my Patio Bistro Sets in this category here.
If you are looking for shade in this space, I would recommend a half umbrella. Click this link for information on the half umbrella.
Medium areas
Medium areas would be at least 10 foot square. These will allow you to use a proper table with four chairs. Most will come with a hole in the middle for an umbrella for shade.  Look at my patio dining sets with seating for four here.
If you want to put a BBQ pit on one of these areas and still have sitting for dining, you may still need to use a bistro set.
Large areas
Areas that are over feet square are what I consider large areas. You can have a large dining set and other items without being crowded.  I have several options on patio dining sets that will seat six here.
In some cases you can have a dining area and conversation are on the same patio area.
Materials for your dining set
When looking for your material, many are available. I will give some details of the major types here.
Metal
There are three major types of metal dining sets, Aluminum, Cast Iron and Steel. Each will have its own look and feel.
The Aluminum will not rust or need a lot of work to keep looking new. It is lightweight and does not do very well in high wind areas. Use this material if you live in an area with a high salt content in the air.
The Cast Iron will give you the look of the ornate style that was used over 100 years ago. The backs and legs can have big designs and will look great in an area that has a lot of plants for that old world look. Upkeep will depend on your environment. Most sets will need a wire brush cleaning and repaint every few years to keep them looking like new.
Most steel framed dining sets will have a powder coated finish, you can match and outdoor color with some sets. This has been used in the auto industry for a lot of years to protect the surface from rust and keep it looking like new. Very little care, just a soap and water bath to clean of the debris from your environment.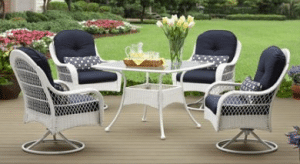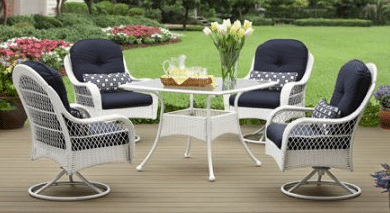 Resin Wicker
Most Resin Wicker is made from recycled materials, this makes it a good choice if you care about your environment. Frames are made from steel or aluminum that have a powder coated finish to match the color of the resin wicker. The furniture can have just some wicker panels or have the entire frame covered in resin wicker.
The resin wicker does not require much work to keep looking like new. Most will never lose their color as it is applied when the wicker is made, not painted like Rattan wicker. If the resin wicker has a broken area, some can be re weaved to repair the area.
Wood
Several major styles of wood are available, dining sets are mostly made from Teak, Cedar or treated wood.
The Teak or Eucalyptus wood has several advantages of the other woods, although the purchase cost is quite a bit more.  The wood will not rot, bugs don't like it and it takes very little care. Just clean with a simple soap and water, then put on some oil for a finish.
Cedar will work well with very little work. The bugs don't like it, just a simple refinish with a stain every few years and it will continue to look new.
Treated will be the cheapest wood. It has some problems with keeping its shape and splinters. Having this type of wood for a dining set will not last the longest either. It will have to be cleaned with power washer and sealed yearly to make it look presentable.
Many options can be added to your dining area
Sound
Speakers for your favorite music, water feature for the soothing sound of running water or wind chimes that gives a ringing when the gentle winds blow.
Heat or fire
An Outdoor fireplace can be a gas or wood burner. A fire pit built into a wall feature or on a patio area can be a major focal feature in any outdoor space. Propane heaters can be table-top or stand up, you can heat small areas on cool nights.
Shade
Shade can be a difference between using your outside area in the day or not. A table umbrella or offset umbrella will give portable shade when needed. A pergola or awning will give a more permanent shade that does not have to be installed when needed.
Storage
If you have cushions, pool toys, BBQ tools or just stuff, some kind of storage will be needed. I would recommend an under seat, vertical or horizontal cabinets for this purpose.
Lighting
Having accent lighting for your outdoor area will give you an area that you can use after dark. Some types of lighting are solar, low voltage, electric, battery or candles.
---
For more of my information on dining furniture ideas, click the following link

My final thoughts
Any time you are looking to have an outdoor dining area, you need to plan ahead. Finding the size of the Dining Furniture Set for the Patio that will fit makes for a better outcome.  Each person will have different needs.
I have several articles on the best outdoor dining sets on my site here. Follow the links in the menu above or just do a search for your favorite size of sets.
If you have any questions or concerns please send me a note and I will get back to you shortly.