Outdoor Propane Patio Heater

When you are looking at propane home heaters for the cooler weather, the Mainstays outdoor propane patio heater should be on your list. This simple tall heater will let you use your outdoor space in the cooler weather.  The propane will burn clean and not leave you a mess when you go back inside.
Now lets look at the details.
Price when article was written:$104
Where to get for the best price online:Walmart.com
What do you get in the box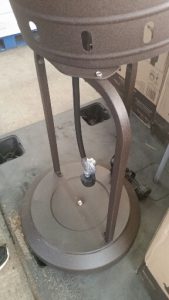 This is a 40,000 BTU heater with an adjustable flame.  The dome shaped to will direct the heat in a downward direction.  The 20 pound propane tank will be easy to install with the bottom of the unit lifting up. You can rest the bottom on the supports to put the tank in .
Safety features will include a anti-tilt to shut off the gas flow if the unit is not upright and a thermocouple that will keep the gas from flowing when the flame is not lit.
If you wish to move your heater, make sure it is turned off, the small wheels will let you move on most solid surfaces with ease.
Your assembled heater will be 86.6 inches tall and 31.5 inches across at the top of the heater.
Shipping box is 18.25 inches tall, 18.25 inches wide and 28.5 inches long.  It will weigh 56 pounds without the propane tank.
Use of your Propane heater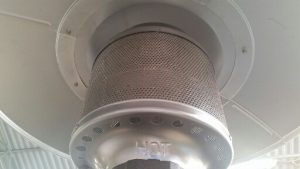 Lighting the heater will take a few steps.  First lift the bottom of the heater so that you can turn on the propane tank.  Then turn the adjusting knob to the ignite position, marked with a lightning bolt on the knob, and push in.  Some customers have used a long lighter when the ignition did not work.
Customers have stated that they get 10 to 12 hours of heat with each 20 pound propane tank on high.  If you run at a lower setting you could get much longer service out of each tank of fuel.
Pros
Easy to replace propane tank
Will heat a large area that does not get a lot of wind
Heavy base will keep heater stable
Has small wheels to make mobile
Cons
Should not use in an enclosed area
Some customers found it hard to light the first time
Assembly will take two people or a ladder to get to the top
Conclusion
When looking for heating solutions for your patio the Mainstays outdoor propane patio heater will be on the top of your list if you are looking for a low priced option.  This heater may not have all of the bells and whistles of the more expensive heaters, it just functions well and provides good heat.  This would be my choice for a heater that does not get used everyday, most people only use their patio heater several times a year, why would you pay $400 for some thing that you hardly use.
If you would prefer a table top heater look at my information here.  There area great looking electric table top heaters for your patio area.
Thanks for reading my article, if you have any questions, comments or items you would like to see covered here, use the forms below.
There are some Affiliate Links in this article.