5 Piece Patio Dining Set
If you are looking for a small dining table and chairs and need seating for four, this Sanibel 5 Piece Patio Dining Set Walmart will do well with a price of under $250.  The table is small in size, just like a bistro set, you can fit this set on any balcony or small patio area.  The table will include a hole for an umbrella (not included) if you require shade for your dining.
For your comfort each chair will have a seat cushion and a lumbar pillow.  The table top is a dark brown color and is made from tempered glass.  This set is designed for those with small outdoor spaces to get out and enjoy a fine meal.
---
This item is currently unavailable, for other options click the link below
For more information to see if this set is right for you keep reading the information that I have found.
Product: Sanibel patio dining set
Price when article was written: $249
Where to get for the best price online: Walmart.com
What do you get in the boxes
The assembled chairs will come in a box that is 26 inches long, 23 inches wide, 34 inches tall and will weigh 55 pounds.  The table will come in a flat box that is 40 inches long, 28.5 inches wide, 5 inches tall and will weigh 46 pounds.  If you pick up, you may want to bring a pickup or large SUV to get this set home.
The steel frames will have a dark bronze powder coated finish.  The chairs will stack when not needed to take up less space in your smaller outdoor area.
The round table is 40 inches across, 28.5 inches tall.  It has a 2 inch hole in the top and a center support bracket for an umbrella (not included). The tempered glass is built into the top, if it breaks it will be hard to replace.  The table is 37.5 pounds, with an umbrella it could go over in high winds.
The chairs come fully assembled, just add cushions and lumbar pillow and you are ready to sit. The seat is a solid material for the cushion to sit on, the seat back has a woven pattern.   Each chair is 26 inches deep, 23 inches wide, 34 inches tall and will weigh only 16 pounds. Each chair will support 250 pounds.  The chairs will stack when not needed, this will help them stay put in windy conditions.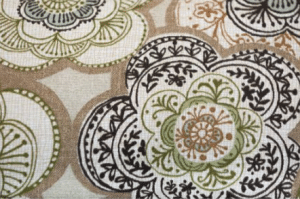 The cushions are made with an Olefin fabric cover, this is very durable material for outdoor use.  The lumbar pillows will have a polyester fabric with a decorative pattern.  I still recommend storage for all cushions and pillow when you set is not in use, this will extend your enjoyment of your patio furniture.  For storage solutions see my post here.
Assembly and care of your dining set
Only the table will require assembly, the chairs are ready to use out of the box just add cushions.  All tools needed are included in the hardware package.
After you open the table box, you can use it to lay the top upside down on.  Insert a leg in each bracket in the top, attach with 2 of the shorter screws.  Attach the middle support to each leg with 2 of the longer screws.  Set up on the legs on a flat level surface for final tightening of the screws for a table that will not rock.
Care of your set will come in two steps.  Cleaning this set will require only a mild soap and water mixture.  Any harsh chemicals even glass cleaner will damage the powder coated finish.  The other step to care for your set is to store the cushions when not in use and stack the chairs.  This will ensure the longevity of your dining set.
Pros
Easy assembly
Chairs stack for storage
Will accept an umbrella for shade
Cons
Light weight may not do well in windy environments
Table is small for a full meal, you may have to make plates from a buffet bar
Glass top will be hard to replace if broken
---
This item is currently unavailable, for other options click the link below
What are my thoughts on this set
When looking for a small 5 Piece Patio Dining Set, make sure that this Sanibel set from Walmart.com is on your list.  Having the ability to stack the chairs for storage and seating for four, you will not find a better set for your small patio or balcony.  The steel construction with its powder coated finish will be very durable in the outdoor environment.
My thoughts are that this is a very nicely priced set (under $250) that will give you years of use with the proper care.  It is hard to find a bistro sized set that has seating for four at this price.
Thanks for reading this far, if you really got some good information please share on your social networks with your family and friends.
Questions or comments will be answered if you use the email address below.
There are some affiliate links in this article, if you use one I may make a small commission, it will not affect the price you pay.