Outdoor Patio Furniture Conversation Sets
We will look at the three most popular styles of Outdoor Patio Furniture Conversation Sets in this post.  The most expensive and long lasting is the Teak Wood.  The Steel framed with fabric cushions is a very popular choice with most home owners, with proper care it can last many years.  The newer Resin Wicker will last a long time with proper care and has that tropical look for your outdoor space.  Lets look at some sets from each style and see if any will work for you.
Teak Wood
Brianna Armchair + Loveseat + Coffee Table + Side Table Set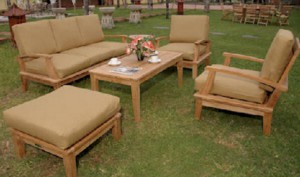 Teak Wood furniture for you outdoor space will last more than one lifetime with proper care.  Some Teak Wood furniture is over 100 years old.  I have more details in the production and usefulness of Teak Wood for exterior furniture in this article (Teak Wood for outdoor furniture).
The Brianna set that you see here comes with two Armchairs, Coffee Table, Side Table and Love Seat.  This set can be used indoors or outdoors.
The price of this style is much higher than the rest, expect it to last more than a lifetime and still look great.  This is high quality furniture, the wood will resist splitting, insects and decay.  You can let it age to several shades of gray or treat with proper oils to keep the original tone.
Steel Framed
Better Homes and Garden Carter Hills four piece set
This four piece metal framed set has very deep cushions.  It would be very nice for a large patio ares.  It will be very comfortable for seating five for an evening of entertainment.  The cushions are reversible in the same color in case that you have a stain and cannot get it out.
The three seat sofa is long enough to take a nap on if you want.  The five inch thick cushions will allow for a comfortable nap.  The steel straps will support a great deal of weight.  The table will have a slotted steel top to match the other furniture.
See my review of this set in this post
Bryant Place Conversation Set
This four piece set will be for the smaller patio areas.  The sofa is only a two seater.  The steel frame has straps to hold up the thick cushions for long seating comfort.  With two cushioned chairs you can comfortably sit four people.  The cushions have clips to keep them in place when in use.  The glass top table will be easy to keep clean.
Resin Wicker
Chatham Conversation Set
This four piece set combines the look of wood and wicker.  The resin wicker is a neutral  gray in color, and it will seat four with comfort. The table will hold your drinks and snacks.
The resin wicker will allow you to leave outside year round with out having to worry about rust or rot.  You could add cushions to improve the comfort of long term sitting.
For more information on this set, see this article.
Prospect Hill Conversation Set
If you are looking for something close to the water, this set will be great for around a pool or beach.  The resin wicker will stand up to salt water very well.  With an aluminum frame and plastic strapping, you should never have to deal with decay.  If a strap is broken, it can be replaced with some weaving work.'
This four piece set will sit three people and give you a place to have your snacks and reading materials.
For more information on this set see my article here.
Conclusion
These three types of Outdoor Patio Furniture Conversation Sets are the most popular at this time.  Although the Teak wood it the most expensive, it will outlast most of the people who buy it with proper care.  The Resin Wicker is one of the best looking and longest lasting, it has the look and feel of Rattan Wicker.  The Steel framed sets are for those that want something for their outdoor space and do not want to spend thousands of dollars to get a good look.
Thanks for  reading my article, if you have any questions or comments use the forms below.
There may be some Affiliate Links in this article.