Landscape Lighting Transformer
In this landscape lights transformer review, we will look at the Hinkley 300 watt Landscape Lighting Transformer.  This is a premium transformer for those with a lot of low voltage lights in their outdoor landscape.  We will look at the different parts and some add-ons to make this work for you.
With this transformer, you will be able to put in up to four runs of lights to a total of 300 watts.  Several different voltages will be available for the longer runs with a lot of lights.  See my link below on several articles on other helpful information to set up landscaping low voltage lighting.
Now let us look at some of the details of the Hinkley transformer and see if it is what will work for you.  If you would like to look at some sets that include a transformer and off on sensor, look at my category here.
What will you get in the box
You get a Hinkley 300 watt transformer for your Low voltage landscape lights.  It is 5.5 inches wide and 17 inches tall.  The cabinet is made of Stainless Steel. A three-foot power cord to hook to a 110 ground fault circuit is connected to the bottom of the case.
Under the cover, there is an on and off switch.  There are separate outlets for a timer or electronic photocell. (Both sold separately, see below)
The bottom of the case has a hole for the wires from your lights to enter. Five different wire hookups on the bottom range from 12 to 15-volt output. The different outputs are for different lengths of wire runs to keep all of your lights at the same brightness.
How does it work
Your Transformer will power 300 watts of total lights.  Having a series of wire hookups will let you power the extra-long runs with the 15-volt outlet and still have 12 or more volts to the last light of the run.  This will be helpful for long runs with a lot of lights on them to keep the end voltage up to 12 to keep your lights bright.
Don't forget to look at my post on wire size when planning your lighting setup.
As this transformer does not come with any other type of switch other than the off and on, you will have to use one of the accessories below.  When checking out you will be given the accessories that will fit the transformer that you have purchased.
Accessories
Timer
Several timers are available.   The ones that cost the least will just interrupt the current at the plug at the source of the 110 current.  They plug into the 110 current and the transformer plugs into the timer.  You can choose between the electronic or the old fashion pin type to set the time to come on or go off.
Photo Cell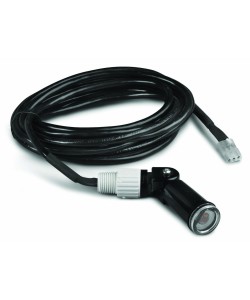 The Hinkley 1510 photocell is a direct wire in with a 10-foot water-resistant lead to have the photocell mounted remotely. It will power your lights on at sunset and turn them off in the morning at dawn. There is a jumper wire in the transformer that will need to be removed for installation.
The Hinkley 1503 ph photocell is a direct wire that will be mounted on the transformer.  It also works off of direct lighting to control the lights on and off.
Pros
Multiple taps to control the voltage drop for extra-long wire runs.

Can hook up photocell (have to purchase separately) right on box or use the one with a 10-foot power cord

Reset switches
Cons
Have to purchase a Photocell or timer to control when the lights are on.

Large size case makes it hard to hide in the landscape.

Must be within 3 feet of a grounded 110-volt outlet
Conclusion
If you are lighting close to 300 watts of lights on several different lengths of runs, the Hinkley 300 watt transformer will be the transformer that will meet your needs.