Conversation Patio Furniture
Having extra tables for your conversation patio furniture in a set is a great asset. With two matching side tables and a coffee table the Better Homes and Gardens Sea Haven conversation set will give you plenty of places to store your drinks and snacks when not in hand. When not needed the side tables will nest under the coffee table to take up less space.
This set will have a love seat, two chairs, coffee table, two side tables and two pillows. The cushions for seating will give you extra comfort for long term sitting if needed. Construction is steel frames, plastic straps for seat cushions support, resin wicker woven back panels for seating and solid slatted surface for all tables.
---
This item is no longer available, please click the following link for more conversation set options
Need more information on this set for a better comparison, keep reading for the best review online.
Product: Better Homes and Gardens Sea Haven Conversation set
Price when article was written:
no longer available
Where to get for the best price online: Walmart.com
What do you get in the box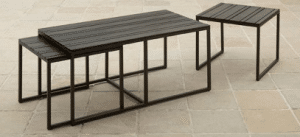 Your conversation set will come in one large box. The tables will come assembled and you will have to do some minor assembly on the seating items. You will get two chairs, a love seat, two side tables and a coffee table. The seating items will have seat and back cushions. Two throw pillows are also included.
All frames are made from steel and are powder coated a dark brown color. The tables have a double coat of paint and may appear slightly darker in color from the seating items that only have one coat of paint.
The side tables are 18.75 inches square and 16.75 inches tall, they are a little shorter than the coffee table so they fit under it. The tables have straight legs and a flat steel top.
The coffee table is 39.25 inches long, 21 inches wide and 18 inches tall. All tables are assembled. Some customers had trouble with the legs being straight out of the box. Contact customer service if you have any troubles with this ( 844-836-4055).
The love seat is 48.5 inches wide, 31 inches deep and 34.25 inches tall. The seat is 11.8 inches above the surface without the cushions.
The chairs are 26 inches wide, 31 inches deep and 34.25 inches tall. The seat is 23 inches square.
The seat cushions are box type with piping around the edges. They are about 3.5 inches thick. The back cushions are more pillow like with a knife type of edge. they are a neutral color that will match almost any outdoor decor.
The two throw pillows are 16 inches square and have a very colorful blue design.
I like the idea of being able to nest the tables when not needed, this gives you extra space when needed.
Assembly and care of your conversation set
Assembly will just be the seating portion of this set as the tables are already assembled. All tools that are needed are included in the hardware kit.
The love seat and chairs have a similar assembly. Attach the seat to the back with legs. Attach arms to this assembly, the arms only fit correctly on one side. Tighten all screws after your love set or chair is on its legs. Add cushions and pillows and you are ready to relax.
Care of your set will be a simple mild soap and water. Do not use any hash chemicals even glass cleaner, these will start the powder coating to discolor and start to peel. This will be the end of you good-looking set. A clear liquid wax will extend the life of the powder coated frames and tables.
The cushions should be stored if not in use, to prolong their life. They are rated for 800 hours of outside exposure, this will go quickly if you live in a harsh environment. See some of my storage solutions here for your cushions.
Pros
Easy assembly
Thick cushions for long term sitting
Side tables nest under coffee table
Cons
Cushion supports made of plastic straps, will stretch over time
Seating and table color a little different
Low seat height under 15 inches with cushions
---
This item is no longer available, please click the following link for more conversation set options
My conclusion on this set
Give your patio area a great look with the Better Homes and Gardens Conversation Patio furniture Set. This set will give any outdoor area a place to entertain your friends and family. With the powder coated frames and thick cushions for comfort, you will have a hard time leaving your outdoor space.
I like the fact that you will need very little upkeep for this set, just find a storage area for cushions when not needed and nest the side table for more room.
If you found this information helpful, please share on your social networks with your friends and family.
Any questions or comments please use the forms below.
There are some affiliate links in this article, if you use one I may make a small commission. Don't be afraid to click one it will not cost you any money.