Outdoor Bistro Table and Chairs
If you have a smaller patio, outdoor area, garden or balcony, you will prefer to have an Outdoor Bistro Table and Chairs Set.  These sets will make for a great conversation area for just two people.  You can make it a romantic getaway in your outdoor space.  You can also set up a Bistro set in a garden area or on a path remotely to get away from the hustle and bustle of your everyday life.
These compact sets can be easily moved to another location or when you change apartments you can take them with you with ease. Most will have a table big enough for snacks and drinks.
The four different styles of bistro sets will work in all situations, they just have different designs and you can choose which one will fit your decor the best. Now let us look at what I have found for you.
For this information in a video format, click the link below
Metal Bistro Sets
These Bistro sets have metal frames and seats for the chairs.  The tabletops can be solid, mesh or a slatted design. The sets will have a powder-coated finish to keep the finish fresh for a long time and resist chipping.  Some assembly will be required before use.
The folding wrought iron bistro set shown at right has a mesh design for the seating and tabletop.  This type of bistro set will need cushions to be comfortable for long term sitting.  I have a similar set at the lake on my deck.
This set will also fold for storage when not needed.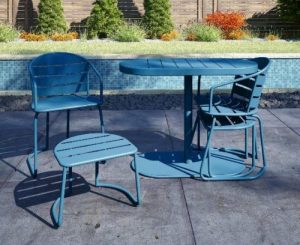 The Costo Nesting bistro set will store within itself when not in use.  An oval-shaped table will allow the chairs to store under the table when not in use.
This set also has two ottomans that each will store under a chair when not needed.  The whole set will store under the tabletop when not in use.
Chairs and tabletop will have a slatted design that will not hold water after a rain.  For long term sitting, I would recommend cushions for comfort.
Pros
Easy to store when not in use
Extra seating with the ottomans
No cushions to store
Cons
Not comfortable for long term sitting
Can rust if the painted surface is damaged
No movement in chairs
Outdoor Bistro Set with cushions
Need more Comfort in your bistro set, get one with cushions.  This will come with a need for a storage solution for the cushions if you want them to last more than a couple of years in outdoor weather conditions.
The Mainstays Belden Park set shown in red has the advantage of swivel chairs and glass tabletop.  The glass tabletops are hard to fix if it gets broken.
I have more information on the Belden Park bistro set in an article here.
The Alexander Square set only has cushions for the seats, the back material is a sling fabric.  The table is very similar to the set above.
The chairs will have straight legs with no movement.  This set is comfortable for short to medium term sitting times.  Long term sitting will have you and your guests getting a little numb in the butt.
Pros
Cushions for seating comfort
Can change decor color with cushion color
Different styles of chairs
Cons
Cushions will need a storage solution
Metal frames may rust if the paint is damaged
Metal with sling seating Bistro Set
I like the sling fabric for seating in my patio area.   It does not take long to dry after a rain and does not require cushions for long term sitting.
The Hanover set shown at right has swivel chairs with some rocking motion.  The sling material for the seats and back will be very comfortable for long term sitting.
The table will be cast aluminum that will have a clear glass top.  This set will require no storage solution and be great for a long time outside with your favorite person.  The Hanover collection has many styles of tables and chairs in their patio furniture, see some of them here.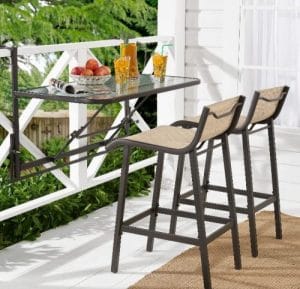 The sling seating and fold down table will make the Crowly Park bistro set a great deal for those with really small spaces and a deck railing to mount it on.
The chairs will have a one-piece seat and small back with sling fabric material.  A bar supporting the legs will give you a place to put your feet while sitting.
The bar-type table will mount to a deck or balcony railing.  The glass top will fold down out of the way when not in use giving you more space outside when needed.
For more information on the Crowly Park Bistro set, see my post here.
Pros
Sling fabric dries quickly
Sling fabric comfortable without cushions
Many styles of chairs available
Cons
Sling fabric hard to replace if torn
Metal frames may rust if damaged
Resin wicker Bistro Set
The Azalea Ridge bistro set shown at the right is a rich-looking set with swivel chairs, cushions, and resin wicker panels.  The cushions will give you plenty of comfort for long term sitting.
The frames and resin wicker finish hold up well in most outdoor conditions, not so much the cushions.  Many have gotten only a few years from the cushions before they are done, no replacements available at this time.
The table is one of the smallest for a bistro set, it is more the size of a side table.  It will only hold a couple of drinks and a small snack.  The good news is that the Azalea Ridge collection has many different types of patio furniture to choose from, see my information here.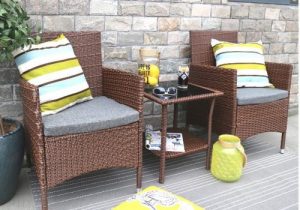 The Baner Gardens bistro set will have two chairs with no movement, they will look like big lounge chairs with thick cushions for the seats. Resin wicker panels will cover all sides and have an arched design at the bottoms of all sides.
The seat cushions will require a storage solution to make them last more than a few years.  The square design of these cushions will make it easier to replace when needed.
Again the table is small in this set.  The glass top table will have a resin wicker lower shelf for storage of your reading material or snacks.
Pros
Great resin wicker style
Most sets will have cushions for seating comfort
Many styles of chairs to choose from
Cons
Cushions will need a storage solution
Higher priced than other sets
Conclusion On these patio bistro sets
Depending on the look that you want for your balcony, patio or garden area, one of these Outdoor Bistro Table and Chairs sets will work for you.  Some of these sets will be available individually.  None of these sets are made to seat a large group of people, they are made to make a romantic or personal spot for just two people to interact.  If you are trying to impress your mate, get one of these sets with a great bottle of your favorite beverage and good luck to you.
If you find this article interesting or helpful, please share it with your friends via social buttons below.  Any questions or comments please use the form below and I will get back to you quickly.
Thanks for reading my post,
John