Outdoor Propane Heater
We will look at the Bronze Finish Outdoor Propane Heater in this review.  We will look at what you get, what you will need to purchase extra, and how it works.
When the weather gets cooler, most people still want to use their outdoor spaces.  One way to keep you and your guests warm is a standup outdoor propane heater.  This type of heater will give you heat for around a p foot area, this is big enough for most patio areas.
Now let us look at the details of this patio heater. If you would like to look at some other propane patio heater options see my post here.
Price when this article was written: $124.99
Where to get for the best price online: Walmart.com
What you get in the box and what you will need
This propane heater will have a bronze finish on the base and pole, the head unit will have a stainless finish.  A 20-pound propane tank (not included in this purchase) will fit into the base behind a door.  The door comes off very easily for changing the tank.
A control knob and igniter will give you control of the flame for heat.  The heat output will be 41,000 BTUs on the high setting.  The Piezo igniter will get your flame going quickly.
You will get a heater that will be 88.6 inches tall. The base will be 17.3 inches wide at the base and the top of the hood will be 30 inches wide.  The total weight will be a little over 40 pounds without a propane tank.
As this heater runs on Propane, you will need to use your BBQ tank or you will need to buy or a 20 lb tank (not included) and get it filled.  This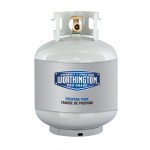 will be an expense for the first time, refills will be much cheaper as you will only have to refill the tank.  This is the same as a regular size tank for a gas BBQ grill. so you can get it refilled at a lot of places. 
How does it work
After assembly and adding the propane tank your work is done.  The electronic piezo igniter will light your heating grid with a simple push of the button. Once lit the heater will produce 41,000 BTUs of heat. This is enough to heat an area about 9 feet all around it depending on the wind and how well you are shielded from other cooling factors.
The tank will last about 10 hours with each refill on the higher setting.
Safety features
Your propane heater will turn off if tipped over with a sensor to stop the gas flow when the heater is not upright.  
Wheels will help you move your heater easier.  Just wait until it is cool so that no one gets burnt.
Pros
Produces a good amount of heat

Has several safety features to protect your family

Wheels for easy movement
Cons
Wind and surrounding conditions can affect the heating ability

Aligning the holes to assemble may take some finesse.  Some directions not very clear.

The finish will need protection to last as long as the rest of the heater
---
To heat your patio with a stand-up propane heater, follow the link below

Conclusion
This heater will be a good addition to your outdoor space.  See the following link to see where to get your own outdoor patio propane heater and a vinyl cover that is available to protect your heater when not in use.
Once getting past the assembly the heater works as designed, but heats better in an area that is is protected from the wind.  The wind will blow the heat away very quickly.  
After looking at this review if you have any questions please use the comment box below.  If you would like to be on the E-mail list for future posts, please use the form to the right.