Portable Wireless Outdoor Speakers
Having an entertainment area in your outdoor space will require a sound system of some kind.  With the technology today, you can get some portable wireless outdoor speakers that will pare to your phone.  This will allow you to use your saved music list without being hooked up to a stereo.
These speakers will be powered by rechargeable batteries or direct 110 voltage.  With the rechargeable batteries you have the ability to take them anywhere in your outdoor space with out looking for an outlet for power.
Both of these speakers would be good by a pool, at the beach or camping in a remote area.  Now lets look at the details of each and see if one will work for your outdoor space.
Price when this article was written: $234.29
Where to get for the best price online: Walmart.com
Looking to rock the beach, the black Monster speaker will do that for you for about three days without a charge.  the 80 watt speaker is quite big, it looks like a carry on luggage bag.  The good thing is that it has wheels and a popup handle to move with ease.  Can be hooked up to a sound device with RCA type plugs, 3.5 mm cord or used with the Bluetooth connection.  Has a FM radio built in with preset buttons, just have to be an area with good reception.  Some customers hooked a microphone to the 3.5 mm connection for use as a loud speaker system.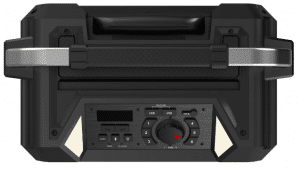 Is weather resistant, just do not drop into the pool or river.   Has two outbound USB ports for charging your portable devices in the outback. Can be used with the power cord or rechargeable batteries, can be used while charging batteries.  Has a battery level charge light that displays when the speaker is turned on.
The speaker is 17 inches wide , 9 inches deep and 20 inches tall.  The weight will be 23 pounds.  Although this speaker is heavy, it has wheels and a handle for portability.  Has a slot in the top to lay your phone while charging or running your Bluetooth.
Some customers found the battery life not very good, had to replace.  Some stated that the speaker just stopped working, this could be from the kind of use that this speaker can take, it works well in any outdoor environment.  A USB port for an incoming music source would be nice.
Price when article was written: $108.82
Where to get for the best price online: Walmart.com
When looking for a lower price Bluetooth speaker for your outdoor space that has a lot of options the iON Tailgater will be a great choice.  With the included microphone and the ability to hook up any thing that will work with the microphone plug for sound, you can add your own sound to any music with the 50 watts of output from the two speaker system.  Strum along and add your guitar music to the song you are playing by using the microphone plug.
The display will give you battery level, if you are connected to a Bluetooth device, station for the radio or if the unit is being charged.
This unit will play AM/FM radio with retractable antena, any device that uses a 3.5 mm jack, any device with Bluetooth capabilities, or you can just use the microphone and sing.  Can connect to NFC enabled devices with a single tap.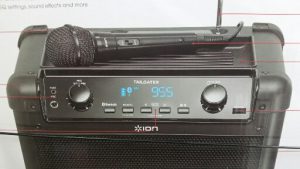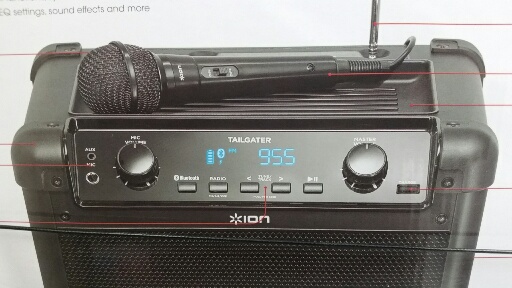 Not a stereo type system, it has a 6.5 inch sub-woofer and a 2 inch tweeter.  For an outside speaker system, this will work great for parties and tailgating before the game.
This unit will have about a 50 hour playtime for music.  This is more than enough for your party, if your party runs longer than that, you can plug it to a 110 volt power source to continue.  Need to charge your phone or other device, it has a USB port for charging only, this port only works when the unit is powered up.
The size is not that big at 12.5 inches wide, 9.4 inches deep and 12.8 inches tall.  You will not want to carry it around as it will weigh 16.3 pounds.  A lot of the weight will be the rechargeable battery, a 12 volt 7aH, that is 2.8 inches wide, 3.5 inches long and 4 inches tall. Replacement battery is available. This speaker is not weather proof or resistant.  It has reinforced corners to protect it when turned over.
Watch this video for more information on this speaker
My take on these two speakers
After looking at the specifications of the two speakers in this review, each one will have its own place.  If you are going to the beach or use it any place that it could get wet, the Monster Rockin-Roller would be my choice.  I would like to see the ability to have a USB port for inbound music.
If you are going to use in the backyard out of direct weather or other debris, the iON Tailgater would be the choice.  The Tailgater gives you a lot more options for the money, just does not like any water contact.  You can make your own choice on how and where you will use your outdoor speaker.
Conclusion
After reading this article about these two portable wireless outdoor speakers I hope that you can make a better choice on what will work for you.  For my back yard I would use the Tailgater with my MP3 music player, I think that would give me more options.
Thanks for reading my post, if you have any questions, comments or would like to see a post on another item, let me know with the forms below.  Don't forget to let your friends know about these speakers with the social buttons below, please share.
There are some Affiliate Links in this article.