Fire Pits for your College Tailgate Supplies
When getting together your supplies for this year's Football Tailgate parties, will a Fire Pit be on your list?  It should be, they are portable and easy to use.  Most major universities will be represented in the lineup of available models.
Sitting around for hours before the game has become a tradition for the most avid followers of college or professional football teams.  I have done this many times before.  The bad thing is that it comes at the time of the year when the outside temperatures are not high enough to wear a tee-shirt.  What do you do to keep warm, I use a wood-burning fire pit that can be moved very easily to keep warm and maybe cook up some brats or burgers to go with my cold adult beverages.
Now let's look at one solution that can be personalized to your team.
What do you get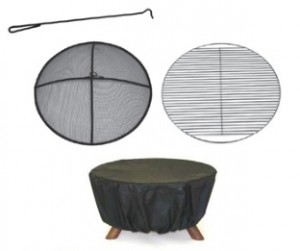 You will get a university name of your choice cut out on two sides of the pit with a CNC run Plasma cutter.   This will assure you that both sides will look identical and not have any sharp edges.
In the package, you will get a 16 gauge cold rolled steel fire pit, poker, barbecue grill, spark screen, and plastic weather cover.
The fire pit has three legs welded to the base to keep your fire pit stable in all conditions and will give you about 3 inches of ground clearance.  The natural patina finish will continue to tarnish with age, some state that it looks like a rust bucket, this is style.
The 1/2 round safety ring is supported by six 1/2 inch round solid rods welded to the base.  This ring will help you carry your pit when not in use.  The manufacturer states that the fire pits are guaranteed not to burn through or rust through for five years.
Your fire pit will be 30 inches around and 16 inches from the ground to the safety ring.  The inside pit area will be 24 inches around and 12 inches deep.
My favorite team is my home state Mizzou Tigers. Bring your fire pit at the next home football game will make you stand out in the crowd. See you at Faurot Field.
What do you need
You will need something to make a fire for cooking.  Most will use briquettes out of a bag, starter fluid, and a match. You can also use your favorite wood to flavor your meat.  Mixing and matching will change the taste of your finished product.
You will need something to cook, Meat, Potatoes or Vegetables.  A favorite sauce and beverage to make the barbecue a little more tasty.
Conclusion
This season you can be the biggest supporter of your favorite university by showing off your Fire Pit at the Tailgate party before the next home game.  If it is extremely cold you can gather around your fire pit to stay warm. The good thing is that you can use this fire pit at your home or camping without too much trouble, just pack your favorite burning material, food, extra sauce, and your favorite beverage.
For items that will make your tailgating or cooking at home more enjoyable, look at this post for accessories for your fire pit.
Let me know what you cooked at the last tailgate party you went to and what you used to cook on.
---
This post contains Affiliate Links
As always if you have any questions or comments on this post, use the form below.
Thanks for reading,
John