Outdoor Wicker Furniture Covers
With the new Resin Wicker outdoor furniture, why would you need a cover for it?   If your furniture sits out in the sun, the sun will make the colors dull over a long period of time.  If you cannot take your furniture inside some where for storage it will fade and eventually dry rot the cushions.   The easiest way to protect your investment is to get a cover for each piece and use the cover any time you have long periods without using your furniture.
We will look at examples for each style of outdoor wicker furniture.  Each piece that you own will have a cover made just for it.  This way it will not look like you just put a tarp over your furniture.  Now lets look at your options.
First measure the width, depth and height of your piece of furniture that you want to cover, as there are several different sizes of covers.  After you have determined the size you must make up your mind the material for your chair cover.  Choose between All Weather covers and Weather Resistant covers.
All Weather Covers
The All Weather covers are ultra durable and made to be water repellent.  They will not let the sun fade the fabric on your furniture.  Cleaning of this soft polyester fabric material will be with a damp wash cloth.  With sewn edges for durability it will have a stronger bond that pressed seams. The UV Resistant material will resist Mold, Stains and Fading even in the toughest conditions.
Weather Resistant Covers
This tough water repellent 2-ply polyester material is vented to help prevent mildew.  It has handles to help with taking it off and elastic and ties to secure it to the furniture.  This material will stand up to big swings in temperature and other weather conditions.
Chairs
There will be several styles of covers for your chairs.  If you can stack your chairs four high the stacking chair, this cover will work for you. This is 24 inches long, 30 inches wide and 42 inches tall.
Rocking chairs can benefit from a cove too.  The cover is 27 inches long, 32 inches wide and 44 inches high.  This should cover most of the high back rockers also.
Table chairs with arms can be covered with the 26 inch long, 26 inches wide and 35 inches high cover.  These are available in both styles.
Dining Tables with chairs
T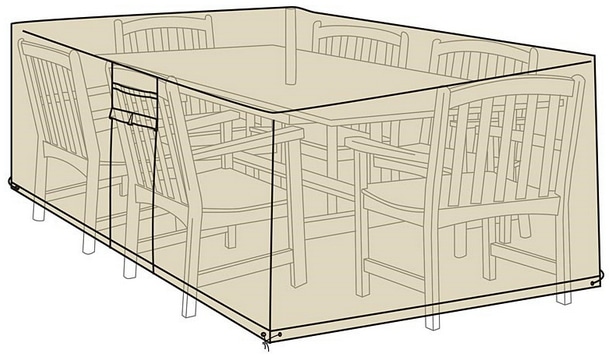 he covers in this category will cover the table and chairs as one unit.  You will not need to have 5 to seven different covers around when you are using your table and chairs.
Rectangle Table
You can purchase in both styles. Because of the different sizes and number of chairs you will have to measure your set when it is not in use to get the correct one for you.
Round Table
The round tables will come with either two chairs for a bistro set or four for a full dining set.  The number of chairs and size of the table will be what determines the size of the cover.  A small bistro set will use a 43 inch diameter by 34 inch tall cover.  As the table and set gets bigger larger sizes are available up to a 92 inch diameter by 34 inch tall unit.
Sofa and/or Love Seat
Your main seating may require a big cover. They are made in sizes from 64 inches long, 34 inches deep and 34 inches high to 76 inches long, 36 inches deeo and 32 inches high.  The smaller size will fit most love seats and the larger size will fit most sofas.
Follow this link below to see all of the Covers available 
Conclusion
If you are looking to protect the big investment that you have made on your outside wicker furniture, these covers will be a great way to make your set look new for a long time.  It does not take much time to protect your stuff and you will be happy with your investment for a long time.
If you have any questions or comments use the form below.
There are affiliate links in this post
Thanks for reading,
John