Outdoor Swing with Canopy
Having an outdoor swing with canopy in your patio or back yard area will give you hours of relaxation after a long day at work.  This simple Mainstays 2 person swing from Walmart will be a great starting point for any outdoor area.  Easy maintenance, assembly and low price will get you enjoying your outdoor space in little time.
The sling material will come in two colors, tan with dark brown frame or blue with white frame.  Both will cost the same at the time of this article.
Now lets see if this Outdoor Swing with Canopy will solve your seating and relaxing needs for your outdoor space.
---
To get your very own swing today, click the following link
Read on if you would like to have more information before looking at current pricing.  Use this link for more articles about 2 person outdoor swings on this site.
Product: Mainstays 2 person swing
Price when article was written: $88
Where to get for the best price online:

Walmart.com
What do you get in the box
This swing will come In one large box, it will weigh over 50 pounds, you will need a pickup or large SUV to get this one home. Your swing will have a steel frame that is powder coated for protection in the outdoor environment.
The sling material for the seat and canopy is very durable in any outdoor conditions also, I have chairs with this material and they have been outside for about 5 years with little or no care.
You can add cushions to this swing for more comfort, your seat height will be a little higher.
This swing is  64.5 inches wide, 50.75 inches deep from the front to rear of each leg and 66.5 inches tall.  The seat will support 500 pounds of weight.
Assembly and care of your swing
Assembly will take looking at the details if you only want to do it once.  The front and rear legs are different and the hanging bars are different lengths for front and back.  Allen wrench is included and will be the only tool you should need.  Having an extra pair of hands will make it a lot easier to assemble.  Assemble on a level surface for a stable swing when finished.
Start with the top bar, insert legs, make sure the legs with holes on the bottom are on the back side for the leg connector bar attachment. Insert feet. Attach bar on each side to connect the front and back legs.  The frame is now finished.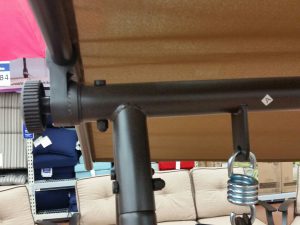 The bench will unfold and then attach an arm assembly on each end.  Attach hanging arms to each arm assembly, make sure to follow the direction on which one is front and back, they are two different lengths.  The springs hold the top of the bars together and they hang the swing into the holes in the top bar.  If every thing is together properly, you are ready to take a break before putting up the canopy
It will take two people to hang the canopy, one on each end.  While holding in place, attach a locking screw to each end of the canopy. This screw when loosened will allow you to change the angle of the canopy to chase the shade to keep you cool on those hot summer days.
Use only mild soap and water when cleaning this product.  Do not use any harsh chemicals as they will damage your painted surfaces. Canopy can be replace if torn or damaged, just call customer service  (866 602-1800) for details.
Pros
Sling fabric material for seating, dries quickly, very durable in outdoor conditions
No cushions to store when not using swing
All tools included for assembly
Cons
Will need help with assembly
Not very comfortable for people with short legs
Needs a flat surface for solid swinging motion
---
To get your very own swing today, click the following link
What I think about this swing
I have a wooden 2 person swing in my back yard, it does not have an awning for shade during the day.  The Mainstays outdoor swing with canopy from Walmart.com will give you more comfort and have a lot less maintenance than the swing I have.  Having the sling seating will be comfortable without adding cushions, you will not have to worry about bringing cushions in when you are done outside.
The low price, little care and comfortable long term sitting are all great features of this swing.  I would recommend this swing if you only need seating for 2.  For other swing options see more 2 person swings in my article here or if you have more butts, I have some 3 person swings in this article here.
If you like the information in this article, please share on your social networks with your friends.
Any questions or comments please use the forms below and I will get back to you.
there are some affiliate links in this article, if you use one I could make a small commission.
Please follow and like us: