Outside Gas Fire Pit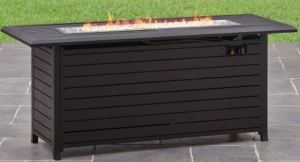 When looking for an outside gas fire pit for your deck or patio area, the Carter Hills gas fire pit will set you apart from others.  The large rectangular design will give you a large burn area for your outside space.  I will go over some on the details and give you what it will take to put together for use and care.
Gas fire pits do not need any  protection when used on wooden or composite deck like the wood burners.  Now lets look at the details for the Better Homes and Gardens Carter Hills Gas Fire Pit.
Price when article written:$299
Where to get for the best price online: 

Walmart.com
What you get in box
This dark brown aluminum gas fire pit is perfect for a deck or patio area.  It will give you hours of fire to sit around and entertain your guest. The liquid propane gas will provide you with a clean smokeless fire with a 50,000 heat output on high.  The glass beads in the stainless steel bowl and burner will give you years of use.
A poly cover come with this unit for covering when not in use.  Electronic ignition will get your fire pit going with out much effort.
Adjustable flame along the 38 inch burn area.
Assembly and use
Major assembly is required for this outside gas fire pit.  The ends attach to the sides with screws. the top attaches to the sides and ends with bolts.  The door attaches with two through screws in the hinges. Knob for door has a nut to secure, it will twist so you can open the door.
The adjustment knob and igniter are attached to a bracket and the bracket is attached to the top.  A wire and battery will need to be attached for the igniter to work.  The burn bowl is secured with two screws.  Add glass beads to burn bowl.
After assembly you will need to install a 20 pound propane tank behind the door.  Attach the tank to the gas supply line for the fire pit and turn on the gas.  Turn the knob to high and press the igniter for your first fire.  Make sure that the Glass beads do not cover the igniter.
Burn area is 7.5 inches wide and 38 inches long.  Simple soap and water should be used to clean up any spills or debris that form on this unit.  Harsh chemicals will damage the finish.  Do not clean the burn bowl with any thing except plain water, do not want to add any chemicals to your fire.
Shipping box is 11 inches tall, 24 inches wide and 59 inches long.  The fire pit will weigh about 70 pounds without propane tank so you can move with two people after it is assembled, just make sure the fire is out and propane tank is removed for a lighter weight.
My take on this gas fire pit
My take is that this is an excellent fire pit for a wood, composite or concrete deck or patio area.  Once you get past the assembly of this item, it will be easy to use and upkeep.  No wood ashes to clean up and you do not have to store firewood.  Just turn on the gas, hit the igniter and adjust the flame to your desire.  It is big enough to sit many guest around at one time and they can all be close to the fire pit.
The major complaints on this item is the poly cover.  Several customers have stated that they would prefer to have a metal burn area cover.  The poly cover cannot be used until the unit cools down is often forgotten.
---
To add this fire pit to your patio furniture collection, click the following link
Conclusion
There you have the my information on the Better Homes and Garden Carter Hills Outside Gas Fire Pit.  You will have to determine what kind of fire pit will work best for you.  This unit is a great fire pit for any deck or patio without any surface damage concerns. If you like the idea of a gas fire pit for your outdoor area, I have some other gas fire pits in this post.
If you have any questions, comments or need information on this or another items for your outdoor room use the forms below.  I will return all requests.
Some Affiliate Links are in this article.
Please follow and like us: