Patio Dining Furniture
You have decided that you need somewhere to eat in your outdoor space. The Sea Haven patio dining furniture set will get you a modern set for under $450. The simple design will fit in any outdoor design. A conversation set is available in this same style, look for more information on this set here.
The metal frames will be powder coated, the back of the four chairs have a weave pattern and the seats have a thick cushion for comfort. The table tops are hand painted to make sure of the finish quality.
---
This item is currently unavailable, for other dining sets click the following link

For more of my information on this set keep reading.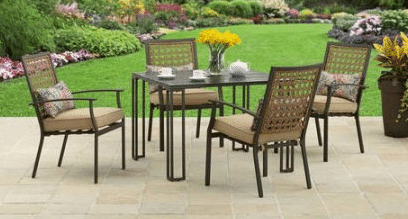 Product: Better Homes and Gardens Sea Haven Dining set
Price when article was written: $239
Where to get for the best price online: Walmart.com
What do you get in the boxes
Your set will come in two large boxes, the table box will be 43 inches long, 42.5 inches wide, 6 inches tall and will weight 64 pounds. The chairs box is 37.5 inches long, 25 inches wide, 23.5 inches tall and will weigh 74 pounds. You will need a pickup or large SUV to pick up this set at the store. You can check with your local store as some Walmart stores will assemble your set for you for a price.
The chairs are a tall version of the conversation set with a seat height of 15 inches without the cushions. The chairs will be 26 inches wide, 24 inches deep and 36 inches tall. The seat is 18.5 inches deep and 20 inches between the arms. They have a simple design with four legs a cushioned seat and a weaved pattern for the back. The back is made of a polyethylene material to look like wicker.  Each chair will support 300 pounds.  The cushions is supported with vinyl straps.
The table is 39.75 inches square and 28.25 inches tall. The top is a slat type with different sizes of slats across the top. The four legs are a simple design with angle at each corner. There is a hole in the top for an umbrella, for umbrella choices see my post here. This table does not have a lower shelf or support for the umbrella, a good umbrella base will be needed, see some umbrella bases here.
Cushions for the set will attach at the back with tow Velcro strips. They are a modest 3 inches thick, with piping of the edges. The cushion cover is made from a Olefin fabric and is one of the best fabrics for outdoor furniture. Four lumbar pillows made from a polyester material are included in this set, they have a floral design.
Assembly and care of your dining set
Assembly will be simple and all tools are included in the hardware kit. Should take about an hour for someone with some skills.
The table will need the top placed upside down on a soft surface to protect the paint. Attach the legs and then sit on the legs for final tightening. Doing the final tightening on a smooth level surface, your table will sit level anywhere.
The chairs will require the seat portion to be attached to the back with legs part. The arms attach to this assembly, make sure your chair is on a smooth level surface before doing the final tightening. Add cushions and you are ready to use your set.
Care of this set will be with a mild soap and water. Any harsh chemical even glass cleaner will damage the powder coated finish. Use of a clear liquid wax on the painted surface will help keep their great finish look.
Pros
Simple design
Easy assembly
Matching conversation set
Cons
Only seating cushions
No lower umbrella support
Painted surfaces will need extra care to keep looking like new
---
This item is currently unavailable, for other dining sets click the following link

Final thoughts on this set
If you have decided to make a place to eat diner in your outdoor space, this Better Homes and gardens patio dining furniture from Walmart.com will work well with most decors. Having a simple design and assembly will make it handy for those who need a simple set.
I like the simple design and the fact that you can get a matching conversation set. The thing that I do not like is the lack of a lower umbrella support on the table.
If you have one of these sets, please leave me a comment on how you like it.  If you liked the information in this article, please share with your family and friends on your social networks.
As always if you have any questions or comments please use the forms below.
There are some affiliate links in this article, if you use one I may make a small commission and you will not pay anymore for your purchase.