Construction building materials for patios and decks
If you are looking to add an outdoor living area for your home, you will need to know what construction building materials for patios and decks will work best for you.  In this article I will look at where you would use each type of material for your decking surface and the pros and cons to each.
I will start with the raised or off the ground level decks and patios.  These are very common in the second level or in homes where the back yard is higher than the front.
Disclaimer-this is my experience, your local laws and rules may not allow you to follow anything in this post.  It is for information only.
Raised decks and patios
I will cover the wood, my experience with treated, cedar, and composite material, I have one deck that has composite decking and railing.  I have a friend that has an aluminum decking material.
All styles of raised decks or patios will require a solid foundation to install.  The height above the ground will determine the size of the foundation.  My decks are only about four feet above the ground so I have a small unusable area under my decks.  My former home had about eight feet under the deck and I built a shed and had some storage space for my lawn equipment.
You will have to check local building requirements before you start on a project like this, some areas have different rules.
Wood
I have at the present time only treated decks.  I have in the past used cedar, the cost is about twice the price of treated.  The treated will require power washing and a treatment at least every two years to make it last.  You can use a clear finish to give it a more natural look or you can use some of the newer paints with color to match any type of decor.  I have left mine a more natural color.
The cedar material has a smother finish and you can let the surface turn a grey color over time or you can keep a cedar finish with some work.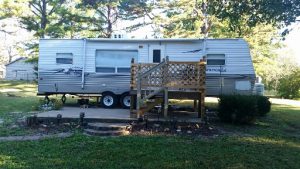 Installation of these materials is much the same.  Some newer installation kits will hide the attaching screws for a smother finish.  With wood you can have designs by not running the boards in a straight pattern.  I have seen some decks that have very interesting designs, this will add to the cost of installation.
Remember that a wooden deck floor will always have a chance of splinters, barefoot people need to be aware of this.
Composite
Composite material has a cost of about double the price of cedar or about four times the cost of treated wood.  It is easy to install, does not take any more work than the wood products.  This product is made from recycled materials, so it is good for the environment.  The only care that I have needed is to power wash the surface and railing once a year to keep it looking like new.
This material does retain heat more than wood surfaces, you will never get a splinter from this material.  Newer materials have hidden screws so the surface is smooth from end to end.
Metal
My neighbor has a white aluminum planking for his deck surface.  This type of material does not require any work other than washing off with the hose on occasion.  I do not know the cost of this material, it is hot if it is in the afternoon sun.  His deck is in the shade during the evening hours.
This material is very durable and once installed it should never need replacing.
Ground level patio materials
Stone or pavers
This will require a good foundation and close to a level surface.  You can be very creative when creating a patio area with stone paver material. Interlocking materials will make the space look more like an indoor space than an outdoor space.  I have built several patios out of this type of material, I will go over my experience here.
The better the foundation, the better the finished product.  I excavated the ground about 3 to 4 inches.  I put in a rock base and leveled it.  A paver sand comes next, I leveled this like you would finish concrete to give a smooth finish for your blocks to lay on.  Paying attention to the thickness of your finishing materials, this is how deep you want your sand level below ground level.
Laying a pattern of your stone or pavers is what makes this a great option.  Once the stones are finished, a sand is poured on the stones and brushed in with a broom and finished with a hose.  This method locks the stones in and keep seeds from sprouting up in the cracks between the stones.
Each area will have its own design appeal.  I will show you pics of some of my finished areas in my outdoor spaces.  You can make a blank space look great with a weekend worth of work. The cost of this type of material is up to the type of design you choose.
New base materials will do away with the problem of leveling your stones.  It is a plastic interlocking material that is made in 2 foot by 4 foot pieces that the stones will lay on.  Having the same subsurface, rock and sand is still a requirement, this material will be an added cost, it will insure that your stones will remain level over a longer period of time.
Concrete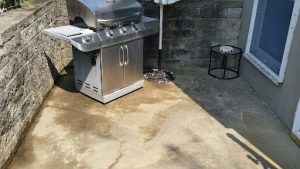 I have a small concrete patio that I use for a BBQ area outside my basement door, I have a walkout basement.  The simple thing about this area is that it just needs a broom to sweep off to keep clean.  Installation normally will have to be done by an outside crew. Building cost will be determined by who does it and most areas will require a permit to install a concrete patio area.
Added cost can put a design in the concrete when it is poured before it cures.  Many stamps are available that will look like paver stones.
Conclusion
I have used all of these construction building materials for patios and decks.  This article is from my experience.  Each style of material has it own place in any outdoor living space.  At the present time I have a treated deck and concrete patio at the lake property.  At my home I have two stone paver patios, a concrete BBQ area and a composite deck.  I have installed all except the concrete patios.
I hope that you have gotten some information form my experience. If you would like any other information on what materials you should use, send me an email and I will give you my suggestions.  Each outside area will lend itself to different styles and materials when looking to create that perfect outdoor living area.
If you found this article informational, use the social buttons to share with your friends.