When you have a smaller space and still want to entertain outside, this Mainstays Albany Lane Folding patio dining set from Walmart.com works nicely.  I have a very similar set, the Mainstays Searcy Creek that was available last year.  This year's set has a smaller square table with the same style chairs and umbrella.
In this article, we will look at the details of this set and see what is different from last year's model.
Now on with the details.
Folding Patio Dining Set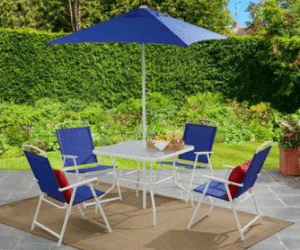 Product: Mainstays Albany Lane 6 piece folding dining set
Price when the article was written: $97
Where to get the best price online:

Walmart.com
Features of this Folding Patio Dining Set
Available in two different colors, blue fabric with white frames or red fabric with the dark brown frame, last year's model was available in red and tan.  The frames are made from steel with a powder-coated finish.  The folding umbrella comes in two parts that slip together, no umbrella stand included in this set.
All metal parts are steel with a powder-coated finish.  I have had no rust problems with my set, I do keep it stored in a garage when not in use.
Square dining table
The table has a pebbled safety glass top in a steel frame.  The table is 34 inches square and 27.5 inches tall.  Support is by four legs attached to the square support for the legs with an umbrella hole in the middle. There is a plastic sleeve for the umbrella hole in the glass top.  The sleeve does have a cap if you do not want to use the umbrella.
This square table gives less table space than the rectangle table from last year's set.
---
To get this very portable dining set, click the following link
Four folding chairs
The folding chairs have a polyester fabric for the seat and back.  This fabric is similar to the fabric found in most sling chairs.  It will dry very quickly when it gets wet and is comfortable for long-term sitting without extra cushions.  Fabric will come in four colors- Dark Brown, Red, and Tan with dark brown frames or white frames with Blue fabric.
The chairs are 23.5 inches wide, 2.5 inches thick and 33.5 inches long when folded.  When they are upright they are 28 inches deep, 23.5 inches wide and 36 inches tall.  They will hold 250 pounds each.
I find the latch for locking the chairs a little finicky when trying to fold chairs.  I have pinched my finger more than once trying to fold them for storing.
Umbrella
The umbrella is made with a steel frame and Olefin fabric.  The fabric is made to be colorfast in the sunlight.  Folding is easy by pushing a button and letting the round sleeve slide down the pole.  Putting the umbrella up, just push the sleeve up until it locks in place.
Umbrella does not tilt or have any position other than full up or down.  Just press the lock to lower the umbrella when finished.
The width of the umbrella is 56 inches across and 86 inches tall without an umbrella stand.  For more information on umbrella stands needs, see my post here.
Assembly of this Folding Patio Dining Set
The chairs can be used right out of the box just cut the shipping straps, the umbrella will need the two parts put together.  The table will require some time to assemble, I used the box to lay the tabletop on to start the assembly.
I found the table very easy to assemble, just lay the top upside down and put a leg in each corner slot.  Then attach the support to one leg at a time, securing the screws after all four screws are hand tight and the table is standing on a level flat surface.  This will ensure your table will not rock when using.  Then secure the other four screws to the legs and you are done.
You can be using your set in as little as ten minutes, depending on your assembly abilities.
Pros
Easy to clean, just mild soap and water
Chairs and umbrella fold for easy storage
Fabric makes chairs comfortable for long term sitting without cushions
Chairs dry quickly after getting wet
Cons
Smaller table than last years model
Lock-on chairs can be stubborn to move when trying to fold
The table does not fold for storage, must take legs off to store flat
No umbrella stand included in this set
---
To get this very portable dining set, click the following link
My take on this dining set
I have last year's model down at the lake, when looking at the folding patio dining set for this year, I find the table is the only big difference. I have an outdoor rug that I put down before setting up my dining set.  This gives me a dining room effect in my outdoor space.
When putting my set back in the garage, I put the table in first, fold the rug up on top of the table, then stack the four folded chairs on top of the rug with the umbrella on top of the chairs.  I find it takes very little storage area and makes a great spot to dine, sit and have a cup of tea after dinner.
In my opinion, this set will work best on a smaller patio or balcony where you use the space for other things when not dining.  Folding everything up into a corner when not needed is a great advantage to this set.
Thanks for taking the time to read my article, if you have any questions or comments use the forms below.  If you have an item that you need more information on please send me an email and I will get back to you.
There are some affiliate links in this article.