Outdoor Patio Wicker Furniture Sets
When looking for patio furniture for your outdoor space, a look at Outdoor Patio Wicker Furniture Sets will be a step in the right direction.  The look of rattan wicker with the ability to handle most extreme weather conditions with little or no care.  The steel or aluminum powder-coated frames will not rust unless damaged.
The resin wicker for most patio furniture is made from recycled material, which is very good for our environment today.  The color is normally injected into the resin before it is woven on the frames, this makes it last very well in outdoor conditions.
The cushions on these sets will be the most bother to keep looking like new.  A storage solution is recommended for any patio cushions, even the best ones for outdoor furniture.  Sun and wet weather will take its toll over the years.  See some of my storage ideas here for your cushions.
Now let us look at some of the details of this style of patio furniture.
What types of wicker furniture will you need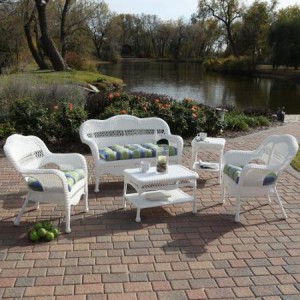 Two main types of outdoor patio wicker furniture sets are available.  You will have to choose what feature will fit your room with the best rustic look.
The wood type is not weather resistant.  It is made of Rattan, Bamboo, or Cane material.  The water and sun will destroy this type of material.  It is best suited for a covered area or an inside room.
The resin type of wicker is an aluminum frame with a synthetic material to look like wicker.  The synthetic is made of a composite of wood and resin.  This material is very resistant to water and sunlight.  It can be powder coated or dyed in a variety of colors to match any decor.  I have more detailed information on the Better Homes Gardens Azalea Ridge Patio Furniture set in the feature photo above follow this link to see what it has to offer.
What upkeep is there with wicker furniture
Rattan type wicker will need to be cleaned with just dusting and occasional polishing.
Synthetic wicker is easier to clean and upkeep.  It can be hosed off with a mild dishwasher detergent to remove any dirt or rain spots.  It will retain its color in most any conditions outside.
Cushions should be stored out of the weather, if they do get wet just stand them up the let the water drain out before storing them away.  This will prevent mold and will make the cushions last longer.
Advantages of wicker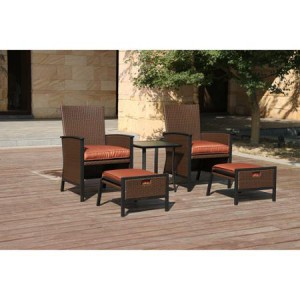 The look, choice of many colors and styles.  The feel of wicker can give your outdoor room the extension of your indoor space.
Synthetics have a lower cost and can be made of a lighter material.  They are more durable and weather-resistant.  Just wash them off with a hose when necessary.
Almost all tables will have a hole for an umbrella for shade.
Some sets come with chairs that stack for easy storage when not in use.
Wood wicker is not weather resistant.  It has to be stored out of the weather and sunlight when not in use.  It cannot be left in an outdoor room without cover or protection.
Wood wicker can be very heavy and bulky.  This will make it hard to move in and out as the weather changes.
I hope that you have a little more information on what to look for in Outdoor Patio wicker Furniture Sets.  The color combinations can fit any decor and can create an outdoor room for your guests to relax in.
The resin wicker patio furniture will be a great choice for those looking for a great combination of looks and styles that will last for many years.
If you have any questions or comments use the form below and I will return an answer shortly.
Thanks for reading,