Indoor Outdoor Wicker Patio Furniture
Rattan wicker furniture has been a staple of Indoor Outdoor Wicker Patio Furniture for years. Today most people are using the modern resin wicker outdoor furniture. The frames are built with aluminum or powder coated steel materials. Most resin wicker is made from recycled materials to help with the environment. The woven material can be repaired by reweaving straps in the damaged area.
Your outdoor sitting space can be a place to relax with friends and family with the addition of an outdoor resin wicker sofa or conversation furniture. If you have the space you can look at getting a complete set of outdoor wicker patio furniture for your outdoor space that can include dining, conversation or pool side sets.
What to look for in resin wicker furniture
Frames will be made from aluminum or steel. The steel will have to have a good powder coated finish to last under outdoor conditions. The aluminum will be more lightweight, this will be the type you need if you are looking for furniture that you will want to move frequently.
Frames will be covered with a synthetic wicker that is woven just like the natural wicker. The look is very natural with the durability of synthetic. Synthetic material will out last regular wicker in the outdoor environment, the big drawback is the way the color is given to the resin wicker. Resin wicker with the color molded in will last longer, those with a painted surface will have some weather related problems with color retention.
Look for cushions on your furniture to be made of a mold and mildew resistant material. The Oefin material is one of the best for outdoor furniture. Look for zippers and removable covers that will help in the care and cleaning of your cushions. Due to the shape of some cushions, they can be hard to replace when needed. I would suggest that you have some kind of storage during the time that you do not need them.  Look at some of my storage solutions here.
Styles and types of wicker furniture
Many styles of resin wicker patio furniture are available today.  You will have to choose from just a wicker panel or having full wicker skirts.  Some will have a tight weave and others a more open weave that will allow for a cooling effect if you do not have cushions.
Your wicker furniture will come in many sizes. The starting seating size is a relaxing chair that is made for one to relax. You can go get seating all the way up to a sectional that will seat up to six people.  See some of my wicker conversation seating sets here.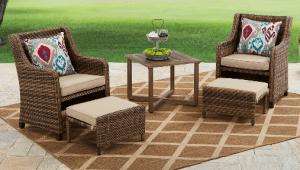 Dining furniture can start with a small bistro set for a balcony or small patio all the way to a dining set for six.  Bistro sets will come with many varieties of chairs, some with movement, for more information on the different styles of resin wicker bistro sets see my information here.  Bigger dining sets will give you the seating for six, for more information on the big resin wicker dining sets see my post here.
Loungers, benches and beds are available for by the pool.  These will give you a place to grab some sun without getting into the pool and will let to monitor the kids while they play.  For more information on extra seating for relaxing by the pool see my post here.
Chat sets will also be available with gas fire pits for year round use.   Most of the fire pits will have a metal cover for the burn area for use as a table during the time that you do not need the extra heat or look of the relaxing flame.  Look at some of my articles on resin wicker chat sets with an included gas fire pit table in my post here.
Styles can go from just getting a skirt with wicker finish to a full wicker style. The Better Homes and Gardens Azalea Ridge collection has the most choices and has been a staple in the outdoor wicker furniture for years.
For further information on different collections of resin wicker patio furniture, see my post here.
---
For more information on resin wicker furniture, click the following link

What I think about resin wicker furniture
If you like the look of Indoor Outdoor Wicker Patio Furniture, the resin wicker will give you a chance to purchase this style at a price much cheaper than the regular rattan wicker. The finish on the frames will last many years in indoor or outdoor conditions. Resin wicker material will be made from recycled material to help the environment.
The premium look of wicker can be enhanced with the proper cushions and accessories. Cushions for any outdoor furniture will most likely be the weak point, I would recommend storage solutions for any cushions or other items made of fabric.
Any comments or questions use the form below, I will get back to you with an answer shortly.
Hope you found this information helpful, please share with your friends and family with your social networks.