Cantilever Patio Umbrella
If you have a pool area or patio area that could use some shade, this Island Santiago 10 foot cantilever patio umbrella will fill many peoples wish list.  Many people have areas that a table patio umbrella will not work, this will be your solution.
Having offset counter weights will give you a great view without having a pole in the middle of your table.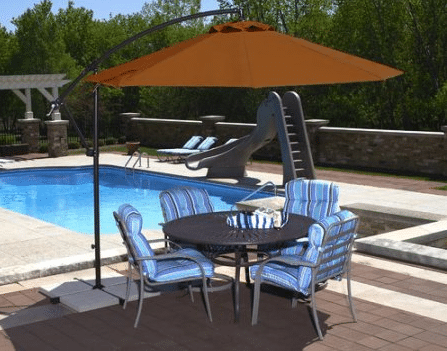 If you are looking for more information to help with you decision on what umbrella will work for you, read on.
---
For your offset shading solutions, click the following link
Follow along with me to look at the details of this umbrella
Product: Island Santiago 10-ft Octagonal Cantilever Umbrella
Price when article was written: $160.65 for beige and $169.66 for stone
Where to get for the best price online: Walmart.com
Who is this umbrella for
If you have a conversation set or bistro set that sits in a very sunny area most of the day, you will want to look at this style of umbrella.  It is a stand alone unit that will not need support above the ground.  As with any umbrella, you will not be able to use during high winds.
No matter what outdoor patio furniture that you have you could use one of these offset umbrellas to keep the area clean from obstructions and still give you a great amount of shade, about 71 cubic feet depending of sun and umbrella angle.  This umbrella does not swivel to move as the sun moves, to see more options offset umbrellas see my post here.
I have a friend that has a similar offset umbrella by the pool.  It can swing over the water or by the deck area by the pool with a couple of chairs and a side table.  I help put it up and adjusted it and it took very little time and we were able to move it as the day went along to keep us in the shade both in the pool and the sitting area.  This umbrella does not swivel, it will only move with a lot of work moving the base.
What do you get in the box
You will get a base that will hold four patio stones for counter weights, stones are not included with this kit.  The base is 35.5 inches square with the four legs from the middle.  Your post and metal parts are made from aluminum that is powder coated in a bronze color.
The top of the post will be 99 inches tall when shade is extended.  The main support pole is 2 inches wide.  This umbrella will weigh about 30 pounds without any of the counter weights.
The 8 ribbed shade is made with a Sunbrella acrylic fabric, this is one of the best fabrics for outdoor use and will hold the color very well in the sun.  When you purchase this umbrella,the shade can be purchased in two different colors, beige or stone. The shade is 10 feet from side to side when extended.
The support pole will have an slide to raise the canopy, it will lock into place, only one position.  A crank at the end of the canopy arm will extend and retract the shade.
If you do not think you need this big of an umbrella, you can see more of my regular umbrellas for patio tables in this post here.
Assembly and care of you umbrella
Some minor of this umbrella, if you have some mechanical skills it will not take more than 15 minutes.  You will have to have your 120 pounds of stones before you start, recommended by manufacture.  Looks like if you can find 16 inch square and about 2 inches thick stones, this will work, they should weigh at least 30 pounds each.  You can color match the decor for your outdoor space or paint them to make them blend in.
For assembly you will have to interlock the two cross brace parts, then screw the bottom support pole to each cross brace, this holds them in place. The shade and top pole should come in one assembly, after adding your counter weights, you can slip the canopy assembly in to pole and secure.  You are ready to extend you shade.
The slide needs to be locked in the raised position on the upper pole.  Use the crank to extend the shade.  Assembly should not take too much time If you are properly prepared.
Care of your umbrella will just take a simple mild soap and water, or just hose off.  Do not use any harsh chemicals, make sure pool water is rinsed off of the powder coated surfaces to prevent paint pealing.
Pros
No umbrella pole in the middle of table
Can be used for conversation sets
Great by the pool for a bistro set or a couple of patio chairs
Cons
Still have to purchase counter weights
Not the easiest umbrella to set up
Does not swivel to follow sun movement
---
For your offset shading solutions, click the following link
What I think of this style of umbrella
Since I have a use one of these cantilever patio umbrellas before, I can say that they are great for outdoor rooms. After the first set up is done it will be the best solution for pool side or conversation areas that could use shade during the sunny summer days.  This will lower the temperature of your outdoor space to a more comfortable level during the day.
Thanks for reading my information on this umbrella, if you found this information helpful share with your social network with your friends.
Any question or comments you would like to add, use the forms below.
There are some affiliate links in this article, if you use one I may make a small commission.