Outdoor Gas Fire Pit
Many people do not want the mess of a wood-burning fire pit, the outdoor gas fire pit is a great alternative.  We will look at the 37 inch Better Homes and Gardens Colebrook Fire Pit in this article.  I will give you the details of the fire pit and what are the advantages to you as a homeowner, you will have to make the choice on what works for you.
If your outdoor space has a wooden or composite surface an Outdoor Gas Fire Pit is one way to have a solution to keeping warm on those cool nights outside.  Follow along for information on this solution.
Price when the article was written:$324.85
Best Place to purchase online:Walmart.com
What do you get in the box?
When you get your gas fire pit it will include the base, door, gas burner with a regulator, Aluminum top with center cover, glass beads, poly cover, and electronic starter.  All you will have to add is a 20-pound propane tank to have your first fire.
The base and the door are made from a bronze and brown resin wicker material on a steel frame.  The resin wicker will never rot, just clean with soap and water.  With the center cover on the top, you can use this fire pit as a coffee table when not needed as a Fire Pit. Included poly cover can extend the life of your fire pit when not in use.
The fire pit on high will give out 50,000 BTUs of heat for your comfort.  The electronic ignition is the same type that is used on a BBQ grill and is very dependable.  The burner ring is made of stainless steel for long life, just make sure that the glass beads do not cover the outlet holes so that it operates properly.
Why LP Gas, not Fire Wood
Just think that you do not have to go to the corner gas station and pay $5 for four little sticks of wood that will not last very long.  After everyone goes home you do not have to empty the ashes or clean up the mess of wood chips on your patio area.
You can have a fire pit on your wooden or composite deck without some kind of heat protection.  Still, we need to maintain a safe distance from vinyl siding.
The LP Gas burns cleaner without the smoke that will get in people's eyes.  Although they say smoke follows beauty, you can say that all of your guests are beautiful.
Assembly and use
A small amount of assembly is required, with no special tools.  Just drop in the burn pan with the fire ring, assemble the control panel to the base, fill with glass beads, add a battery to the igniter and add a 20-pound propane tank (not included).
When using your Gas Fire Pit you should make sure that all of your gas line connections are secure.  Keep small children from playing around as they can still get burned if they should fall into the fire.
When you are ready for your fire pit all you have to do is open the door, turn on the gas and press the igniter, you are ready to sit back and enjoy your favorite adult beverage with your friends and family.
Pros
Can use as a table in the warmer months
Easy Assembly
Do not have to mess with ash cleanup
Can share a propane tank with the BBQ pit
Can use on wooden and composite decks without protection from heat
Cons
Very heavy hard to move
If the gas runs out so does the flame
Not available in most stores must order online
Click the picture below for the best price for this fire pit online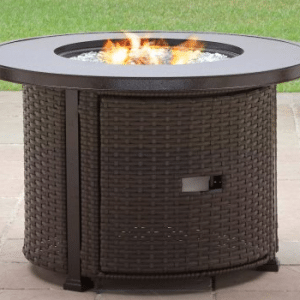 Conclusion
Who is the perfect owner for an outdoor gas fire pit?  Anyone that wants to have a great-looking fire pit for their outdoor space that does not require cutting, splitting, buying expensive firewood, or does not want any cleanup after the fire is over.  If you have a wooden or composite deck a gas fire pit is a way to go also.
The Colebrook Gas Fire Pit is a great addition to your outdoor space for entertaining your family and friends.
Hope you have found this article helpful if you have any questions, comments, or other items that you would like to see detailed, use the forms below.
Don't forget to let your friends know about this on your social networks.
There are some Affiliate links in this article.