Installing Outdoor Low Voltage Lighting
When looking online for ideas when Installing Outdoor Low Voltage Lighting systems, this article should help most people. I will talk about what you will need and how to layout your wire runs for the best results.
Looking to set up a line of Landscape Lighting and you do not like the kits available. Want to step up and create your own design. When installing outdoor low voltage lights you will need to know what it takes to buy the proper low voltage transformer, wire and wire connectors to make your lights work correctly. In this blog, we will cover the math that it takes to make your dream lights work.
Cory Towler from Jeff Cook Realestate wrote about the importance of having the proper exterior lighting for your home for security and safety.  A link to his article is here for those looking for ideas and how to's for your home.
This article has many good ideas, just click on the picture below for more details.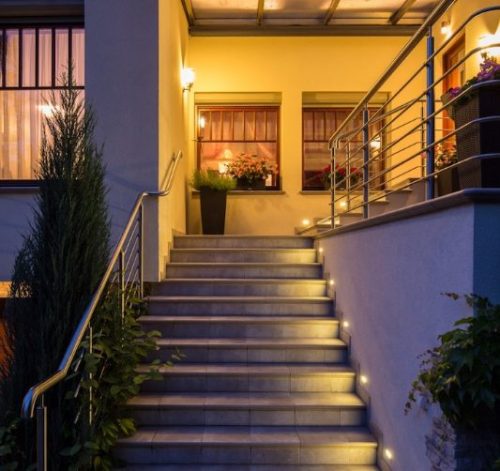 Mapping your lights for your outdoor space
The first step that you will have to take is to map your lights. Draw a simple diagram of your area that will be lit. Place a mark for each light fixture than will be set. Mark each location with the wattage of the light, this will be added together to get the total wattage of each run of lights.
I used a garden hose to lay out my wire run. It is very limber and can be shaped around objects. This can give a more realistic look at where and how your wire run will be.
You will have to measure the total length of each wire run from the transformer. This information will be used to determine the size of the wire and transformer needed. See the wire section of this blog for wire size requirements.
For more information on how to design a wire run that will work, see my post here.

Transformers for low voltage landscape lighting
The transformer will need to have a wattage output than is greater wattage output than all the lights combined on the total runs of lights. The total wattage of the lights should be You can have multiple runs off most transformers and some will come with multiple outputs for your lights.
When choosing the location of your transformer from your ground fault outlet will be determined by how long the power cord is on your transformer, do not forget this when outlining the layout of your lights. Some larger transformers will require direct wiring to a ground fault circuit.
Many transformers will have a timer switch that will activate the lights at a preset time and go off at a preset time. You can get a light sensor switch for mast transformers to turn on at dark and off a sunrise. Some will mount directly to the transformer and some can be remotely wired if the transformer is in a location that does not get sunlight.
I have a dimmer set to mine than detects motion, it will remain on dim until it detects this motion and turns the lights on the bright setting when it detects movement to save energy.
For more information on selecting a transformer for your low voltage lights, see my post here.
Electrical connectors for your underground wire
Because the wire is to be buried underground 6″ at least you will need to use wire nuts marked as direct burial connectors. See my article here for more information on the proper connectors for low voltage lighting. If you are connecting two runs of wire for your lights you will have to connect these wires and bury the cable to keep from traffic and possible damage from regular yard work.
If you want to go a cheaper route, using a regular wire nut and electrical tape will work. This method is not recommended or will not last as long.  For more information on wire connectors, see my post here.
Choosing the correct wire for your outdoor room
The length of each run and number of the wattage of lights will determine the size of the wire than will work best for your lights. Voltage drop is the biggest enemy of any low voltage lighting setup. Too many lights on a long run with a light wire will result in very dim lighting on the lights farther away from the transformer.
16 gauge wire will be the lightest cable and the most available. It will work in most situations. If your runs are under 100 feet and your voltage on each run is under 200 watts this size wire will work fine. You must also have your lights somewhat evenly space on each run as if you have them bunched at the start and finish you could have some bright and dim lights.
14 gauge wire is a little heavier and will handle more lights and a longer run. If your runs are under 150 feet and your voltage on each run is under 150 watts this is the wire for you. You can use up to three runs for a total of 450 watts. Just make sure you have the proper transformer for this size of the run. Also choose a transformer with multiple output connections.
12 gauge wire is for the biggest set up. You can use this wire for runs up to 200 feet. You can have lights up to 200 watts on each run. Do not connect more than three runs to each transformer for a total of 600 watts.
Summary of what you will need for a total package
Planning your lighting setup is the most important part of Installing Outdoor Low Voltage Lighting. Making sure than you get all the proper items that will make your lighting project work will make your outdoor lighting stand out in your neighborhood.
You will need to know what the total wattage for the fixtures are for each wire run and the total for the entire layout. Each total for the wire runs will give you the size of the wire needed. The total will give you the size of the transformer you will need.
Getting the proper size will make your yard shine when you are done. I hope you found this information helpful if you did please share on your social networks.
Any questions or comments use the comment form below and I will get back to you shortly.