Low Voltage Brick Lights
Looking for a solution for lighting for a Brick wall along a pathway or outside area.  Low Voltage Brick Lights are designed and shaped to take the place of one Brick on your wall to light up an area for  security and safety.  They are wired to a transformer for power and activation.  Depending on the transformer you select, will give you the options of when your light will work.
Styles of Brick Lights

Each low voltage brick light will take the place of one brick on your finished wall. Once the light is in place the only thing that you will see is the face of the light fixture, with the many styles and finishes it will be easy to match any decor.  Most are made from either  brass or bronze finish.
Two major styles of heat resistance light diffusers are used in a brick light.  One is a glass insert that takes most of the face area of the light.  This can either be frosted or clear.  The second style will be louvers.  These will be slanted either up or down.
If you choose a fixture with LED bulbs you will save about 75 percent in energy cost without loosing lighting power.
Installation of a Brick light

These lights are made to take the place of one brick on your wall.  If the wall is already finished you will have to remove one brick for each light you will install.  Temporally place the lighted fixture in its place before removing the brick to make sure the light effect is what you want. These type of lights cannot be moved after they have been installed to another location without some major work.
Old work will be have the most labor involved, and it is not recommended.  You will have to remove one brick with a chisel and mason saw to make room for the light. The entire brick must be removed because the light will need the entire space of the brick. Running the low voltage wire will require either removing some of the grout or running the wire through the holes in the bricks.  Check local code laws before starting old work.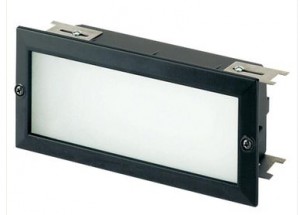 New work will only require you make sure of your position for your light before you start putting up your brick.  You must run the low voltage wire before starting also as you will not want it on the outside of the brick.  Running it inside a small piece of conduit will let you change the wire if you have a short sometime later.  This may be a requirement in areas with a building code. Please check with your local inspector.
Power supply must  be located in the area of the light or lights.  Running your low voltage wire from your lights to your power supply will require following local rules.  Power supply wattage will need to be more than the total of all of the lights connected.  Connection with the wire will be inside of the fixture, unlike regular low voltage lighting.

Conclusion
When looking at lighting solutions for your pathway or outside area, low voltage lights for brick work will look very nice and light up your area for security  and safety.  You can place low voltage brick lights any place that a brick will fit.  You can also use these lights on the facing of steps or along a pathway that has some are to mount a recessed light.  
Any Questions or comments on this post use the form below.
There are Affiliate links in this article.