Patio Table with Chairs
When you have a medium space in you outside space for eating, this simple Clayton Court five piece metal patio table with chairs will be a great addition to your outdoor space.  I have a similar set in my backyard, it still looks good after about 10 years, I would highly recommend this set.
Now lets look at the details and let you decide.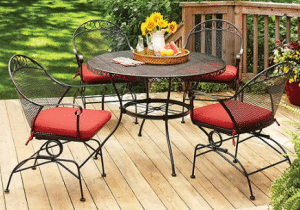 Price when article was written:$344.00
Where to get for the best price online : Walmart.com
What you get in the boxes
In the two boxes you will get four chairs with a rocking motion and a table.  The wrought iron construction with a powder coated finish will last a long time in outdoor conditions.
The mesh table top with a 1 1/2 inch hole for an umbrella will be 42 inches across and 27.25 inches tall.  Table box will be 45 inches square and 2.5 inches tall.  It will weigh 33.5 pounds.
The four chairs are 24.25 inches wide, 22.75 inches deep and 34.25 inches tall. Seating area and cushions are 18 inches square. The cushions are made of a woven fabric with a polyurethane and polyester fill. The cushions will attach to the chairs with a fabric tie.  Weight capacity for each chair is 225 pounds.  Shipping box for the chairs is 29.75 inches wide, 34 inches deep and 25 inches tall. It will weigh 102.5 pounds.
Assembly and use
Assembly can take 30 minutes or less, depending on your abilities.  Tools that are needed for assembly are included in the hardware pack.
Chair tops will slide onto the base and be secured with a lock washer, nut and weather cap on each side.  Put cushion on, attach with the ties and you are ready to sit on your rocking action chairs.
Turn table top upside down on a flat surface.  Attach four legs with the longer four allen screws and washers with the supplied wrench, do not tighten until the middle brace is on.  The round middle brace is attached with the shorter allen screws and washers.  To properly level the table, turn it over on its feet and then tighten all of the screws.
Care of your table and chairs is simple, just a simple soup and water.  Because of the powder coated finish it should not need much attention.  The cushions should be keep out of the sun if possible, over time they will fade.
My take on this item
I have a very similar set in my backyard patio area.  It has sit outside for the ten years I have had it and it still looks great.  My chairs are not the motion chairs that come with this set or do they have cushions.  I would recommend this set to anybody looking for a medium size patio table with four chairs.  The fact that the chairs have a rocking motion and cushions are a plus.
Pros
Easy assembly
Long lasting powder coated finish
Rocking motion chairs
Cons
Need to store cushions to keep from fading
Some customers state chairs are not comfortable on the back for long term sitting
Conclusion
The Clayton Court 5 piece patio table and chairs will be a nice addition to any deck or patio area.  The simple assembly and little need for any additional care will make this set you will use for many years.  If you like this set and do not have room for the 42 inch table, there is a Clayton Court Bistro Set.
I hope that you have found this article interesting and informational.  If you have any questions, comments or need more information on this or other items please use the forms below.  Don't forget to let your friends know via you social networks about this set.
There are some Affiliate Links in this article.