Solar Lights for Decks and Steps
Solar Lights for Decks and Steps will add accent lighting or just some light to make your life safe, Solar lighting may be the ticket for you. In this article we will discuss the major styles of these lights.
Styles of Solar deck lights
First you must decide what kind of light that you are looking for.  Solar lights for decks will come in many forms, you must make sure that the solar panel will get enough light to charge the battery to operate for 8 hours each night.  Less charging makes the battery last a shorter period of time. So the southerly facing should be utilized to take advantage of as much sun as possible.  If your location is on the north side or has little to no sunlight, low voltage systems will work better.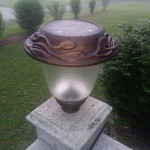 Deck post lights can be either mounted on the top of the post or on the post to shine on the deck surface.  You can mount the lights on the post or rail of stair railing to shine on a dark stair area during the night.  This will eliminate the need to turn on or leave other outside lights on when using entrance areas to your home.
Step lights are made to be mounted on the side or facing of the step that will need illumination.  The space for your solar light on the steps will have to be reviewed before making it permanent as you do not want it the way of traffic on the steps.
Security lights are another type of solar light that can be used for lighting deck and stair areas.  They can be mounted high and shine down of the areas needing illumination. They do not need a connection to an electric source.  You can use on the side of a shed, tree or a post in areas that do not have an electric connection.  Click here for more information on Solar Security lights.
Why solar lights over the  low voltage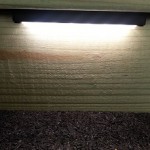 Solar lights do not require any wiring to an electric source. Solar light will not require any drilling of holes to run the wires and mount the lights.  They will just need to be mounted to a solid surface that will get sunlight.
Solar lights will require sunlight for at least 5-8 hours per day. If your location is not getting that much sunlight, maybe a remote Photo cell and battery will be on your shopping list.  You can run a wire from the battery to your lights.  This system has the same qualities as a low voltage setup without the need for a power outlet.
The big advantage to solar lighting is the cost after the initial purchase.  Most have LED bulbs for lighting and never need to be replaced.
The only replacement cost will be rechargeable batteries about once a year or less, depending on the amount of charge each battery gets each day.  The same battery in the same light will last a longer time if fully charged each day.  Click here for more information on solar rechargeable batteries.