Outdoor swivel rocker chairs
Getting some outdoor swivel rocker chairs will give you all the comfort in your outdoor space to make it be as comfortable as your indoor space.  The motion of these types of chairs will give you some relaxation while sitting and enjoying a cool drink.
A rocker will give you a little freedom from just sitting there, a chair with swivel also will allow you a great deal of motion to keep your bones from getting stiff from just sitting.  I like the sling swivel rockers on my front porch and use them almost daily during the warm months.
These types of chairs can be left out in the elements year-round with little care, just a quick wash with soap and water.  The chairs with cushions will need a storage solution for the cushions to keep them looking fresh for many years.
Types of swivel rocker
The rocker will come in several varieties.
Cushioned
The most common is the Aluminum frame with arms and cushions.  These will be very sturdy and can handle over 300 pounds of weight. They can be purchased in different finishes, check each item for details.
The club chair has an aluminum frame with a very thick cushion.  The aluminum frame can be cast in a variety of designs that will look like cast iron. The aluminum will last longer in the outdoor environment and can be powder coated in several finishes.  These will sit lower than a sling type, some seat heights are only 13 inches.  These chairs can be used at a regular outdoor dining table.
The cushions will need a storage solution to keep them looking new, for some of my storage solutions, see my post here.
Sling Fabric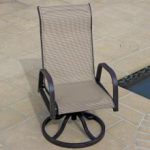 The sling type of chair will have a thin fabric covered with a PVC coating to prevent mildew.  This coating will also keep the color from fading in the sunlight.  These will dry very quickly after a rain shower or after a quick bath to clean.  These type of chairs will have matching stacking dining chairs.  You can mix and match for your outdoor table or sitting area.  The seat on this type of chair is about 17 inches tall.
Bar height swivel chairs will not have the rocker benefit on them because of the height of the chair.  If you would rock the chair would have a tendency to fall over.  The closer to the ground the better the balance is for this type of chair.
Cushions for your rocker
Please check as some will come with cushions.  Each chair will have different options for the cushions.  Most sling type of chair will not require a cushion to be comfortable.
Getting a chair without cushions will give you the freedom to make color choices for your outdoor space.  Once you look at the variety of colors and designs available, you will find a cushion that will meet your decor needs.
Conclusion
When looking for your set of outdoor swivel rocker chairs, many options will be available.  After you have found out how many and how much space you will have to use, you can explore your options.
For more information on other outdoor chairs available, see some of my posts here.
If you find that you need more information or have a question use the comment feed below. I will respond with answers.