The links in this post contain affiliate links and I will receive a small commission if you make a purchase of Patio Deep Seating Furniture after clicking on my link.
Patio Deep Seating Furniture
What are the things you are going to look for in quality Patio Deep Seating Furniture?  Want furniture that will last for several seasons and you could pass it on to your children.  Good quality teak wood furniture with quality fabric for the cushions should be at the top of your list.  Cost upfront will be a little more than your typical patio furniture choices, the teak wood patio furniture will outlast several metals or wicker sets before you pass it on to others.
The Hamptons collection of patio furniture from Arhaus will be the subject of this article.  With quality teak wood frames and Sunbrella or Outdura fabric cushions, this will be the best investment you could make in outdoor patio furniture.  For more information on what Teak Wood is, follow this link.
Now let us look at some of the details of all of the types of furniture that are available in the Hamptons collection, from single seating to a relaxing bed with a canopy, you will find many pieces to help you enjoy your time outside.  For more information on the Hamptons collection quickly, use this link.
Details of this collection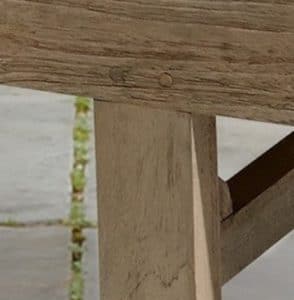 All pieces in this collection will have teak wood frames with metal hardware hidden by wooden pins.  The clean lines of this design will leave you with no hardware showing and matching wood pegs.
Teak frames will be available in two colors, an aged look (shown at right) or a dark stain.  The teak wood will withstand most outdoor weather conditions, insect invasion, damage by birds, and other varmints that will infest your outdoor area.  This wood will not rot or warp like cedar or treated wood.
Cushions will start with a dense foam padding, covered with a polyester fiber fabric.  The fill for the cushions is covered with a water repellent cover that can be removed by using the zipper on one end.
Each cushion will have a Sunbrella or InsideOut fabric cover, depending on the choice of one of the 56 color patterns available.   The off-white Sailcloth Sailer is the stock color shown in most of the pics in this article.  The other colors are special orders, use the link to the vendor for more details.
You will be able to create a color combination that will match any outdoor decor.  Color for these fabrics is not just applied to the surface, they are put in a solution to make sure the color stays fast.
Each cushion will be held in place by cloth ties, this will keep them where you want them when you are sitting relaxing.
Replacement cushions are available for any of the seating pieces in this set, just choose your type of furniture and color/pattern that you are looking for.  If you have an older patio set needing cushions, you may be able to get them here if they are flat and square.
Sectional seating
Sofa
The three-seat sofa will be one piece that gives you that inside feeling for your outdoor space.  With three thick sets of cushions on the teak wood frames and a great design on the back of the sofa.  Solid frames will give you great seating comfort.
The sofa will be 83 inches wide 34.75 inches deep and 37.25 inches tall.  Heavy slats will support the seat cushions with a circle and square design with slats connecting them for the backs.
Covers are available for these pieces to protect them from the outdoor elements.
Sectional Sofa
Available in two different sizes, a 6 piece for seating for five or a 4 piece with seating for three.  Each piece can be connected to another with clips to make your sectional stay in place while you are sitting.  You can also use these pieces unconnected for bigger spaces that require a lot of seating.  Get a coffee table or end table to store your drinks and snacks.
Each piece with an arm will be 30 inches wide, 34.75 inches deep and 37.5 inches tall.  The pieces without arms will be 30 inches wide.  Each piece will have slats for the seating cushions and a circle and square design for the seatbacks.  Brackets will hold pieces together so that you can make several sofa designs with each of these sets.
Personal seating
Rocker
Need seating with motion, this rocker with two arched wooden bottoms will work for you.  Just note that if placed on an abrasive surface like concrete, they will wear on the bottom very quickly. I would set this piece on a small rug to protect the rockers if it was mine.
Rocker is similar in size to the straight leg chairs at 30.3 inches wide, 42.3 inches deep (deeper because of the rockers) and 37.2 inches tall.
Same slotted design for the seat cushions, circles, and square design for the seatbacks.  With the motion, this piece will give you years of comfortable seating in your outdoor space.
Ottoman
Need extra seating for a place to prop your feet up after a long day at work, this ottoman will be a great solution.  With a solid frame of four legs and cross braces between each leg, this will be a very solid piece of patio furniture.
At 31 inches wide, 19.5 inches deep, and 12 inches tall it will be very comfortable for you to prop your feet or an extra guest.
Chaise Lounge
Looking for that chair to lay down and catch some sun by the pool, this chaise lounge will give you many years of enjoyment.  With independently moving wheels for mobility, a retractable shelf for storing your drinks, snacks, or reading materials, and five adjustments for your lounging comfort.
A solid frame will be supported by two posts on the foot end and a set of wheels on the head end.  Grab the foot end and move to another location without much work.  A pair of posts under the head section will fit into different slots to give you the angle for your rest.  A serving tray will slide out from under the seat for your storage solution.
A pair of cushions will give you the comfort you are looking for.  The chaise lounge will be 76.5 inches long laying flat, 30 inches wide, and 35.5 inches tall at the fullest upright position.
Lounge Chair
Need to add a chair or chairs to your patio seating, this straight-leg chair will give you additional casual seating.  The slatted seat and designer backs will match the other seating pieces in this collection.
Each chair will be 32 inches wide, 34.75 inches deep, and 37.25 inches tall.  A very solid design with thick cushions and solid wood legs will give you hours of comfortable seating on your deck or by the pool.
Day Bed with canopy
What that piece of patio furniture that will set your indoor or outdoor space apart from others, this day be will do that.  With an upper frame and matching cloth canopy with tiebacks, you can relax without getting a sunburn.
Use for reading or just a nap under the stars, you choose how you use this fine piece of patio furniture with the same designs on the ends as the backs on other seating pieces.
At only 72 inches wide it will be short for the taller people to use as a full bed, it will be plenty deep at 59 inches and tall at 93 inches.  Clearance may be a problem for some, moving this piece will be a bother also with its bulky frame.
Need room for two or three and want the ability to nap in the shade, this piece is what you are looking for.  For more details on the Hamptons Daybed, see my post here.
Tables
Bar Cart
Looking for a serving cart or just need a place to store some of your BBQ stuff, this movable cart will help get your stuff around your outdoor area.  Four wheels will give you full mobility.  A removable serving tray and rack with three holes will help you when you serve your guest.
The top will have slots to help you move the cart on each end and a great slotted design.  The four wheels will not turn, you will have to lift the end of the cart to go around corners.
The cart will be 47.2 inches long and 21 inches wide at the top.  The car will be 33.7 inches tall.  The cart will hold 77 pounds of goods and the removable tray will hold 75 pounds when needed.
Coffee Table
The coffee table will give you a place to store your drinks, snacks, or reading material.  The large top is 60 inches long and 26 inches wide, bigger than most in other sets.  four solid legs will support the top 17 inches off the floor.  Three square supports will give extra strength to your table.
Get this coffee table with any of the pieces of the section for enough room for all of your guest drinks and snacks.
End Table
Need a small table for a lamp or just beside your chair, this end table will give you that place.  With the same design as the coffee table just a little taller and with a smaller top.
The top will be 26 inches square and 24 inches tall. Four legs will have simple H-designed 3 piece support brackets to keep your table very stable during any use.
No matter what kind of seating that you have, this Teak Wood End Table will keep your outdoor area neat and tidy while giving you a great look of wood.
Replacement cushions
Replacement cushions are available for each of the seating pieces, some color combinations are not available for replacements.  Use the link below for more information on each of the cushions that are available today.
Care of your finish on your frames
Storage is recommended for any outdoor cushions.  The material for the Hamptons collection has one of the best materials, to make the cushions last as long as the frames is to store them out of the elements.  Some replacement cushions are available for this collection.
The teak wood will age to a gray patina if you do not treat it with oil once a year.  You can choose the finish that you are looking for, if you let it fade to the gray color it will not damage the wood.
If you leave your patio furniture outdoors year-round, patio furniture covers are available to fit over each piece from this vendor.  Just follow the link to the product and information is in the details of each piece.
My final thoughts on the Hamptons collection
This collection of Patio Deep Seating Furniture will work best for those looking for long-term patio furniture solutions.  If taken care of properly, this teak wood patio furniture will outlast its owners and be passed down to the next generation.  The Hamptons collection may come at a high price, you will purchase several sets of furniture to maintain your patio furniture look while the Hamptons patio furniture will still be a great looking set after many years of use.
I like the style and the ability to choose the wood tone and cushion color to match your decor.  Use this furniture outside or inside, it will look great in any location that you need a seating solution.  For those who are scared to spend this kind of money on wood patio furniture, look at some of my cheaper solutions here.
Thanks for reading my information, if you have anything to add or just have a question, use the forms below and I will get back to you shortly.
&

;