Looking for that oasis in your outdoor space, try this outdoor daybed and canopy. The teak wood frames will last a lifetime and will fade to a weathered look if that is what you want. If you want to keep the color in the wood, just treat it with a good tongue oil at least once a year.
The bed will have a one piece bed cushion with pillows on three sides. A curtain will cover both ends and top to give you some protection from the sun.
This will be a great multi use piece of furniture for your outdoor relaxation. You can use it for a bed or just a large sofa to sit and read. The big pillows that surround the seat area will give you a place to lay you head or prop you feet up.
Use the chart below for the quick details or the blue highlighted table of contents below to go to the section that you need information on .
For the current pricing or color selections on the Hamptons Daybed, use this link.
Frame Material
Teak wood available in two finishes
Fabric colors
91 fabric colors to choose from
Fabric material
Sunbrella or Outdura
Size
72 inches wide
59 inches deep
93 inches tall
Price
$5299
My rating
Out of 10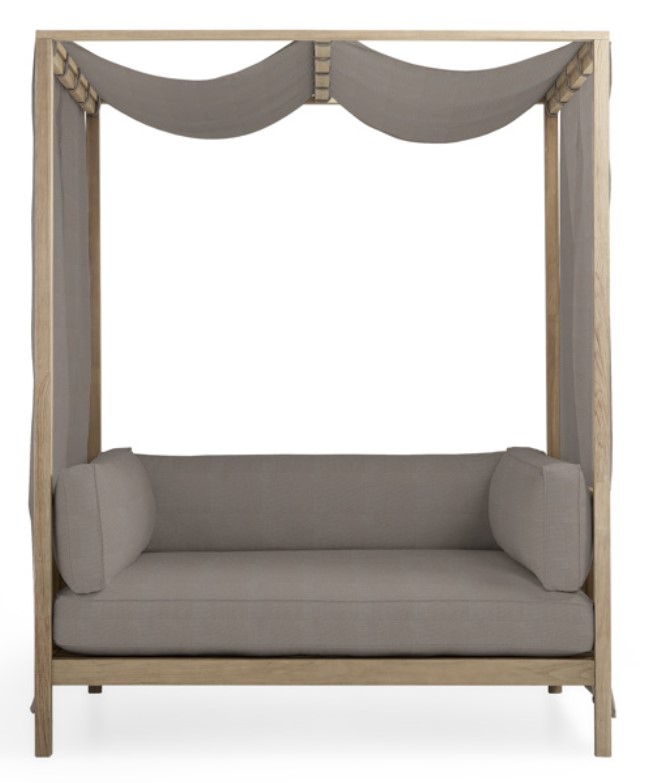 Outdoor Daybed and Canopy


Table of contents
Features and construction
The frames are made from a harvested Teak wood farm. They are grown with sustainability in mind and are not taken from a wild forest. This type of wood is very good for outdoor furniture and will last for centuries if taken care of properly and can be passed down to your kids if you want.
The teak wood has the qualities that will resist rot, insects and warping. The finish is available in two color choices, the natural look of teak or the weathered look in a grey patina. The natural look will weather to the grey patina if you do not treat the wood with an oil once a year.
The cushions will have a dense foam interior with a Sunbrella or Inside Out fabric that is very durable in outdoor conditions. The curtain is made of similar material and color to match the color pallet for your outdoor space. The material is available in 91 different colors that are solution-dyed to get the color all the way through the fabric.
Zippers are included in the cushions to help with cover removal. Replacement cushions are available if needed from Arhaus. If you are not going to use this day bed for a little while, I would still store the material items in a dry place until needed. See some of my storage options here.
This is a timeless daybed that two people can use to nap or just sit out of the sun.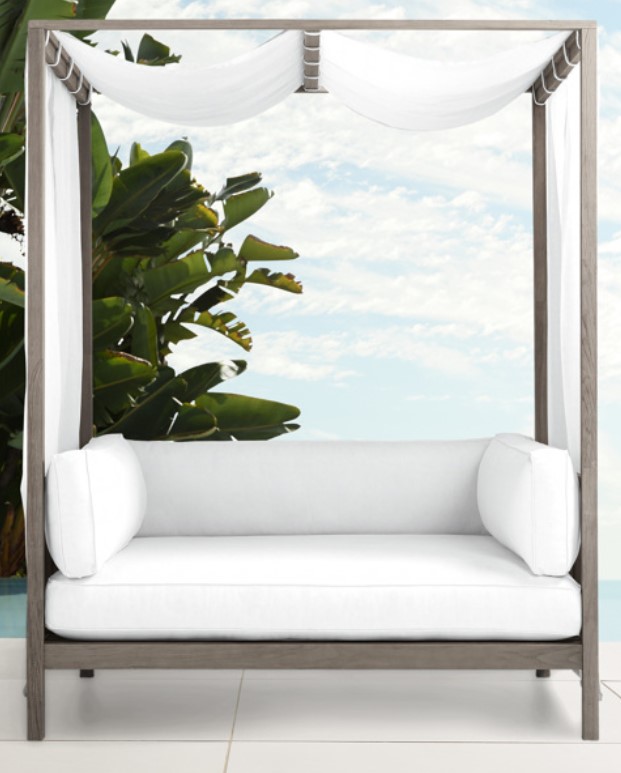 Size and special options
This daybed will be quite large and need a big space to be used properly. It will be 72 inches long, 53 inches deep, and 93 inches tall.
It will include a seat cushion, back cushion, two side cushions, and a curtain drape for the top and both sides. Loops will hold the drape in position when used.

Assembly and/or care
As this is a big piece of furniture, you may want some help putting it together. Some comments on assembly state that you need to watch when tightening the hardware as to not damage the wooden surfaces, too tight and you can split or chip your finish.
Taking care of your patio furniture will take just a simple damp cloth for most problems. Once a year you can use a good teak oil to add a light coat on the wooden surfaces to keep the natural color. Just clean the wooden surfaces and let them age to a natural driftwood finish.
The fabric material can be removed from the cushions for proper care if they get dirty. Replacement cushions are available at this time. Storage is recommended for the fabric items if this patio furniture is not used for any length of time.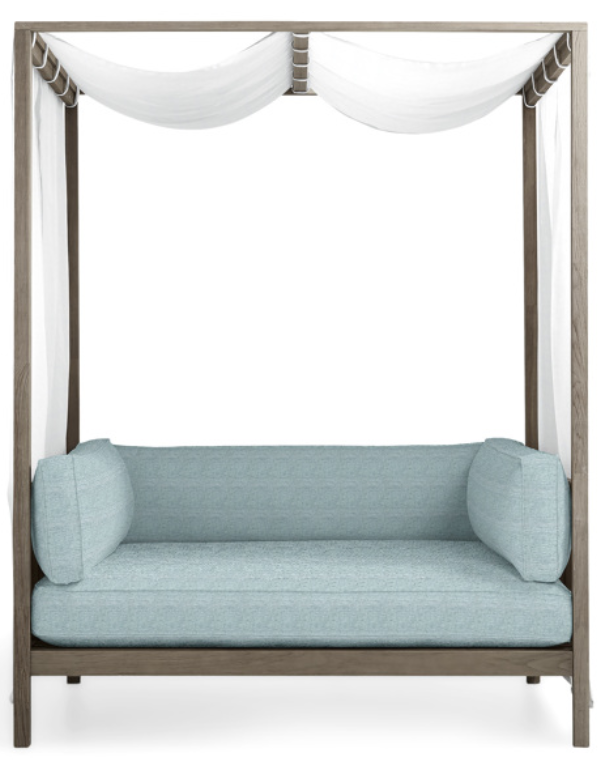 Pros cons of the Hamptons Outdoor Daybed
Pros
Teak wood will last many years

The teak wood will be very difficult to beat for outdoor furniture. It will not suffer from damage from insects or rot over long periods of time in outdoor conditions. It will weather to a driftwood finish if you want to you can treat it with oil once a year to keep the original finish.

Premium fabric material

The fabric will come in Sunbrella or Outdura material. These are premium fabrics that last very well in outdoor weather conditions. I would still store the fabric pieces when not needed for any length of time.

Other matching furniture available

There are several different styles of patio furniture in the Hamptons line from Arhaus. You can choose seating and lounging furniture in this style to fit your seating and dining needs.
Cons
Not long enough for tall people

At only 72 inches long on the outside with the two end pillows, this would not be very comfortable for a taller person to use for a bed unless you tuck your legs up a little.

High Price

At over $5000 for this piece, it is a bit high priced for some. The quality of the teak wood will last a lot longer than the patio furniture for less money. If you are looking for quality patio furniture this would still be my choice.

Hard to move if needed

This is a large heavy piece of patio furniture. You will need a small army if you choose to move to another location without taking it apart.
Similar Outdoor Daybed and Canopy to look at
These three options have details on my site. The Delahey does not have a canopy. The Carson Creek and Wenworth examples both have canopies and can be used as a swing when not used as a daybed.
Final thoughts on the Hamptons Daybed
This a great piece of patio furniture for those looking for something that will last a lifetime. Many other matching items are available in the Hamptons collection, look at some of my information here.
Purchase price may be high, this patio furniture will last several times longer than any other style of patio furniture. You will spend less time taking care of this teak furniture and it will need no replacement except for fabric color during its long lifetime.
Thanks for reading my information and if you have any questions or comments, please use the forms below and I will get back to you shortly.