When looking for a place to relax after work or just to read a book with a refreshing drink, one of these Patio Swing with Canopy solutions may work for you. Just sit back with a friend and enjoy your swing. I will give you the details of sling or cushioned seating options in this article, you make the choice.
I have 7 examples of a 2 Person Patio Swing with Canopy to choose from in this article, one is just for kids. I have listed the quick details of each swing in the chart below. Just hit on the blue highlighted name of the item to go directly to the expanded details.
Use the following link for the most current pricing and purchase of one of these patio swings with a canopy. As with any swing with a canopy, high winds will be the worst thing for them. Take the canopy off if you are going to have high winds to avoid damage.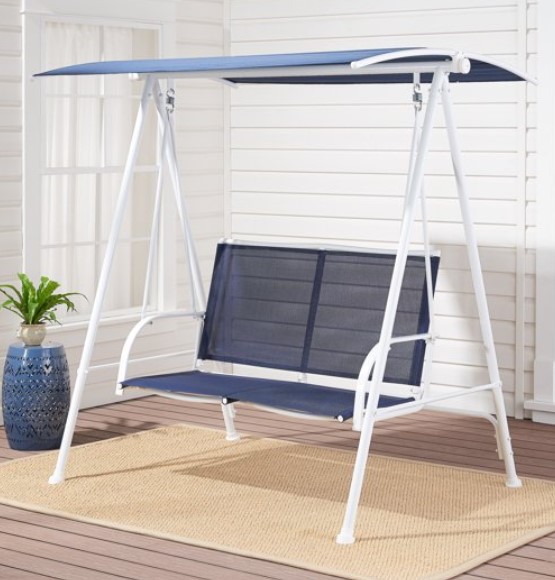 Mainstays Canopy Porch Swing
A very simple swing that will come in two color combinations with a powder-coated frame for outdoor durability.
Choose from a brown frame and tan sling material or a white frame and blue sling material (shown). The blue option will give you a feel like you are at the beach, this would be a great color combination for by the pool.
Overall the swing will be 64.5 inches wide, 51.97 inches front to back, and 66.5 inches tall to the top of the canopy.
The seat will be about 45 inches wide and support 500 pounds of weight. The polyester sling material does very well in outdoor conditions. If left in the bright sunshine it may fade after a couple of years.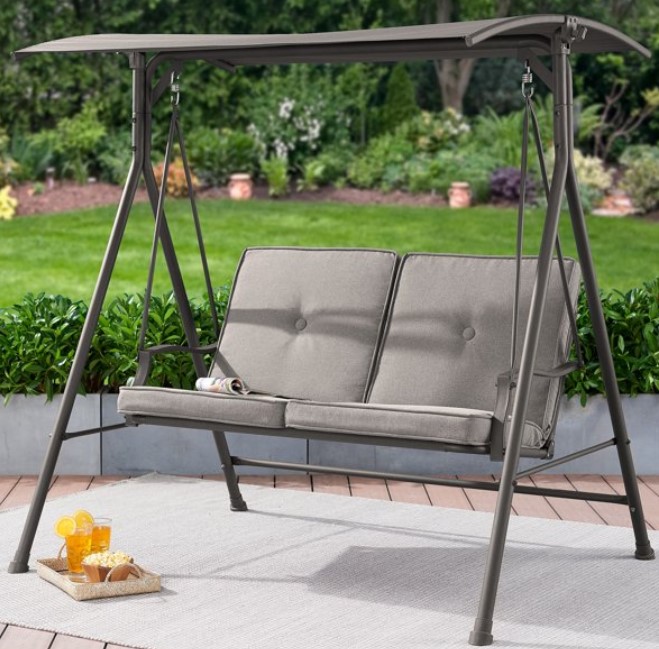 Mainstays Holten Ridge Canopy Patio Swing
This will be a great option if you are looking for cushions to extend your outdoor seating comfort. The gray cushions for both seats and backs will be very comfortable for long term sitting.
The gray frames will have a powder coated finish to help protect them from outdoor weather conditions.
The swing will be 61.8 inches wide, 46.9 inches deep, and 63.8 inches to the top of the canopy. The seat will be 41 inches wide and hold up to 500 pounds of weight.
The four cushions will sit on a sling material. It would not be very comfortable to sit on this swing without the cushions. A storage solution should be found for the cushions for this swing when not in use to get more than a few years out of them. I do have some storage solutions on my site here.
Mainstays Porch Swing
If you are looking for a black-framed sling material swing, this is it. The steel powder-coated frame will give you years of outdoor use with little or no effort.
The sling material for the seats and canopy will do very well in outdoor conditions also. High winds should be avoided to not damage the canopy.
The swing will be 64.5 inches wide, 51.9 inches front to back, and 66.5 inches tall. The 45.5 inches wide by 19.68 inches deep seat can support 500 pounds of weight.
This swing will require little if any upkeep to keep it looking fresh all summer. At about 50 pounds it will be easy to move by the pool or just around the back yard.
Mainstays Belden Park Patio Swing
The Belden Park swing will be part of a bigger collection of patio furniture. If you need matching sets for a bigger area this may be a smart choice for you. See my articles on some of the Belden Park choices here.
This swing will come in two color combinations, both will have the dark brown powder-coated frames. The cushions will be available in the light beige color or a darker blue color.
The seat and back cushions along with the canopy will have Olefin fabric covers, a very good material for patio furniture. I would still have a storage solution available to make these cushions last more than a few seasons in outdoor weather conditions.
The swing will be 65 inches wide, 51.5 inches front to back, and 72.8 inches tall at the top of the canopy. This swing is rated for 500 pound weight capacity.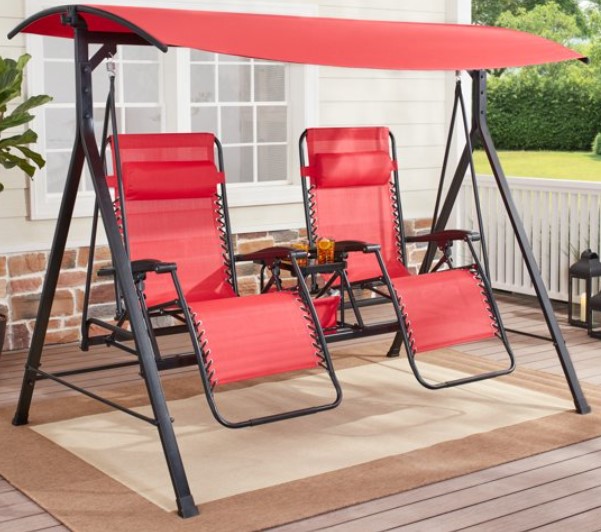 Mainstays Zero Gravity Reclining Swing
This is a very popular swing for larger people or those who want to recline while outdoors. Made very similar to the zero gravity chairs, you can recline in five positions independent of the other person in the swing. You must still swing back and forth together.
The frames have a matte Chicago Carbon finish and are powder-coated for lasting well in outdoor conditions. The seats are made from a sling material and attached to the frames with a woven para cord.
Sling material is available in two color choices, the red (shown) or a black. This material last very well in outdoor weather conditions and needs very little upkeep. Just remove the canopy if high winds are expected.
A center console will give you a place to store your cold beverage, books or snacks. This will keep you in your swing longer without having to refuel.
The swing will be 90.6 inches wide, 58.3 inches front to back, and 72.4 inches tall. Each seat will be 21.75 inches wide and support 350 pounds of weight. The total weight capacity of this swing is a whopping 700 pounds.
2-Person Patio Swing
This swing will have two different seat for those that prefer that look. You must still swing together and they do not recline.
The steel frames will have brown finish. Two cup holders will fit between the seats to hold your drinks while relaxing. A sling basket can hold snacks or reading material to keep you from having to get up.
The swing is 71.7 inches wide, 54.3 inches deep, and 66.1 inches to the top of the canopy. Each seat is 19.69 inches wide and will hold 330 pounds.
The seats and canopy is made from a Textilene fabric material. This is a polyester-based material and lasts very well in outdoor weather conditions.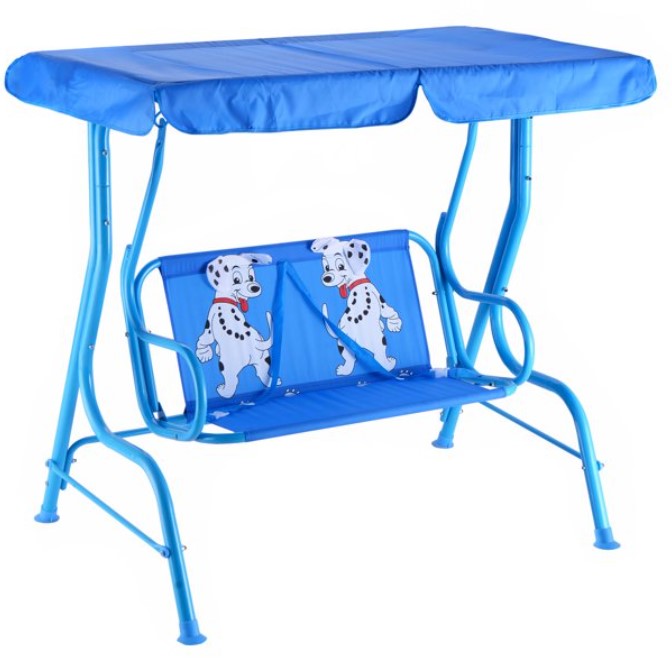 Goplus Patio Swing Chair
Just for the kids to enjoy, this swing with the Dalmations on the back of each seat will make a very big impression on the grandkids. The frames and material will be of the same blue color.
It is a bit smaller and will hold a lot less weight, the kids will enjoy it for years. For the smaller ones, a seat belt is included for each of the two seating positions.
The swing will be 46.06 inches wide, 30.71 inches deep, and 45.79 inches tall. The seat will be 32.68 inches wide and will hold 176 total pounds.
This will be a great swing for indoors or out for the kids. The oxford cloth material will need to be protected from the sun to keep it from fading quickly.
This children's swing is perfect to fit your room or garden for your baby. Metal tubular construction provides stability and durable use. With the tent design style, it provides UV protection so that you can let your kids play in the garden. Constructed with tubular metal and oxford cloth, its cradle seat with two puppy patterns is funny and weight-light. The seat belt can be fixed to your children, ensuring his or her safety.
To see the current pricing and purchase your 2 person swing with canopy, follow the link below.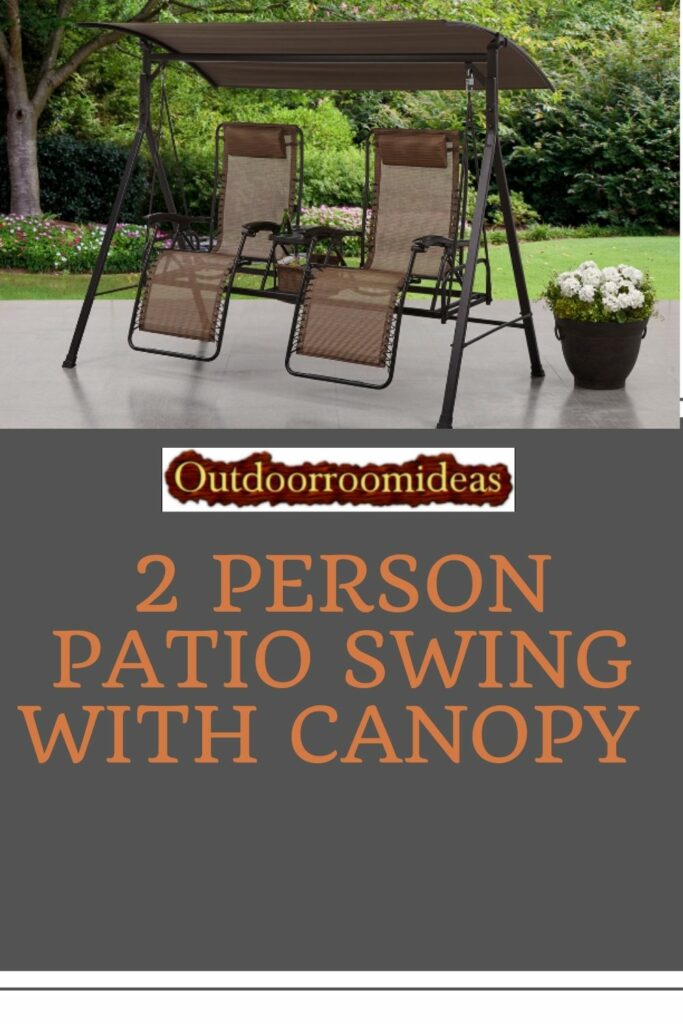 My final thoughts on these swings
I have a two person swing in my back yard. It does give a lot of enjoyment when I just want to relax and spend time in my outdoor space watching birds or reading a book. Each person will want to have their own style of patio furniture for their decor and seating needs.
I prefer the Zero Gravity swing in this bunch, it has he most options and has the space for extra drinks or snacks. The sling material will last very well in outdoor conditions also.
The biggest concern that I have about any of these swings is the canopy. The best solution is to remove the canopy when heavy winds are forecasted, this is its biggest enemy.
Have you a favorite or an experience you would like to share with my readers, use the forms below and if have a question, I will get back to you shortly.