COSCO Folding Bistro Set
For those who have a limited outdoor space, still need a place to sit and sip a favorite adult beverage or two, the Cosco folding bistro set will be great for you. This set will fit in a closet when it is folded up.
When looking for solutions to small spaces, you can go with a set that takes little space and walk around it when not needed or get something that is easy to store. This set will let you have an empty space when you do not need it with little effort, who doesn't like little or no work to get things done.
Now lets look at what this set is about and see if it works for you.
Price when article was written: $69.59 for red

What do you get in the box
You will get two chairs and a bistro table that will all fold up for storage. Steel frames will have a powder coated finish in a choice of two bright colors, Red and a Lime Green. The finish will last very well in outdoor conditions, if the paint gets damaged, you will have to repaint to keep rust away. Also look for rust to develop around the hinged areas after a few seasons if left outside a lot.
The chairs will be 16 inches wide, 17.5 inches deep and 32 inches tall. The seat will be 16 inches wide, 14.25 inches deep and 17 inches off the floor. Each chair will support 250 pounds of butt. When folded, each of the chairs will be 16 inches wide, 5 inches deep and 36.5 inches tall for storage.
Chairs will have a slatted design for the seating and back section.  You will need to add some cushions for long term sitting comfort.  Table will have a flat top
Table will be 23.5 inches across and 28 inches tall. When folded the table will be 23.5 inches wide, 1.5 inches deep and 37 inches tall. Table can support 100 pounds of weight, most will only have a snack and a few adult beverages, so this should not be a problem unless someone sits on it that is a little heavy. Keep butts in the chairs not on the table.
Total weight of this set is 32 pounds, this set will be easy to move when you have to store it. This set will be perfect for those who need to remove their patio bistro set when not needed outside.
Assembly
Set will arrive in one flat box that will weigh less than 40 pounds. This will be very light for any outdoor furniture set.
Very little assembly will be needed with this bistro set. The chairs will come fully assembled, the table will need the top attached to the folding frame. A few minutes of work and you will be ready to enjoy your new small patio bistro set.
Care of your folding bistro set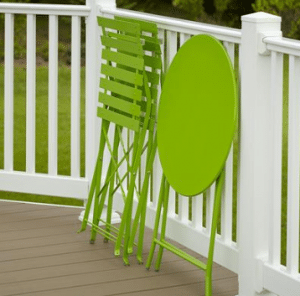 As with most patio sets with a power coated finish, just use a mild soap and water mixture to clean your surfaces. Any harsh chemicals will damage the painted surfaces and start the rust cycle. Do not use any glass cleaner, as this is very bad for any powder coated finish.
Storage for this set will be very easy, just fold and put in a closet close to where you use it. At 32 pounds, anyone can fold and put this set away after use.
Pros
Lightweight, easy to move
Folds for easy storage
Bright colors for adding to your outdoor decor
Cons
Can rust in hinged areas
Can be too lightweight for some homeowners
---
For those who would like more information on this folding bistro set, click the link below
What are my final thoughts
This set will work best for those who have small outdoor spaces or just need to have a portable patio bistro set that is easy to store and move. The Cosco Folding bistro set is lightweight and folds for easy storage, it can be a great for those who need to use their outdoor space for other things besides sitting and relaxing.
If this set seams too small and you would like to look at some other bistro sets, see my ideas here for more patio bistro sets.
If you have any questions or comments on my information, please use the forms below and I will get back to you shortly.