Patio Sense Cast Aluminum Bistro Set
Like the look of the cast iron bistro sets, don't want the risk of rust or the heavyweight of the cast iron. Try this cast aluminum bistro set by Patio Sense. It has the looks of the old sets with the great features of the aluminum material, lightweight and no rust.
With two chairs and a table that will support a small patio umbrella, this set will make your patio area look like it has a retro set. All this at a price under $120 and a total weight of fewer than 35 pounds.
Now let us look at the details of this set and see what works for you. If you would like to see more examples of bistro sets for your balcony or small outdoor space, see my post here.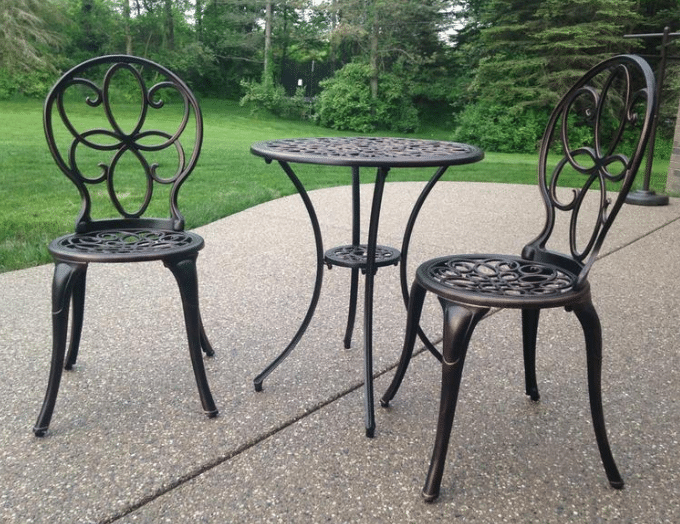 Price when the article was written: $125
What do you get in the box
​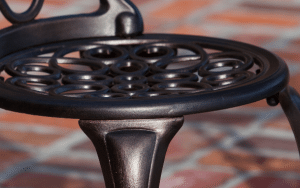 One box that will weigh about 33 pounds is what will hold your bistro set when it arrives. Two chairs with round seats and oval backs are included. The table will have a round top and have a hole for an umbrella. Round leg support will also have hole for umbrella support. Too big of an umbrella will make the table-top heavy.
Construction is of a cast aluminum material with an antique bronze finish. A tight scroll design will be used on the table-top and chair seat. A design with more open space will cover the back of the seat. No cushions are included in this set.
Chairs will have a 15-inch round seat and will be 35 inches tall. The seat will be 17 inches off the floor. Four curved legs will support the chair. Each chair will only weigh 8 pounds. Chairs will support 225 pounds of weight each.
The round table will be 24 inches across and 27 inches tall. It will weigh only 11 pounds, an umbrella with a proper base will help keep it in place.
This patio bistro set will work for those who do not want to have to store their set when not needed. It can be left outside in the patio or garden area for many years with just a simple rinse with the hose to wash off the animal or bird droppings. I have a cast-iron bench that has been outside for over 40 years with little or no care.
Look at the following video for more information.
Assembly of this bistro set
​
When you open the one box you will find all the tools needed for assembly in the hardware pack. Assembly will take the average person under an hour with some mechanical skills.
Chairs will need the four legs attached to the seat base, then the seat back attached to each seat base. You are ready to sit after getting both put together.
The table will need four legs attache to the top, then attach the leg support to each leg. Just make sure that you start all the screws and nuts before final tightening so make sure that your table and chairs set level when finished.
Care of your patio furniture
​
Just a wash with a mild soap and water if you have some big stains, otherwise just a rinse with a hose will clean this set. Do not use any harsh chemicals as they will damage the painted surfaces.  For best results you can apply a wax finish to your patio set a couple of times a year, this will make it last almost a lifetime if done properly.
Simple care makes this type of patio furniture very desirable for spaces that are in remote places in your outdoor spaces.
Pros
Lightweight Aluminum, easy to move
Can use a patio umbrella
No Maintenance after assembly
Cons
No cushions included for comfort
Maybe too lightweight for bigger umbrella
May have to use coasters for drinking glasses to keep them stable on tabletop
---
Use the following link to find more information on this bistro set
My final thoughts on this set
​
When looking at bistro sets for your patio, this Patio Sense cast aluminum bistro set should be on your list. With maintenance-free painted surfaces and simple assembly, you will use this set with less work to keep it up than other sets.  getting a properly sized umbrella or half umbrella will make this set usable during the days when you have a lot of hot sunshine.  For some of my umbrella ideas, see my post here.
Having a retro style for your outdoor space will give you a conversation piece that others will talk about. The looks will stay the same for many years without any work.
If you have any questions or comments, please use the forms below and I will get back to you shortly.